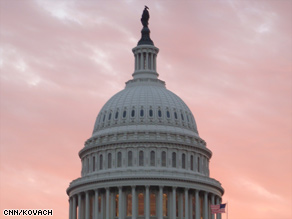 The CNN Washington Bureau's morning speed read of the top stories making news from around the country and the world.
WASHINGTON/POLITICAL
For the latest political news: www.CNNPolitics.com.
CNN: White House crashers named in 16 civil suits
The Virginia couple accused of crashing President Obama's first White House state dinner on Tuesday are named in at least 16 different civil suits in Fauquier County, sometimes as plaintiffs, sometimes as defendants.
POLITICO: Party crashers recorded by Bravo crew at White House state dinner
Two aspiring socialites who allegedly slipped uninvited into the White House for a state dinner Tuesday night were being filmed by a camera crew for a reality television show as they prepared for their headline-grabbing caper.
Los Angeles Times: Democrats work on multibillion-dollar jobs package
Troubled by the rising jobless rate, President Obama and the Democratic majority in Congress are assembling a new jobs package that would devote billions of dollars to projects meant to put people back on payrolls in 2010 and keep them working.
ABC News: Obama, GOP Air Differences Over Jobs, Economy In Thanksgiving Addresses
On this Thanksgiving, President Obama and top House Republican Mike Pence, R-Ind., each used his party's weekly address in a bipartisan display of gratitude for U.S. servicemen and women serving abroad.
Albany Times Union: State's creditors always first in line for payment
Gov. David Paterson has been warning that the state will run out of cash next month if lawmakers can't agree to eliminate the $3.2 billion deficit facing New York this fiscal year.
Wall Street Journal: IAEA Chief Says Iran Talks at 'Dead End'
Iran appeared headed for further confrontation with the U.S. and other world powers over its nuclear program after the chief of the United Nations' atomic watchdog said the agency's cooperation with Tehran had reached a "dead end."
Miami Herald: What you want to know: How Sarah Palin spent Thanksgiving
Sarah Palin is excited to be in the Tri-Cities. Moments after arriving by private jet Wednesday evening from Orlando, Fla., she told reporters, "It's kind of surreal. But it's really good to be back in the Tri-Cities to reconnect with the roots."
NATIONAL
For the latest national news: www.CNN.com.
USA TODAY: Troops celebrate what could be last Thanksgiving in Iraq
Sgt. 1st Class Marion Rogers, an Army cook, proudly served his third Thanksgiving Day meal to troops in Iraq on Thursday. He was pretty sure it was his last there.
Los Angeles Times: Retailers ready as Black Friday dawns
Retailers are doing whatever it takes to lure shoppers to the malls today. Desperate to avoid a repeat of last year's disastrous holiday season, stores are offering freebies, slashing prices and using social media to promote their deals. With hopes pinned on the day after Thanksgiving, the traditional kickoff to the Christmas season, many planned to open well before dawn.
USA TODAY: Salvation Army kettles can now accept credit cards
Not having cash won't be an excuse to pass by the Salvation Army red kettles this holiday season. Bell ringers in about 200 cities now accept credit cards.
Los Angeles Times: A happy Thanksgiving on skid row
The plates were foam, the gravy in plastic pitchers and the disposable tablecloths brightly colored. The scorching sun beat down, and live gospel music blared from the makeshift stage. Sikhs passed out bags of fresh produce alongside Lutherans giving out hand-knit wool caps and wooden crosses.
INTERNATIONAL
For the latest international news: http://edition.cnn.com/
CNN: Norway says Iran confiscated Nobel Peace Prize from Iranian activist
Iranian authorities confiscated the 2003 Nobel Peace Prize given to human rights activist Shirin Ebadi, Norway said Thursday.
BBC: Saudi Arabia floods leave 77 dead
Floods in Saudi Arabia have killed 77 people and scores could be missing, after the heaviest rainfall in years. None of the casualties had been among the millions attending the Hajj pilgrimage, said a spokesman for the Saudi interior ministry.
Jerusalem Post: PA intensifies attacks on settlement freeze
The Palestinian Authority on Thursday stepped up its rhetorical attacks on Israel, accusing the government of Prime Minister Binyamin Netanyahu of "political maneuvering" and "deception" following its decision to freeze construction in West Bank settlements for 10 months.
BBC: Irish Catholic Church apologises for abuse by priests
The leader of the Catholic Church in Ireland has said he is deeply sorry and ashamed about the widespread sexual abuse of children by priests.
Bloomberg: Hitachi's Bullet Train to Vie With TGV on French Soil
Hitachi Ltd., maker of the 186 mile per hour (300 kph) Bullet Train, will bid against the French- built TGV on its home soil as the Japanese company targets a European rail market that's the biggest in the world.
BUSINESS
For the latest business news: www.CNNMoney.com.
Wall Street Journal: Crisis in Gulf Roils Markets
European and Asian stocks skidded Thursday as investors reacted sharply to the unfolding debt crisis in the Persian Gulf emirate of Dubai, setting the stage for a weak start for Wall Street when U.S. markets reopen Friday.
In Case You Missed It
To watch the latest interviews and reporting: http://www.cnn.com/video.
CNN: In China, big TVs are in
Bigger is better when it comes to shoppers eying flat-screen TVs in China. CNN's Eunice Yoon reports
Subscribe to the CNN=Politics DAILY podcast at http://www.cnn.com/politicalpodcast.
And now stay posted on the latest from the campaign trail by downloading the CNN=Politics SCREENSAVER at http://www.CNN.com/situationroom.