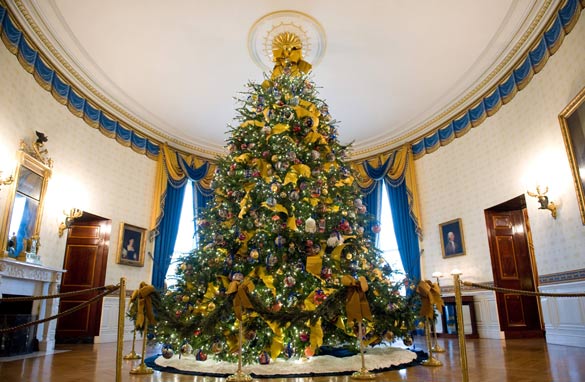 'Reflect, Rejoice, Renew,' is the theme of this year's holiday decorations at the White House. (Photo Credit: Getty Images)
Washington (CNN) - Unveiling the White House Christmas tree and holiday decorations Wednesday, first lady Michelle Obama explained why she chose this year's theme, "Reflect, Rejoice and Renew."
Related video: Mrs. Obama on holiday giving
"For the Obama family, Christmas and the new year has always been a time to reflect on our many blessings, to rejoice in the pleasure of spending time with our family and our friends, and to renew our commitment to one another and to the causes that we believe in," she said in the Grand Foyer of the White House.

She said everything came together with the help of East Wing and residence staff members, and 92 volunteers from 24 states who spent more than 3,400 hours getting the White House ready for the holidays.
Not part of the theme but on the minds of the first family is recycling.
Decorators used about 800 ornaments left over from previous administrations. "We sent them to 60 local community groups throughout the country, and asked them to decorate them to pay tribute to a favorite local landmark and then send them back to us for display here at the White House," Obama said.
Kim Fawley, a schoolteacher in Virginia who volunteered her time to help decorate, said she was impressed by the handmade ornaments, which include the Statue of Liberty, the Boston Celtics, Chicago's Lincoln Park Zoo and the DuSable Museum of African American History.
"They're just beautiful. The love and the care that they took to put them together is obvious when you hold them in your hands," Fawley said.
In keeping with the environmentally conscious theme, the official White House Christmas tree, a Douglas fir that stands 18 1/2 feet high in the Blue Room, is lit with energy-saving LED lights. And according to the first lady's office, six of the trees on display at the entrances of the East Wing, West Wing and North Portico will be replanted after the holidays by the National Parks Service.
White House pastry chef Bill Yosses and his team personalized the annual white-chocolate-covered gingerbread White House to reflect the first family's first year in the White House. The 390-pound house includes replicas of "first dog" Bo and the first lady's kitchen garden.
Yosses said this is also the first time the gingerbread White House includes an interior replica of the State Dining Room, complete with furniture made of dark chocolate.