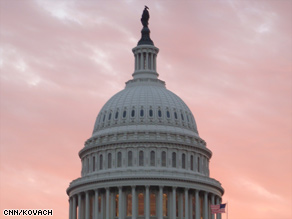 The CNN Washington Bureau's morning speed read of the top stories making news from around the country and the world.
WASHINGTON/POLITICAL
For the latest political news: www.CNNPolitics.com
CNN: Lawmakers question 2011 Afghan exit plan
Conservative and liberal lawmakers Wednesday sharply criticized President Obama's plan to start a U.S. troop withdrawal from Afghanistan in July 2011.
The Hill: Afghanistan war votes lie far ahead for the Speaker of the House
President Barack Obama's decision to ramp up the war in Afghanistan will put Speaker Nancy Pelosi (D-Calif.) between a rock and a hard place. Someday. Maybe. Confusion reigned Wednesday about when or if Congress will be called upon to vote on the plan to send an additional 30,000 troops.
Cincinnati Enquirer: Gingrich praises, pans Obama
Former House Speaker Newt Gingrich, in Cincinnati for a "town hall" forum on job creation, praised the decision by President Obama to commit an additional 30,000 troops to the war in Afghanistan. In an interview with the Enquirer in his suite at the Netherland Hilton Hotel, Gingrich – whom many Republicans believe may try for the 2012 GOP presidential nomination – said Obama delivered a "pretty courageous speech" Tuesday night.
Anchorage Daily News: Murkowski: "I want to be able to rely on the good judgment of a provider I trust."
Republican Sen. Lisa Murkowski introduced an amendment today to the health care bill that effectively bans the government from using guidelines from the U.S. Preventative Services Task Force to deny coverage.
Chicago Tribune: Illinois lawmakers still at odds over possible federal purchase of prison in Thomson
After a long briefing Wednesday by officials from the Pentagon and federal Bureau of Prisons, members of Congress from Illinois remained divided on a bid to transfer between 50 and 100 detainees held at Guantanamo Bay to a mostly unused state prison in Thomson, Ill.
The Hill: Thompson threatens subpoena for crashers after invite declined
The chairman of the House Homeland Security Committee threatened subpoenas late Wednesday for the couple accused of crashing a White House state dinner. After Michaele and Tareq Salahi declined this evening an invitation to appear before the committee, its chairman, Rep. Bennie Thompson (D-Miss.) threatened to compel their testimony.
Albany Times-Union: Same-sex marriage defeated in state Senate
The state Senate rejected a bill to legalize gay marriage in New York, voting 38-24 to defeat the measure. The legislation, which had been halted from coming to the floor of the Senate several times in recent years, received no votes from the 30 members of the Republican conference as well as eight Democrats
Washington Times: Bernanke reconfirmation to Fed seen assured
Federal Reserve Chairman Ben S. Bernanke, who has received bipartisan condemnation from Capitol Hill for his handling of the economy, is likely to get an earful from senators during his reconfirmation hearing Thursday. But when the tongue lashing quiets, expect the former Princeton University professor to keep his job, most political experts say.
New York Times: Senator Moves to Hold Up Bernanke Confirmation
Senator Bernard Sanders of Vermont said on Wednesday that he would try to block the Senate from confirming Ben S. Bernanke to a second term as chairman of the Federal Reserve.
Washington Post: Washington Times cuts in staff, coverage cue new era
The Washington Times, which gained a strong foothold in a politically obsessed city as a conservative alternative to much of the mainstream media, is about to become a drastically smaller newspaper.
NATIONAL
For the latest national news: www.CNN.com
Boston Globe: Wal-Mart will pay $40m to workers
Wal-Mart Stores Inc., the world's largest retailer, has agreed to pay $40 million to as many as 87,500 current and former employees in Massachusetts, the largest wage-and-hour class-action settlement in the state's history.
Seattle Times: Clemmons couldn't be held after 'safety net' dissolved
When a Pierce County prosecutor appeared in court on July 2 and requested that Maurice Clemmons be held on $300,000 bail, the prosecutor knew he had a safety net that could keep Clemmons in custody no matter what — a fugitive warrant out of Arkansas. But over the next three weeks that warrant wound up being rescinded through an unusual sequence of events captured in hearing transcripts, correspondence and e-mails.
BBC News: US approves 13 embryonic stem cell lines for research
US regulators have approved 13 new lines of human embryonic stem cells for use in scientific research. They are the first batches of embryonic stem cells – the building blocks of the body – that have been made available to US researchers in almost a decade.
Dallas Morning News: Fort Hood shooting suspect's lawyer seeks to delay sanity examination
Maj. Nidal Malik Hasan's defense attorney skirmished with Army commanders Wednesday over the timing of a sanity examination for the Fort Hood gunman, saying that his client is still too medically impaired to participate.
New York Times: N.F.L. Issues New Guidelines on Concussions
The National Football League on Wednesday announced that it would impose its most stringent rules to date on managing concussions, requiring players who exhibit any significant sign of concussion to be removed from a game or practice and be barred from returning the same day.
Houston Chronicle: Sixth-graders' heart screenings shock researchers
Heart screenings offered to sixth-graders at a Houston middle school revealed seven with undiagnosed heart conditions — two of which required surgery — and the results shocked researchers who want to see such tests offered at every campus.
INTERNATIONAL
For the latest international news: http://edition.cnn.com
BBC News: Nato ministers face Afghan surge pressure
America's Nato allies are set to face renewed requests to commit more troops to Afghanistan, two days after Barack Obama announced the US surge. … The US wants Nato allies to increase their deployments, but several European nations are reluctant to do so.
CNN: Honduran congress votes against ousted president
Deposed Honduran President Jose Manuel Zelaya will not be reinstated as head of state, a majority of the Honduran congress voted Wednesday.
Washington Post: North Korea revalues currency, destroying personal savings
Chaos reportedly erupted in North Korea on Tuesday after the government of Kim Jong Il revalued the country's currency, sharply restricting the amount of old bills that could be traded for new and wiping out personal savings. The currency move appeared to be part of a continuing government crackdown on private markets, which have become an essential part of the food-supply system in the chronically hungry North.
Wall Street Journal: U.S. Faces Rising Resistance to Its Latin American Policy
The U.S., which once considered Latin America its own backyard, is having an increasingly tough time calling the shots in a region where countries like Brazil and China are vying for influence, and where even tiny Honduras stands up to the "Colossus to the North."
Wall Street Journal: Iranian Crackdown Goes Global
In recent months, Iran has been conducting a campaign of harassing and intimidating members of its diaspora world-wide - not just prominent dissidents - who criticize the regime, according to former Iranian lawmakers and former members of Iran's elite security force, the Revolutionary Guard, with knowledge of the program.
BUSINESS
For the latest business news: www.CNNMoney.com
CNNMoney: BofA to return $45 billion to taxpayers
Bank of America said late Wednesday it planned to return the entire $45 billion in bailout money it received from the government over the past year.
Forbes: BofA's Escape From Washington
Bank of America is finally getting out from under the government's thumb, and those pesky limits on executive compensation that have hindered its search for a new CEO. However, its freedom will come at a price to some of its employees, who will receive less cash in their year-end bonus packets.
Wall Street Journal: Goldman Seizes the Offensive on Pay
Wall Street firm Goldman Sachs Group Inc.—known for its outsize profits and unapologetically handsome pay packages to go with them—has begun meeting major investors in a bid to ward off a backlash over its record compensation pool.
In Case You Missed It
Huckabee on clemency decision
http://www.cnn.com/video/#/video/crime/2009/12/03/griffin.huckabee.intv.cnn
Legislators send chairs flying
http://www.cnn.com/video/#/video/world/2009/12/02/von.argentina.legislators.fight.canal9
Subscribe to the CNN=Politics DAILY podcast at http://www.cnn.com/politicalpodcast
And now stay posted on the latest from the campaign trail by downloading the CNN=Politics SCREENSAVER at http://www.CNN.com/situationroom