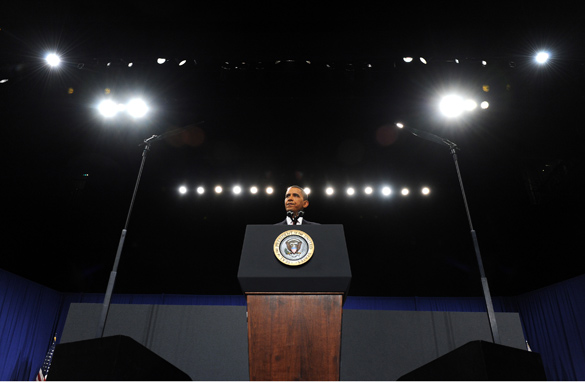 Americans agree with the Afghanistan policy Barack Obama announced on Tuesday night at West Point, according to a new national poll out Sunday. (Photo Credit: Getty Images)
Washington (CNN) - Americans agree with the Afghanistan policy Barack Obama announced on Tuesday night at West Point in large measure because they agree with the arguments the president made in that speech, according to a new national poll.
In his prime time address at the U.S. Military Academy, where Obama spelled out his decision to send an additional 30,000 U.S. troops to the war, the president stressed that America's safety and security are at stake in Afghanistan. A CNN/Opinion Research Corporation national survey released Sunday morning indicates 64 percent of Americans agree with the president, with one in three saying the country's safety and security is not at stake in Afghanistan. According to the poll, 63 percent of people questioned also agree with Obama that the U.S. action in Afghanistan is morally justified.
"That's one major way that Afghanistan is different from Iraq in the public's mind," says CNN Polling Director Keating Holland. "At the time of the Iraq surge in 2007, most Americans questioned whether that war was justified."

The president met with military and civilian advisers for three months before announcing his Afghanistan decision. Obama said he needed that time to review the options available. Did he take too long to decide? Fifty-six percent say no, with 43 percent feeling three months was not necessary.
But Obama also said that his objectives in Afghanistan included preventing terrorists from re-establishing a base of operations in that country and establish a stable government that the terrorists will not be able to overthrow. The poll indicates less than four in ten believe that those goals will be reached.
"As a result, nearly six in ten say defeat is possible, but an equal number also say victory is possible. Most Americans think a stalemate is the likeliest outcome, something that may make an exit strategy harder to implement if that prediction comes true," adds Holland.
Forty-two percent of people questioned in the poll say they watched the president's Tuesday night address on Afghanistan. Of those who viewed the speech, 34 percent say it makes them more likely to support Obama's polices on Afghanistan, 16 percent said the address makes them less likely to back Obama's strategy, and 50 percent said it had no effect.
The CNN/Opinion Research Corporation survey was conducted Wednesday and Thursday, following the president's Tuesday night speech, with 1,041 adult Americans questioned by telephone. The poll's overall sampling error is plus or minus 3 percentage points.
–CNN Deputy Political Director Paul Steinhauser contributed to this report.