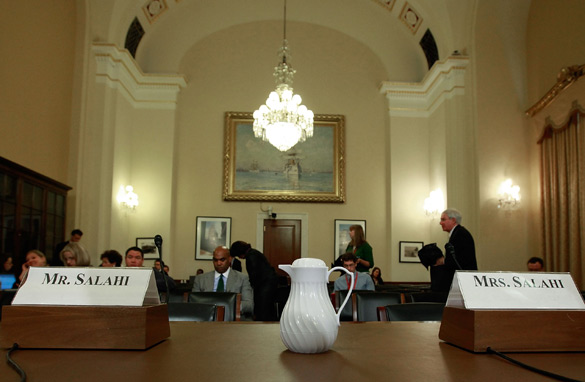 The House Homeland Security committee invited the Salahis to attend a December 3 hearing, but they declined to attend. (Photo Credit: Getty Images)
Washington (CNN) - The Virginia couple who slipped through White House security and shook hands with President Barack Obama will invoke the Fifth Amendment, which protects against self-incrimination, if subpoenaed to testify to Congress, according to a letter from the couple's lawyer.
The House Homeland Security Committee is scheduled to vote Wednesday on whether to subpoena Tareq and Michaele Salahi to answer questions about how they gained entry to the White House on November 24 despite not being on the guest list to attend that night's State Dinner for the prime minister of India.
A lawyer for the Salahis sent a letter to the committee Tuesday saying the Salahis will not testify because of a pending federal investigation by the U.S. attorney in Washington, and because of statements made by some members of Congress about the Salahis last week.

The letter from lawyer Stephen Best said, "The Salahis must contend not only with vilification by the press, but also with a treacherous legal environment that threatens criminal exposure."
The letter said the Salahis have cooperated with the U.S. Secret Service during its investigation.
"They have provided documentation, including telephone records and copies of emails with a White House official, to the investigating agents," the letter stated.
The letter contained signed declarations by each of the Salahis saying, "I hereby respectfully invoke my constitutional right given the legally hazardous environment before me."
The same committee invited the Salahis to attend a December 3 hearing, but they declined to attend.
Cameras captured images of an empty table with name cards on it to represent the absent couple.
Their attorney wrote the committee asking that the Salahis not be force to take the Fifth Amendment in a public hearing, saying that would "result in an unnecessary media spectacle."
The letter attributed quotes about the couple and their situation to some members of Congress.
District of Columbia Delegate Eleanor Holmes Norton, a Democrat, is quoted in the letter as calling the Salahis "practiced con-artists who bamboozled the Secret Service and perhaps others as they conned their way past
all required gate keepers....Clearly they were outlaws before they crashed the White House."
The letter also said Rep. Sheila Jackson Lee, D-Texas, called the Salahis "the perpetrators."