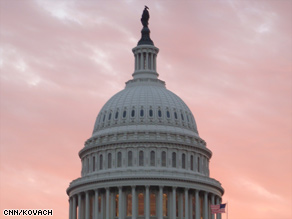 The CNN Washington Bureau's morning speed read of the top stories making news from around the country and the world.
Compiled by Alison Harding
WASHINGTON/POLITICAL
For the latest political news: www.CNNPolitics.com
CNN: Senate Dems agree on how to handle health bill's public option
Liberal and moderate Democrats have reached "broad agreement" on the public option portion of the Senate health care bill, Senate Majority Leader Harry Reid said Tuesday… Two Democratic sources said that the deal includes proposals to replace the public option by creating a not-for-profit private insurance option overseen by the federal Office of Personnel Management, much like the current health plan for federal workers, and another allowing people 55 and older to buy into Medicare coverage that currently is available to those 65 and older.
The Hill: Senate rejects amendment on abortion
The Senate voted against strengthening restrictions for federal funding of abortion Tuesday evening, a development that could imperil Democrats' efforts to pass an underlying healthcare reform bill.
CNN: McChrystal: Uprooting bin Laden and Taliban key to winning in Afghanistan
Finding al Qaeda leader Osama bin Laden and rolling back a resurgent Taliban are necessary steps toward winning the war in Afghanistan, the top U.S. commander there told a Senate committee Tuesday.
New York Times: Two Top Aides Show Unity on Afghan Strategy
The top military commander in Afghanistan told Congress on Tuesday that he had been granted all the forces he needed, was confident of success and did not expect to have to request more troops at a later date, although he said he would base his advice on conditions as they unfolded.
ABC News: Karzai Says He'll Need U.S. Help for 15-20 Years
Afghan President Hamid Karzai made it clear today that his country's security forces will need 15 to 20 years of financial and training assistance. Karzai made his statement at a news conference with Defense Secretary Robert Gates, and just a week after President Obama outlined his strategy for Afghanistan which calls for a surge of 30,000 troops before he starts withdrawing them in 2011.
Los Angeles Times: Baghdad bombs kill 127 as Iraq vote is set
As Iraqi officials prepared to announce a date for delayed national elections, car bombs detonated Tuesday at government buildings and in crowded Baghdad streets, killing at least 127 people and wounding nearly 500. The attacks on state institutions appeared aimed at further eroding the Iraqi people's faith in the political process, which many already viewed with deep skepticism.
CNNMoney: Cash for Caulkers could seal $12,000 a home
President Obama proposed a new program Tuesday that would reimburse homeowners for energy-efficient appliances and insulation, part of a broader plan to stimulate the economy.
The Detroit News: Obama administration predicts $30B loss on auto bailout
The Obama administration will tell Congress Wednesday that it expects to lose about $30 billion of the $82 billion government bailout of the auto industry.
Minneapolis-St. Paul Star-Tribune: Minnesota congressman uses his agriculture platform to take on Wall Street's big players
More than a year after a historic financial collapse nearly derailed the U.S. economy, Minnesota Democrat Collin Peterson has emerged as an unlikely player on Capitol Hill in crafting legislation to bring Wall Street to heel. …Peterson's role may seem an odd one for a House Agricultural Committee chairman, but derivatives have a long history in agriculture, and that makes Peterson particularly well-suited to take aim at Wall Street's power players.
Washington Post: White House seeks federal oversight of rail-transit safety
U.S. Transportation Secretary Ray LaHood unveiled on Tuesday details of the administration's plan to take over safety regulation of the nation's subway and light-rail systems, a proposal that would give federal authorities the power to bring lawsuits and seek criminal sentences.
Boston Globe: It's Coakley vs. Brown
Attorney General Martha Coakley easily captured the Democratic nomination for the US Senate last night and took a giant step toward smashing the state's political glass ceiling, as she parlayed her straightforward style and strong appeal among women into an overwhelming victory against a trio of male opponents.
The State: News – Impeachment proposal vote likely today
A House panel likely will decide today if Gov. Mark Sanford should be the first impeached executive in South Carolina history. Members of the seven-member panel say the vote will likely set a precedent for judging future governors' conduct.
Anchorage Daily News: Samuels joins governor's race, says he'll eye oil taxes
Former state House Majority Leader Ralph Samuels announced Tuesday he's running for governor next year. That sets up a Republican primary fight among Samuels, Gov. Sean Parnell and Anchorage attorney Bill Walker over Alaska's relationship with the oil industry.
Dallas Morning News: House panel could get college playoff ball rolling with vote on Barton bill
Building upon growing frustration among football fans, a House Energy and Commerce subcommittee will vote today on a bill that could help start a college football playoff system and fulfill the dreams of millions who want a new way to determine the top team in the land.
NATIONAL
For the latest national news: www.CNN.com
CNN: TSA launches review after online release of screening procedures
The Transportation Security Administration Tuesday said it is launching a "full review" of an incident in which the agency posted on the Internet a sensitive manual outlining screening procedures for law enforcement officers, diplomats, prisoners, federal air marshals and others.
USA Today: Fast-food standards for meat top those for school lunches
In the past three years, the government has provided the nation's schools with millions of pounds of beef and chicken that wouldn't meet the quality or safety standards of many fast-food restaurants, from Jack in the Box and other burger places to chicken chains such as KFC, a USA TODAY investigation found.
U.S. News and World Report: Review Questions Tamiflu's Effectiveness
No evidence exists that the widely used influenza drug Tamiflu prevents pneumonia or other complications in otherwise healthy patients who come down with the flu, a new review contends.
New York Times: U.S. Will Settle Indian Lawsuit for $3.4 Billion
The federal government announced on Tuesday that it intends to pay $3.4 billion to settle claims that it has mismanaged the revenue in American Indian trust funds, potentially ending one of the largest and most complicated class-action lawsuits ever brought against the United States.
CNN: Math scores show improvement at schools in large U.S. cities
Public school students in major metropolitan areas are showing improvement on test scores in mathematics compared with scores from previous years, according to a report released Tuesday by the Department of Education.
INTERNATIONAL
For the latest international news: http://edition.cnn.com
The Guardian: Copenhagen climate summit in disarray after 'Danish text' leak
The UN Copenhagen climate talks are in disarray today after developing countries reacted furiously to leaked documents that show world leaders will next week be asked to sign an agreement that hands more power to rich countries and sidelines the UN's role in all future climate change negotiations.
Wall Street Journal: Developing Nations Call for Rich to Aid Emissions Cuts
Developing countries at the United Nations climate summit demanded that rich nations commit money and accept sharper cuts in their emissions, highlighting the divisions among the world's rich and poor nations that stand in the way of a new global climate deal.
New York Times: Violent Protests in Iran Carry Into Second Day
Iran's broadest and most violent protest in months spilled over into a second day on Tuesday, as bloody clashes broke out on university campuses between students chanting antigovernment slogans and the police and Basij militia members.
Wall Street Journal: North Korean Money Shift Sparks Violence
New reports emerged Tuesday of protests and deadly violence in North Korea as the country's authoritarian regime over the past week seized most of its citizens' money and savings via a new-currency issue.
Los Angeles Times: Brazil's police killings condemned by Human Rights Watch
More than 11,000 people have died at the hands of authorities in Rio de Janeiro and Sao Paulo since 2003. The rights group says the cities' police forces are fraught with mafia-like corruption.
BUSINESS
For the latest business news: www.CNNMoney.com
Bloomberg: Geithner Said to Be Seeking TARP Extension Until Next October
Treasury Secretary Timothy Geithner plans to tell Congress that the Obama administration will extend the $700 billion financial-rescue program until next October, according to people familiar with the matter.
Wall Street Journal: News Gets A Bit Better For Victims Of Madoff
For some Madoff investors, the financial damage likely won't be as bad as originally feared. Nearly a year after the massive fraud was exposed, sweetened tax breaks, payouts from the Securities Investor Protection Corp. and signs of success by the court-appointed trustee in charge of liquidating Bernard L. Madoff's firm are offering some of his investors hope for at least a partial recovery of their losses.
Bloomberg: Tiger Woods TV Ads Disappear After Reports of Affairs
Advertisements featuring Tiger Woods have disappeared from prime-time broadcast television and many cable channels following reports of his extramarital affairs, according to data from Nielsen Co. The last prime-time ad featuring the 33-year-old golfer was a 30-second Gillette Co. spot on Nov. 29, according to New York- based Nielsen.
In Case You Missed It
President Obama announces new steps to accelerate job growth and stimulate the economy.
http://www.cnn.com/video/#/video/politics/2009/12/08/bts.obama.jobs.speech.cnn
DNC Chairman Tim Kaine and RNC Chairman Michael Steele engage in a heated debate on jobs and health care reform.
http://www.cnn.com/video/#/video/politics/2009/12/08/tsr.party.chair.face.off.cnn
Subscribe to the CNN=Politics DAILY podcast at http://www.cnn.com/politicalpodcast
And now stay posted on the latest from the campaign trail by downloading the CNN=Politics SCREENSAVER at http://www.CNN.com/situationroom