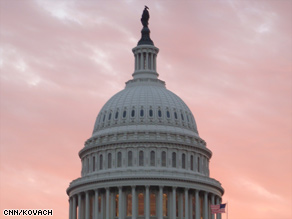 The CNN Washington Bureau's morning speed read of the top stories making news from around the country and the world.
WASHINGTON/POLITICAL
For the latest political news: www.CNNPolitics.com
CNN: Obama arrives in Norway to accept Nobel Peace Prize
President Obama arrived in Norway early Thursday to accept the Nobel Peace Prize, a smile on his face and the first lady's hand in his. …He will…accept the Nobel at an afternoon ceremony and attend an evening award banquet. The prize includes a $1.4 million check, a gold medal and a diploma. …His trip comes more than a week after he announced plans to deploy additional U.S. troops to Afghanistan, one of two countries where the United States is fighting a war.
CNN: House, Senate health care bills grow further apart
Senate Democratic leaders announced they've reached "broad agreement" on a package of provisions to replace the public option, a move that means their version of the health care bill is morphing into something that looks less and less like the House version. Senate leaders aren't releasing details of the revised plan, so it's unclear how much of the bill will be changed.
Los Angeles Times: Medicare expansion idea raises healthcare reform hopes
The new proposal for breaking the healthcare impasse in the Senate - based on a large expansion of the Medicare program - raised hopes Wednesday among Democrats that the way may be clearing to pass their massive bill by Christmas.
The Hill: Not so fast, say senators on health bill as they anticipate price tag
Liberal and centrist senators at the center of the healthcare debate bought themselves more time Wednesday, saying they would decide how to vote after they saw the bill's final price tag. Centrist Sen. Mary Landrieu (D-La.) and other senators emphasized they are withholding any promises until they hear from the Congressional Budget Office (CBO) about the cost of the new proposals.
The Hill: Destination Denmark: Political scuffle breaks out over Pelosi's delegation
A political scuffle has broken out about which lawmakers will be allowed to go to Copenhagen, Demark, on a congressional delegation led by Speaker Nancy Pelosi (D-Calif.). Days before legislators are scheduled to discuss global warming at a climate change summit, accusations flew about the politics of who gets a codel invitation.
Los Angeles Times: U.S. sends a parade of promises to Copenhagen
Obama dispatches a slew of Cabinet-level secretaries, advisors and envoys to prove to world leaders that the U.S. is serious about combating climate change. His own assurances might carry more weight.
CNN: Petraeus: Wait until December 2010 to gauge U.S. success in Afghanistan
Coalition forces can attain "success" in Afghanistan, but U.S. officials should wait until December 2010 before they can measure the progress of the troop surge, a top U.S. commander told a Senate committee Wednesday.
Bloomberg: Ron Paul's Fed-Bashing Wins Over Lawmakers Wary of Bank's Power
For U.S. Representative Ron Paul, the ninth time may be the charm. After fighting for decades to increase scrutiny of the Federal Reserve or abolish it, the Texas Republican's proposal requiring audits of the central bank's interest-rate decisions is getting traction.
Wall Street Journal: Firms Aren't Sold on Jobs Tax Credit
An Obama administration plan to give small-business owners tax credits to hire new employees likely won't entice them to do so unless the economy picks up. Business owners across the country said they appreciate the recent attention to their plight, but say that for the credit to make a difference they need to see more specifics - and more customers.
Politico: Dems to lift debt ceiling by $1.8 trillion, fear 2010 backlash
In a bold but risky year-end strategy, Democrats are preparing to raise the federal debt ceiling by as much as $1.8 trillion before New Year's rather than have to face the issue again prior to the 2010 elections.
Washington Post: For conservatives, a political surge
The energized "tea party" movement, which upended this year's political debate with noisy anti-government protests, is preparing to shake up the 2010 elections by channeling money and supporters to conservative candidates set to challenge both Democrats and Republicans.
Washington Post: Baird Retires in Washington State
Washington Rep. Brian Baird (D) will not seek re-election in 2010, becoming the tenth Democrat - and the third within the past few weeks - to announce that he will leave his seat.
Boston Globe: Divergent strategies for Brown, Coakley
From the opening moments yesterday of their special election battle for US Senate, the contrasts between Republican Scott Brown and Democrat Martha Coakley were clear.Brown, a state senator from Wrentham, signaled he would go after the attorney general with everything he had. She indicated she would do all she could to ignore him.
Minneapolis-St. Paul Star-Tribune: Minnesota's revolving door spins particularly fast
The legendary revolving door between politics and business seldom spins faster than it did when Sen. Dick Day walked through it this week. Day announced he would be leaving his Senate post early to lobby almost immediately for the horseracing industry, whose interests he promoted for years as a legislator.
San Francisco Chronicle: Berkeley sends wire hangers to politicians
The city of Berkeley mailed coat hangers to 20 members of Congress on Wednesday in protest of the anti-abortion amendment in the House version of the federal health care bill. The City Council approved the action 7-1 on Tuesday night. Councilman Gordon Wozniak dissented; Mayor Tom Bates was absent.
NATIONAL
For the latest national news: www.CNN.com
CNN: Pakistan arrests 5 men reported missing in United States
Five people arrested in Pakistan had been reported missing in the United States, and police are confident they were planning terrorist acts, a Pakistani police official told CNN.
CNN: TSA puts 5 on leave after security manual hits Internet
Five Transportation Security Administration employees have been placed on administrative leave after a sensitive airport security manual was posted on the Internet, the agency announced Wednesday.
Dallas Morning Star News: Dallas-Fort Worth area moves to top tier of terrorism targets
Dallas is now officially one of the nation's top 10 terrorist targets – a designation that sounds alarming but which state and local officials have sought for years, because it means millions in federal funds to beef up security.
USA Today: Jails cut costs, boost security by limiting inmates' mail
A growing number of the nation's jails are restricting inmates' incoming mail to postcards to save money and bolster security. The policy has been implemented this year at jails in Missouri, Kansas, Florida and Arizona, and is planned to go into effect in at least one Oregon county lockup in January.
Chicago Tribune: In Mumbai terror plot, a not-guilty plea
While FBI Director Robert Mueller was in town for a briefing on a terror case that reaches from Chicago to Denmark and India, the man at the center of the investigation stood before a federal judge Wednesday in his first public court appearance.
INTERNATIONAL
For the latest international news: http://edition.cnn.com
CNN: Al Qaeda claims responsibility in Iraq blasts that killed 127
Al Qaeda's umbrella group in Iraq on Thursday claimed responsibility for a string of suicide car bombings that killed 127 people and injured 448 earlier this week.
New York Times: Recession Elsewhere, but It's Booming in China
For the first time, Chinese will buy more cars this year than Americans. Demand is so high that drivers put their names on long waiting lists for the most popular models.And it is not just cars. For more and more consumer goods, China is surpassing the United States as the world's biggest market — from cars to refrigerators to washing machines, even desktop computers.
CNN: Honduras rejects Zelaya request for safe conduct to Mexico
A Mexican petition that would have granted deposed Honduran President Jose Manuel Zelaya safe conduct out of the country was rejected by Honduran authorities because it did not meet legal standards, Honduran Government Minister Oscar Raul Matute told CNN en Español.
BBC News: Philippines gunmen abduct dozens of students
Armed bandits have abducted dozens of students and teachers in the southern Philippines, officials say. A military spokesman said 65 people had been seized at a school in Agusan del Sur province on Mindanao island.
BUSINESS
For the latest business news: www.CNNMoney.com
CNNMoney: Bank of America: Paid in full
Billions of dollars in bailout money received by Bank of America over the past year is now officially back in government hands.
Wall Street Journal: Firms Face New Curbs on Pay
In the U.S., the Treasury Department's pay czar, Kenneth Feinberg, is poised to enact tougher-than-expected rules for employees at companies that received large amounts of government assistance. The U.K. on Wednesday slapped banks with a 50% tax on portions of bonuses they pay to individuals, in perhaps the most aggressive move yet by a government.
Wall Street Journal: American Dream 2: Default, Then Rent
People's increasing willingness to abandon their own piece of America illustrates a paradoxical change wrought by the housing bust: Even as it tarnishes the near-sacred image of home ownership, it might be clearing the way for an economic recovery.
In Case You Missed It
U.S. Commander in Afghanistan tells CNN's Christiane Amanpour he is confident U.S. can achieve success
http://www.cnn.com/video/#/video/world/2009/12/09/sot.mccrystal.amanpour.cnn
Lisa Sylvester reports on President Obama's plans to solve the jobs problem
http://www.cnn.com/video/#/video/us/2009/12/09/sylvester.jobs.problem.cnn
Subscribe to the CNN=Politics DAILY podcast at http://www.cnn.com/politicalpodcast
And now stay posted on the latest from the campaign trail by downloading the CNN=Politics SCREENSAVER at http://www.CNN.com/situationroom