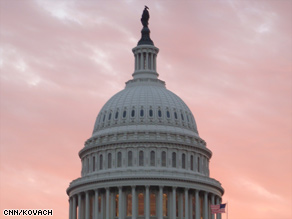 The CNN Washington Bureau's morning speed read of the top stories making news from around the country and the world.
WASHINGTON/POLITICAL
For the latest political news: www.CNNPolitics.com
CNN: Senate approves government funding bill
The U.S. Senate on Sunday approved $447 billion in spending for several Cabinet departments and other agencies for the 2010 budget year - money needed to fund the federal government after this week.
NPR: Pentagon, CIA Eye New Threat: Climate Change
Global warming is now officially considered a threat to U.S. national security. For the first time, Pentagon planners in 2010 will include climate change among the security threats identified in the Quadrennial Defense Review, the Congress-mandated report that updates Pentagon priorities every four years.
Bloomberg News: Summers Predicts U.S. Hiring Will Start to Grow in Spring 2010
White House chief economic adviser Lawrence Summers said U.S. employers will start to increase payrolls this spring, ending a decline that's led to the loss of 7.2 million jobs since the recession began two years ago.
Wall Street Journal: Fed Holds the Key to Dollar Strength
The dollar is likely to build on recent gains this week amid optimism the U.S. economy may pick up enough steam to prompt the Federal Reserve to raise interest rates sooner than many expected.
Washington Post: Obama presses bank chiefs to lend more
President Obama, who lashed out Sunday at "fat cat bankers" who "still don't get it," plans to gather the heads of major banks at the White House on Monday to urge them to make more loans and to accept the necessity of greater regulation.
Los Angeles Times: Drone attacks may be expanded in Pakistan
Senior U.S. officials are pushing to expand CIA drone strikes beyond Pakistan's tribal region and into a major city in an attempt to pressure the Pakistani government to pursue Taliban leaders based in Quetta.
Washington Post: Afghan promises to insurgents often empty
His path marked by moonlight, with a Kalashnikov strapped to his back, Feda Mohammed hiked the well-worn trail through the mountains of Pakistan and into Afghanistan. He had traveled the route dozens of times before to attack U.S. soldiers. But this time, Mohammed was on a secret mission to surrender.
ABC News: Democrats' 'Big Tent' Faces Challenges from Conservative Members
House Democrats fought their way back to power in 2006 and expanded their majority in 2008 by recruiting candidates who could win in conservative districts – a strategy that's coming back to bite them as they try to move a sweeping legislative agenda.
New York Times: Lieberman Rules Out Voting for Health Bill
In a surprise setback for Democratic leaders, Senator Joseph I. Lieberman, independent of Connecticut, said on Sunday that he would vote against the health care legislation in its current form. The bill's supporters had said earlier that they thought they had secured Mr. Lieberman's agreement to go along with a compromise they worked out to overcome an impasse within the Democratic Party.
New York Times: Paterson Trims Aid to Schools and Localities
Gov. David A. Paterson announced on Sunday that he would unilaterally withhold $750 million in scheduled payments to schools and local governments, saying that strong action was necessary to protect New York State from insolvency. …Some lawmakers called the move illegal, but the governor said "we are well within the bounds of legal authority."
Boston Globe: Frank gets delay in law restricting Net casinos
Over the objections of gambling opponents in Congress, the Obama administration has granted a request by US Representative Barney Frank to delay a long-scheduled federal crackdown on illegal Internet poker and casino sites.
Houston Chronicle: Senate bill's 'Botax' wrinkles noses in Houston
Thanks to what wags are calling the Botax, the tummy-tuck tariff and the implant imposition, Houstonians who love plastic surgery may find themselves asked to cough up a little more to help pay for health care reform. … Nowhere are the issues more apparent than in Houston, considered one of the nation's better plastic surgery markets, partly because the silicone breast implant was invented here in the 1960s.
San Francisco Chronicle: Poizner pours millions into campaign war chest
GOP gubernatorial candidate Steve Poizner – aiming to stop the momentum of a wealthy competitor, Meg Whitman – will put an additional $15 million of his own money into his campaign, his spokesman said Sunday.
Salt Lake Tribune: Top sports want new supplement rules, Utah politicians say no way
The U.S. Olympic team and major sports leagues are pressuring Congress to crack down on dietary supplement makers who secretly slip designer steroids into their products.
NATIONAL
For the latest national news: www.CNN.com
Dallas Morning News: Dallas agents ground helicopter believed to be on way to Iran
Federal agents in Dallas have grounded a helicopter that they say Italian aircraft brokers were planning to ship from North Texas to Iran in violation of U.S. trade sanctions. The fate of the $8 million chopper, sitting in a Bell hangar in Arlington, is in limbo while federal agents untangle an international web of circumstances that has already resulted in two other U.S.-manufactured helicopters entering Iran.
Chicago Tribune: Supreme Court may decide whether workers' text messages are private
Workplace rights advocates are closely following a California case now before the Supreme Court in which employees for the first time won a constitutional right to privacy in their text messages, even when the messages were sexually explicit comments to co-workers.
Wall Street Journal: For America's Santas, It's Hard to Be Jolly With the Tales They're Hearing
As a longtime Santa Claus at a suburban Chicago mall, Rod Riemersma used to jokingly tell children they would get socks for Christmas if they were naughty. This year, he stopped telling the joke. Too many children were asking for socks.
INTERNATIONAL
For the latest international news: http://edition.cnn.com
Times of London: Secret document exposes Iran's nuclear trigger
Confidential intelligence documents obtained by The Times show that Iran is working on testing a key final component of a nuclear bomb. The notes, from Iran's most sensitive military nuclear project, describe a four-year plan to test a neutron initiator, the component of a nuclear bomb that triggers an explosion. Foreign intelligence agencies date them to early 2007, four years after Iran was thought to have suspended its weapons programme.
CNN: Official: Thais detain plane with weapons from North Korea
Thai authorities seized a cargo aircraft carrying tons of weapons from North Korea during a refueling stop in Bangkok, a government official said. The pilot told Thai authorities the aircraft was headed to Sri Lanka, but its final destination was unknown, according to Panitan Wattanayagorn, a spokesman for the Thai prime minister.
The Guardian: Taliban stalls key hydroelectric turbine project in Afghanistan
An enormous hydroelectric turbine dragged at huge cost by British troops through Taliban heartlands last year may never be installed because Nato has been unable to secure a 30-mile stretch of road leading to an isolated dam in northern Helmand.
Wall Street Journal: Summit Is Seen as U.S. Versus China
The political script for a big climate-change conference in this Danish city has U.S. President Barack Obama and other world leaders flying in later this week to christen a new era of global environmental cooperation. In reality, the summit is shaping up as a pivotal economic showdown between the U.S. and China.
Miami Herald: American subcontractor's arrest in Cuba confirmed
A U.S. government contractor confirmed Saturday that Cuba has detained one of its subcontractors' employees but did not comment on a report he went to the island as a tourist and was handing out laptops and communications equipment.
Daily Telegraph: Hugo Chavez plays Father Christmas with cut-price socialist toy fair
Hugo Chavez has taken the spirit of the festive season to heart, buying $1.4m (£860,000) worth of toys from China to sell to Venezuelans at rock-bottom prices.
BUSINESS
For the latest business news: www.CNNMoney.com
New York Times: Citigroup Nears Deal to Return Billions in Bailout Funds
Citigroup was close to a deal on Sunday night to be the last of the big Wall Street banks to exit the government's bailout program, after trying to persuade regulators that it was sound enough to stand on its own.
Bloomberg News: Abu Dhabi Bails Out Dubai World With $10 Billion
Abu Dhabi provided $10 billion to help Dubai World, the state-owned holding company, meet its obligations, including $4.1 billion needed to repay an Islamic bond maturing today for the real-estate unit Nakheel PJSC.
Wall Street Journal: For-Profit Schools See More Defaults
Students who took out government loans to pay for their education at for-profit colleges had a 21% default rate in the first three years they were required to make payments, about three times the level of four-year public and nonprofit institutions, according to a Wall Street Journal analysis of government data scheduled for release Monday.
New York Times: Big Risk in a One-Man Brand Like Tiger Woods
Accenture, the giant consulting firm, ended its six-year marketing relationship with Tiger Woods on Sunday, showing once again that in advertising as in sports, there are no sure things.
In Case You Missed It
CNN's Kate Bolduan looks ahead to President Obama's meeting with bank CEOs.
http://www.cnn.com/video/#/video/business/2009/12/13/bolduan.obama.versus.bank.cnn
Italian Prime Minister Silvio Berlusconi is attacked while at a rally in Milan. CNN's Mohammed Jamjoom reports.
http://www.cnn.com/video/#/video/world/2009/12/13/jamjoom.it.berlusconi.attack.cnn
Subscribe to the CNN=Politics DAILY podcast at http://www.cnn.com/politicalpodcast
And now stay posted on the latest from the campaign trail by downloading the CNN=Politics SCREENSAVER at http://www.CNN.com/situationroom