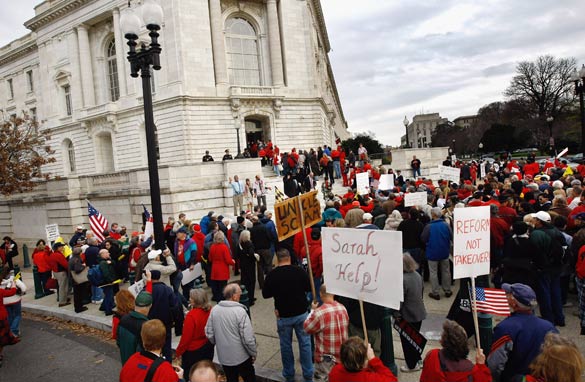 Conservatives rallied in Washington Tuesday to show their opposition to Democrats' plans for health care reform. (Photo Credit: Getty Images)
Washington (CNN) - Activists opposed to the Democrats' health care reform plans rallied outside the U.S. Capitol Tuesday.
The "Code Red Rally," was organized by a long list of conservative groups, including advocacy organizations Americans for Prosperity and Patients First. Republican Sens. Tom Coburn of Oklahoma and Jim DeMint of South Carolina, Rep. Michelle Bachmann of Minnesota, and talk show host Laura Ingraham were among the featured speakers.
The event was held as Senate Democrats try to reach agreement on a health care reform plan.