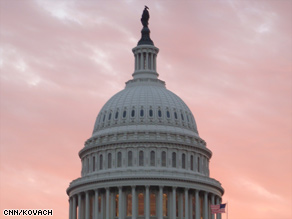 The CNN Washington Bureau's morning speed read of the top stories making news from around the country and the world.
WASHINGTON/POLITICAL
For the latest political news: www.CNNPolitics.com
CNN: Sources: Medicare buy-in likely to be dropped from health care bill Senate
Democrats are preparing to drop a compromise health-care plan that would allow 55- to 64-year-olds to buy into Medicare because of opposition from Connecticut Sen. Joe Lieberman, two senior Democratic sources said Monday.
Bloomberg: 'Disaster' Health Plan Breaks Obama Cost-Cut Vow
President Barack Obama's $1 trillion health-care overhaul won't buy corporate America relief from medical costs that more than doubled in the last decade, chief executive officers of more than a dozen U.S. companies said.
Chicago Tribune: Illinois to take Gitmo detainees
President Barack Obama has directed the federal government to buy the near-empty state prison in rural Thomson, Ill., to house federal inmates and up to 100 detainees from the U.S. detention center at Guantanamo Bay, Cuba, officials said late Monday.
NY Daily News: Bankers remember to take commercial planes to meet with Obama, but forget to check the weather
Goldman Sachs CEO Lloyd Blankfein, Morgan Stanley CEO John Mack and Citigroup Chairman Richard Parsons were all no-shows at a big White House meeting after their commercial flights were grounded in New York because of fog in the nation's capital. …The sitdown came a day after Obama ramped up his rhetoric on financial institutions, telling CBS' "60 Minutes" in an interview aired Sunday night: "I did not run for office to be helping out a bunch of fat-cat bankers."
CNN: Millions of Bush administration e-mails recovered
Computer technicians have recovered about 22 million Bush administration e-mails that the Bush White House had said were missing, two watchdog groups that sued over the documents announced Monday.
CNN: U.S. is 'pragmatic' with China, Russia
U.S. Secretary of State Hillary Clinton, who has been criticized as being too soft on human rights issues, said the "pragmatic" Obama administration approach is designed to make a difference, not prove a point.
Houston Chronicle: Friedman will run for ag chief instead
The ever-changing Democratic race for governor morphed into a contest between the mayor and the millionaire Monday as humorist Kinky Friedman dropped out to run for state agriculture commissioner.
Denver Post: Villafuerte withdraws as nominee for Colorado U.S. attorney
In a letter to President Barack Obama, who nominated her for the post, and Attorney General Eric Holder, Villafuerte said she was confident she would have "served well in this important position" but was withdrawing because of "political attacks" surrounding her role in the 2006 Colorado gubernatorial campaign.
Bloomberg: Tennessee Democrat Gordon Won't Seek 2010 Re-Election
U.S. Representative Bart Gordon, a Tennessee Democrat, announced he would retire from Congress, becoming the latest Democrat from a competitive district not to seek re-election next year.
NY Daily News: Gov. David Paterson's handlers are reinventing him for 2010
It's extreme makeover – governor's edition. Gov. Paterson's image-makers are changing everything to make him seem more gubernatorial for the 2010 election – from his clean-shaven appearance, new haircut, nicer suits and fewer off-the-cuff quips. Oh, and his aides have to call him "Governor" now, instead of using his first name.
Washington Times: Wary in Delaware
The waiting game continued last week to see if Vice President Joseph R. Biden Jr.'s son, Delaware Attorney General Beau Biden, will run for his father's former Senate seat.
NATIONAL
For the latest national news: www.CNN.com
New York Times: Sports Medicine Pioneer Subject of Doping Inquir
A Canadian doctor who has treated many N.F.L. players as well as Olympic medalists like Donovan Bailey and the world's top golfer, Tiger Woods, is under criminal investigation in the United States. He is suspected of providing athletes with performance-enhancing drugs, according to several people who have been briefed on the investigation.
San Francisco Chronicle: Pot advocates claim signatures for ballot issue
Advocates of legalizing marijuana say they've collected more than enough signatures to have California voters decide next year whether to tax and regulate the drug.
Albany Times-Union: Ed Commissioner Steiner: more charters, teacher testing
New York's new Education Commissioner David Steiner…just rolled out an ambitious agenda for overhauling the state's schools, as well as the tests given to students to see how the schools are doing. One of his suggestions: a possible doubling of the current cap of 200 charter schools allowed in the state and linking test scores, to some extent, to teacher compensation.
INTERNATIONAL
For the latest international news: http://edition.cnn.com
CNN: American hikers to stand trial, Iran says
Three American hikers held in Iran will be put on trial, Iranian Foreign Minister Manouchehr Mottaki told the country's semi-official Fars News Agency on Monday.
CNN: Car bombs kill four in Baghdad
A series of three car bombs exploded Tuesday near highly guarded central Baghdad locations, killing four people and injuring 14 others, a Ministry of Information official said.
CNN: Fidel Castro: U.S. is on offensive
Latin America's leftist leaders ended a two-day summit in Havana with some tough words for the United States.Venezuelan President Hugo Chavez read aloud a letter from ailing Cuban leader Fidel Castro, who insisted that the United States is again on the offensive in Latin America.
Wall Street Journal: Thailand Traces Path of North Korea Arms
Thailand's seizure of a plane packed with North Korean arms signals a possible escalation of international pressure on North Korean activities overseas aimed at threatening the financial health of its regime.
New York Times: China and U.S. Hit Strident Impasse at Climate Talks
China and the United States were at an impasse on Monday at the United Nations climate change conference here over how compliance with any treaty could be monitored and verified.
USA Today: U.S. booth sets tone for change at climate talks
Within the chaos of the Copenhagen environmental summit, where negotiations among 192 countries nearly broke down Monday, there's at least one oasis of apparent calm and progress. The U.S. booth in the conference hall…
BBC News: Armenia gas supplies from Russia stopped by 'bomb'
Russia has temporarily halted gas supplies to Armenia after an explosive device was found near a pipeline, Russian news reports say. A security official said exports via North Ossetia and Ingushetia were stopped and would not resume until the device was defused, Interfax reported.
Daily Telegraph: Nauru recognises South Ossetia and Abkhazia
According to Kommersant newspaper, Russia is preparing to give hard-up Nauru $50m (£30.74m) in humanitarian aid. In return Nauru will establish relations with the two Russian-backed territories, the Guardian reports. The Kremlin has been desperate to secure international recognition for the two regions since its punitive war last year with Georgia.
Der Spiegel: 'Germany Is Not Armed for War'
The scandal drags on over what exactly happened on that night in September when a German soldier called in a deadly air strike in Afghanistan. The German press is scathing in its criticism of the government's handling of the incident and most papers blame the debacle on Berlin's reluctance to admit it is at war. …The incident has proven highly controversial in Germany, where the deployment of the 4,300 German troops in Afghanistan is opposed by the majority of the population.
BUSINESS
For the latest business news: www.CNNMoney.com
CNNMoney: Wells Fargo to repay $25 billion bailout
Wells Fargo said Monday it has reached an agreement with the government to return $25 billion in bailout money it received during last year's financial crisis. The San Francisco-based bank said repayment of the funds is contingent on a $10.4 billion common stock offering.
Bloomberg: TARP Repayments Push Geithner to Focus on Unemployment, Credit
The U.S. banking industry moved out of intensive care when Citigroup Inc. and Wells Fargo & Co. said yesterday they will repay their bailout funds. Treasury Secretary Timothy Geithner still can't claim the patient is healthy.
Washington Post: Exxon Mobil to buy natural gas specialist
Exxon Mobil moved to bolster its U.S. natural gas reserves by announcing a $41 billion agreement Monday to acquire XTO Energy, a 23-year-old independent oil and gas company.
CNNMoney: Wall Street jumps to 14-month highs
Stocks gained Monday, with the three leading indexes closing at 14-month highs, after Citigroup said it will pay back government bailout funds and Dubai received $10 billion to cover its debt, easing worries the emirate might default on billions it owes.
Investors Business Daily: Western Firms Move R&D, Other Assets To Growing China
The idea is to move some key facilities and activities to take full advantage of what analysts say will be the world's largest and fastest- growing consumer market. Firms also want to tap China's lower cost base and the rising expertise of Chinese scientists and engineers.
In Case You Missed It
Federal workers' salaries are increasing at high rates during the recession. CNN's Lisa Sylvester reports.
http://www.cnn.com/video/#/video/us/2009/12/14/sylvester.federal.workers.salary.cnn
Ed Henry reports on whether President Obama's tough talk with bankers will lead to action.
http://www.cnn.com/video/#/video/politics/2009/12/14/henry.obama.bankers.cnn
Subscribe to the CNN=Politics DAILY podcast at http://www.cnn.com/politicalpodcast
And now stay posted on the latest from the campaign trail by downloading the CNN=Politics SCREENSAVER at http://www.CNN.com/situationroom