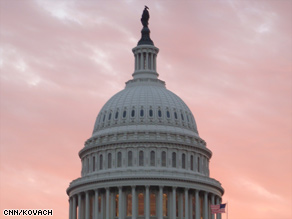 The CNN Washington Bureau's morning speed read of the top stories making news from around the country and the world.
Compiled by Alison Harding
WASHINGTON/POLITICAL
For the latest political news: www.CNNPolitics.com
CNN: GOP senator freezes health care debate
The congressional health care debate stalled briefly Wednesday as Senate Republicans insisted that a 767-page mega-amendment be read out loud in its entirety.
The Hill: Sanders says 'as of this point' he won't vote for healthcare bill
Sen. Bernie Sanders (I-Vt.) said late Wednesday that he cannot support the Democrats' healthcare reform legislation in its current form. Earlier on Wednesday, Sanders described himself as "undecided" on the bill.
Christian Science Monitor: Joe Lieberman 'out of tune' with Connecticut, but few complain
There is an irony in Sen. Joseph Lieberman's stalwart opposition to any form of a healthcare public option: The state he represents, Connecticut, approved a statewide public health insurance system with a public option this year.
CNN: Nelson reviewing new abortion language
Sen. Ben Nelson tells CNN he has received a compromise proposal on abortion restrictions that look "better than what's in the bill," but that he has to review it, and send it back to anti-abortion interest groups in his home state of Nebraska. …Nelson – whose vote is likely crucial to pass the Democratic health care reform bill – has said he believes the abortion restrictions in the Senate bill are too weak, and has threatened to vote against the plan if it isn't changed.
The Hill: GOP lawmaker seeks documents on Obama healthcare deals
A House Republican congressman is pushing the Obama administration to reveal the specifics of deals it struck with various groups on healthcare reform.
CNN: House rushes to wrap up year, postpone some battles until new year
With a holiday break looming, the House of Representatives Wednesday rushed to wrap up year-end business, and postponed several major battles until next year.
Washington Post: Pelosi says rallying votes for troop surge in Afghanistan will be Obama's job
President Obama will have to argue his own case to House Democrats as he seeks support for a planned surge of 30,000 troops into Afghanistan, House Speaker Nancy Pelosi (D-Calif.) said Wednesday, adding that she is finished asking her colleagues to back wars that they do not support.