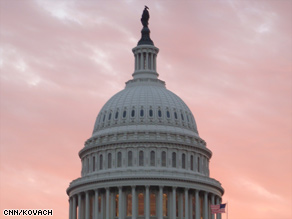 The CNN Washington Bureau's morning speed read of the top stories making news from around the country and the world.
Compiled by Alison Harding
WASHINGTON/POLITICAL
For the latest political news: www.CNNPolitics.com
CNN: President Obama in Denmark to push climate deal
President Obama landed in Copenhagen, Denmark, Friday morning hoping he can help bridge the divide that has hampered a climate change agreement.
CNN: Iraqi insurgents hacked Predator drone feeds, U.S. official indicates
Insurgents were able to use a mass-market software program to view live feeds from U.S. military Predator drones monitoring targets in Iraq, a U.S. official indicated to CNN Thursday.
Wall Street Journal: Officers Warned of Flaw in U.S. Drones in 2004
Senior U.S. military officers working for the Joint Chiefs of Staff discussed the danger of Russia and China intercepting and doctoring video from drone aircraft in 2004, but the Pentagon didn't begin securing the signals until this year, according to people familiar with the matter.
CNN: Senate ends debate on defense spending
Facing year-end holidays and running out of time to discuss health care reform, the Senate voted early Friday to end debate on funding for the Department of Defense. The motion passed 63 to 33, gaining the necessary 60-vote majority to avoid a GOP filibuster. It also will set up a final vote on the $636 billion package on Saturday.
Los Angeles Times: Foreign interpreters hurt in battle find U.S. insurance benefits wanting
An insurance program funded by American taxpayers was supposed to provide a safety net for interpreters and their families in the event of injury or death. Yet for many, the benefits have fallen painfully short of what was promised, an investigation by the Los Angeles Times and ProPublica found.
CNN: Senate Democratic leaders face potential revolt from liberals, social conservatives
Simmering liberal angst over the Senate health care bill threatened to boil over Thursday as a critical labor union threatened a new fight over provisions that were dropped to attract more moderate supporters.
Politico: President Obama's troops break ranks on health care
The foot soldiers of Barack Obama's 2008 campaign, organized to go into action when key elements of his agenda are at stake, aren't universally enthusiastic about fighting for the health care compromise now before the Senate.
Washington Post: $7.4 billion in stimulus projects to extend broadband to poor and rural areas
The Obama administration named 18 projects Thursday that would receive a portion of the $7.4 billion in stimulus funds set aside to bring high-speed Internet to poor and rural areas that have been overlooked by Internet service providers.
CNN: New civil rights chief vows more hate-crimes enforcement
The Obama administration's new civil rights chief said Thursday that he was "shocked" to learn of the steep decline in hate-crime prosecutions during the Bush presidency and vowed to combat violence stemming from hatred and bias.
CNN: Pakistan delays visas for U.S. officials
The Pakistani government has delayed the visas of hundreds of U.S. officials and contractors, a move that has frustrated the State Department and could affect U.S. programs on the ground.
CNN: Congress to probe private military contractors in Afghanistan
Congress is launching a broad-ranging investigation into possible waste, misuse and corruption tied to billions of taxpayer dollars used to support private military contractors in Afghanistan.
Chicago Sun-Times: Madigan: Quinn has authority to close Thomson deal
Attorney General Lisa Madigan said this afternoon that Gov. Quinn has the legal authority to execute a deal with the federal government to sell the little-used Thomson Correctional Center in northwestern Illinois to house detainees from Guantanamo Bay. …Madigan's opinion comes in response to a request from House Minority Leader Tom Cross (R-Oswego), who opposes converting Thomson into a prison for accused terrorists.
Dallas Morning News: By lingering in Senate, Hutchison risks bid for governor
Since announcing she will stay in the Senate while running for governor, Kay Bailey Hutchison has been busy assuring Republican voters she's doing a good job in Washington while trying to persuade them to bring her home.
NY Daily News: Convicted ex-Senate Majority Leader Joe Bruno will likely face jail time, say federal prosecutors
Get ready for some jail time Joe Bruno. That's the word from federal prosecutors who say they will likely recommend imprisonment for the 80-year-old former Republican kingpin who was convicted on corruption charges earlier this month.
NATIONAL
For the latest national news: www.CNN.com
CNN: Death penalty use declining nationwide
Use of capital punishment by states continues its steady decline, with fewer death sentences handed down in 2009 than any year since the death penalty was reinstated by the Supreme Court in 1976.
San Francisco Chronicle: S.F. threatens suit if A's move to San Jose
City Attorney Dennis Herrera gave Major League Baseball a little chin music on Thursday, firing off a letter suggesting San Francisco would sue the league if it approves moving the Oakland Athletics to San Jose.
INTERNATIONAL
For the latest international news: http://edition.cnn.com
CNN: High court blocks Pakistani officials from leaving country
Pakistani Defense Minister Chaudhry Ahmed Mukhtar was blocked from leaving the country Thursday after Pakistan's Supreme Court struck down an amnesty that had protected politicians from corruption charges, state media reported.
The Guardian: Pakistan denies coup as court ruling rocks Zardari government
Pakistan's government this morning dismissed rumours of a coup in the country as the fallout from a supreme court verdict continued to rock President Asif Ali Zardari's government.
CNN: China, Taiwan Set Stage for a Landmark Pact on Trade
China and Taiwan are launching key talks next week toward a trade pact that would mark the biggest step forward in a détente that is reshaping East Asia's economics and politics.The talks are expected to result in the signing next year of a free-trade deal between the onetime enemies, the culmination of 18 months of incremental but remarkable steps to open business, travel and political contacts.
Times of London: Union vows to defy BA with new strike vote
British Airways passengers were warned that the threat of strike action was not over hours after the High Court issued an injunction banning a planned Christmas strike.
BUSINESS
For the latest business news: www.CNNMoney.com
CNNMoney: 8 names you know, R.I.P.
Popular auto makes, magazine publishers and retailers were among the businesses laid to rest in 2009. Here's a list of 8 familiar names you won't see in the future.
The Detroit News: Carmakers to receive $220M in battery aid
Lawmakers late Thursday approved $220 million in tax credits to help automakers develop battery packs for hybrid and plug-in hybrid vehicles, a move state officials say will bring 1,000 jobs from overseas to Michigan.
Wall Street Journal: Agencies in a Brawl for Control Over Banks
In the darkest days of the financial crisis a year ago, Sheila Bair was hailed for having predicted the housing bust. Today, the chief of the Federal Deposit Insurance Corp. is fighting for her agency's future.
Investors Business Daily: Foreign Investors Eye U.S. Property
Foreign investors are nudging a U.S. commercial real estate investment market deep in hibernation. But it will take more than that to rouse sales in a big way. Buyers from abroad are on pace to snap up some $2.5 billion in U.S. commercial properties this year, says Hessam Nadji, a managing director at Marcus & Millichap Real Estate Investment Services.
Wall Street Journal: Discord Behind TARP Exits
This week's exits of Citigroup Inc. and Wells Fargo & Co. from the federal bailout program were supposed to mark a triumphal moment for the banking industry and Obama administration. But behind the scenes, the process has been marred by finger-pointing between federal officials and bank executives.
The Guardian: Bankers plot for 'voluntary' contributions to oust tax on bonuses
Some of the most senior bankers in Britain are planning to convince the Treasury to drop the new 50% tax on bonuses by dangling the prospect of a combined contribution to the exchequer of £2bn.
In Case You Missed It
Civil rights leaders discuss proposals to ensure African-Americans are not overlooked or undercounted in 2010.
http://www.cnn.com/video/#/video/us/2009/12/17/bts.census.minority.representation.cnn
Banks are starting to pay back TARP loans, but mortgage lenders continue to struggle. CNN's Louise Schiavone reports.
http://www.cnn.com/video/#/video/bestoftv/2009/12/17/tonight.mortgage.lenders.cnn
Sen. Joe Lieberman isn't allowed extra time to finish his remarks on health care on the Senate floor.
http://www.cnn.com/video/#/video/politics/2009/12/17/tsr.health.care.lieberman.franken.cnn
Subscribe to the CNN=Politics DAILY podcast at http://www.cnn.com/politicalpodcast
And now stay posted on the latest from the campaign trail by downloading the CNN=Politics SCREENSAVER at http://www.CNN.com/situationroom