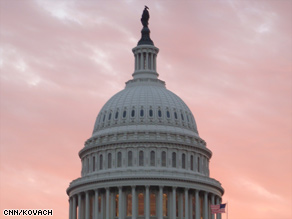 The CNN Washington Bureau's morning speed read of the top stories making news from around the country and the world.
Compiled by Alison Harding
WASHINGTON/POLITICAL
For the latest political news: www.CNNPolitics.com
CNN: Senate votes to give green light to health care bill
Democrats won a major victory in their push for health care reform early Monday morning as the Senate voted to end debate on a package of controversial proposals to a sweeping $871 billion bill.
CNN: A dozen Gitmo detainees sent to 3 countries
Twelve detainees at Guantanamo Bay, Cuba, were transferred to Afghanistan, Yemen and Somaliland, the U.S. Justice Department said Sunday. The moves bring the total number of detainees held at Guantanamo to just under 200.
Los Angeles Times: Obama's Guantanamo policy rings a bell
President Obama began the year with a pledge to close the Guantanamo prison, and to restore due process and the core constitutional values that he said "made this country great." But his administration has set out a multi-pronged legal policy for the remaining Guantanamo prisoners that bears a striking similarity to that of the final year of George W. Bush's presidency.
Wall Street Journal: U.S. Condolences Mark Support for Iran Dissidents
The Obama administration publicly mourned the passing of Iran's Grand Ayatollah Hossein Ali Montazeri, in an unusual move U.S. officials said was designed to align the White House with Iran's democratic movement. But U.S. officials also stressed Sunday that Mr. Montazeri's death and the continuing political protests inside Iran are unlikely to significantly alter President Barack Obama's overall strategy of seeking to engage Tehran in the near term.
Boston Globe: Dodd tacks new course on Senate bank bill
Senate Banking Committee chairman Christopher Dodd, who one month ago proposed an overhaul of financial regulations that was hailed by many consumer activists, has all but jettisoned that proposal following Republican objections and has initiated talks for a new approach designed to satisfy some of his fiercest GOP critics.
Hartford Courant: Dairy Farmers To Receive Emergency Aid
State dairy farmers should be receiving checks before the end of the year from a pool of emergency aid included in a U.S. Department of Agriculture appropriations bill.Connecticut farmers have for most of the past year been paying more to produce milk than they can sell it for, and the disparity is steadily causing farms to go under.
Los Angeles Times: Democrats will invoke Bush in 2010
It's an axiom in U.S. politics that the party in power in the White House loses seats in off-year elections. So every Democrat is girding for the fight in 2010. But Rep. Chris Van Hollen (D-Md.), chair of the Democratic Congressional Campaign Committee, told reporters last week that Democrats have a plan: Remind voters of George W. Bush.
NATIONAL
For the latest national news: www.CNN.com
CNN: Study: 1 in 110 U.S. children had autism in 2006
A new report published by the Centers for Disease Control and Prevention finds that one in 110 children in the United States had autism in 2006.
Washington Post: Santas debate whether it's naughty for them to be obese
In this season of ever-present Christmas cookies, an unlikely figure is leading the offensive against America's obesity epidemic. The beard on his double chin is as white as snow, and when he laughs, his little round belly shakes like a bowlful of jelly - and that, as Ernest Berger sees it, is the problem.
New York Times: Civilians Train in 'Afghan City' in the Midwest
For American civilians serving in Afghanistan, the last stop before they ship out to Kabul or Kandahar is a dilapidated, vaguely foreboding institution that once served as a farm colony for "feeble-minded" boys, and later was a state mental hospital.
The Denver News: Michigan wants land banks to spur redevelopment
Michigan is poised to launch an ambitious plan to take control of thousands of foreclosed, blighted and vacant properties statewide through land bank programs, and hopes to get $290 million in federal funds to accomplish it.
Anchorage Daily News: Cargo ship adrift south of Adak in heavy seas
A 740-foot cargo ship was disabled and floating adrift in high winds about 540 miles southwest of Adak on Sunday. The ship, the APJ Suryavir, registered in India, was battling 30-foot seas and winds close to 60 mph during part of the day, the U.S. Coast Guard reported. There were 28 people on board.
Denver Post: Universities offer gun storage to students
Nearly every college and university in the state bars students from having weapons on campus. But at Colorado's three largest institutions of higher learning, there are large caches of student-owned weaponry that would be the envy of many police departments.
CNN: Police check whether officer drew gun during snowball fight
Washington police were investigating on Sunday whether an off-duty officer drew his gun in the midst of a snowball fight involving a couple hundred people.
INTERNATIONAL
For the latest international news: http://edition.cnn.com
Wall Street Journal: Cleric's Death, Torture Case Jolt Iran
Iran's opposition on Sunday seized upon the death of one of the Islamic republic's founding fathers - a revered ayatollah who was also a fierce critic of the nation's leadership - to take to the streets in mourning.
Daily Telegraph: Hugo Chavez orders military to shoot at US aircraft
President Hugo Chavez has accused the US of violating Venezuela's airspace with an unmanned spy plane, and ordered his military to shoot down any such aircraft in the future. Speaking during his weekly television and radio program, Mr Chavez said the aircraft overflew a Venezuelan military base in the western state of Zulia after taking off from neighbouring Colombia. He did not elaborate, but suggested the plane was being used for espionage.
BBC News: Copenhagen climate summit held to ransom – Gordon Brown
Gordon Brown will accuse a small group of countries of holding the Copenhagen climate summit talks to ransom. The 193-nation conference ended with delegates simply "taking note" of a US-led climate deal that included limiting temperature rises to less than 2C.
Der Spiegel: Merkel Speaks Out over Summit
German Chancellor Angela Merkel says she expected more out of the global climate summit in Copenhagen. Speaking early Saturday, the German leader had no qualms about identifying China as one of the major hindrances to a global deal. Germany is now expected to organize the next interim climate meeting for mid-2010.
BBC News: Burma court hears appeal against Suu Kyi detention
Lawyers representing Burmese pro-democracy leader Aung San Suu Kyi are in court pushing their case for an appeal against her extended detention. Ms Suu Kyi was found guilty in August of violating the terms of her house arrest after an American man swam uninvited to her lakeside home.
CNN: Eurostar cancels weekend service after weather chokes off Channel Tunnel
Eurostar canceled all service this weekend after severe wintry weather in northern France caused the breakdown of an "unprecedented" six trains, stranding thousands of passengers on both sides of the English Channel on the weekend before Christmas.
The Guardian: Italian town where a White Christmas is a police matter
On orders from the local council, controlled by the conservative Northern League, police have been carrying out house-to-house searches for illegal immigrants in an action dubbed Operation White Christmas. The operation is due to finish on December 25.
BUSINESS
For the latest business news: www.CNNMoney.com
Bloomberg: Last-Minute Shopping May Counter Snow; Sales Forecast Unchanged
Last-minute shopping in the days leading up to Christmas may make up for lost weekend sales on the U.S. East Coast after record snowfalls shut stores early and kept shoppers at home, the National Retail Federation said.
New York Times: Labor Data Show Surge in Hiring of Temp Workers
The hiring of temporary workers has surged, suggesting that the nation's employers might soon take the next step, bringing on permanent workers, if they can just convince themselves that the upturn in the economy will be sustained.
CNNMoney: Citadel Broadcasting files for bankruptcy
Citadel Broadcasting Co., the third-largest radio group in the United States, filed for Chapter 11 bankruptcy Sunday.
Wall Street Journal: Banks Ponder Globalizing Their U.K. Bonus Pain
As 2009 winds down, big banks around the globe are sorting out one last headache: whether to spread the pain of the U.K.'s new bonus tax among their global work forces by cutting bonus pools all over the world.
Bloomberg: Dollar Trades Near Three-Month High on U.S. Economy Optimism
The dollar traded near a three-month high against the euro as signs a recovery in the world's largest economy is gaining traction and concern credit costs in Europe may widen bolstered demand for the greenback.
USA Today: Google ordered to stop scanning French works
Google has violated French copyright laws and must stop scanning French- language books for its digital library project, a Paris court ruled today. The ruling covers books and publications in U.S. libraries and overseas. The search giant must also pay $429,000 in damages and interest to the publisher that filed the lawsuit, Editions du Seuil SAS.
In Case You Missed It
Watch as a senior adviser to President Obama discusses the president's approval rating with CNN's John King.
http://www.cnn.com/video/#/video/politics/2009/12/20/sot.sotu.axelrod.wall.cnn
CNN's Howard Kurtz talks with three top journalists about the personal tone of the health care debate coverage.
http://www.cnn.com/video/#/video/politics/2009/12/20/healthcare.debate.personal.cnn
Subscribe to the CNN=Politics DAILY podcast at http://www.cnn.com/politicalpodcast
And now stay posted on the latest from the campaign trail by downloading the CNN=Politics SCREENSAVER at http://www.CNN.com/situationroom