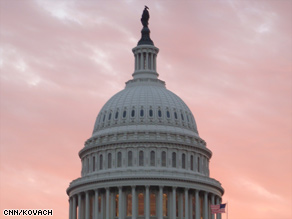 The CNN Washington Bureau's morning speed read of the top stories making news from around the country and the world.
Compiled by Alison Harding
WASHINGTON/POLITICAL
For the latest political news: www.CNNPolitics.com
CNN: CNN Poll: 6 point jump in support for health care bill
Support for the health care reform bill that Democrats are pushing through the Senate has risen six points since early December, according to a new national poll, and although a majority of Americans still oppose its passage, only four in ten agree with Senate Republicans that the bill is too liberal. The CNN/Opinion Research Corporation survey, released Monday, also indicates that President Barack Obama's approval rating has experienced a similar six-point rise.
Chicago Sun-Times: Blagojevich aide's computer yields new secrets
Did then-Gov. Rod Blagojevich try to work out a plan to keep White House Chief of Staff Rahm Emanuel's old congressional seat warm for him if Emanuel decided in a few years to return? Computer records, newly obtained by the Chicago Sun-Times, offer the latest evidence the ousted governor did.
Washington Post: Both sides question health bill's abortion compromise
It's the bill that stole Christmas. vBehind each cranky senator dealing his or her way toward a historic Christmas Eve vote on health-care reform is a cadre of staff members laboring day and night to make sense of the ever-changing 2,457-page bill, tutor their bosses, spin the press and break down what it means for constituents back home.
Investors Business Daily: Trial Lawyers Win Added Clout From Democrats In Health Bill
The Senate health care bill includes a gift to trial lawyers: a five-year, $50 million program to encourage states to consult with them on "alternatives" to malpractice claims. Though presented as a reform, critics say the program will simply encourage states to create an additional option for lawyers and plaintiffs to pursue claims, without requiring them to give up anything in return.
Politico: GOP warns of harsh climate on energy bill
Senate Republicans warned Monday that the bruising fight over health care reform could deliver a knockout blow to another Democratic priority: passage of a climate change bill in 2010.
CNN: Obama: Government contracting reforms will save $19 billion
A government plan to reduce contracting costs will save $19 billion in 2010, President Barack Obama announced Monday. The savings come from terminating unnecessary contracts, strengthening acquisition management, ending the over-reliance on contractors and reducing the use of high-risk contracts across government, according to documents released with Obama's announcement.
CNN: U.S. soldiers in Iraq could face courts-martial for getting pregnant
A new order from the general in charge of northern Iraq makes getting pregnant or impregnating a fellow soldier an offense punishable by court-martial. The directive, part of a larger order restricting the behavior of the 22,000 soldiers under Maj. Gen. Anthony Cucolo's command, is meant to prevent losing soldiers at a time when troop strength is stretched thin, Cucolo explained in a statement sent to the troops under his command and provided to CNN.
USA Today: Military mentors discreetly hired, fired
The Pentagon's Joint Forces Command fired a former top U.S. commander in Iraq from his role as paid adviser to the military after he publicly criticized the Bush administration's conduct of the Iraq war, according to interviews with command officials and e-mails.
New York Times: Obama to Name Chief of Cybersecurity
Nearly seven months after highlighting the vulnerability of banking, energy and communications systems to Internet attacks, the White House on Tuesday is expected to name a technology industry veteran to coordinate competing efforts to improve the nation's cybersecurity in both military and civilian life.
New York Daily News: Former Mayor Rudy Giuliani expected to announce Tuesday he will not run for U.S. Senate
So long, Rudy.Former Mayor Rudy Giuliani is expected to announce Tuesday he is not running for U.S. Senate or anything else in 2010, effectively ending his storied – and often stormy – electoral career, The Daily News has learned.
Sacramento Bee: Some California legislators' holiday greetings also ask for cash
'Tis the season for giving, right? Assemblyman Pedro Nava, running for attorney general, apparently hopes so. Mixing business with pleasure, Nava sent out a greeting card Monday featuring his family photo, a warm holiday message, a written hope for peace – and a link to click for donating to his campaign coffers. "Contribute today!" reads the card by the Santa Barbara Democrat.
Washington Times: GOP seeking House gains in 2010
Democratic retirements are fueling a Republican resurgence, but that still may not be enough for Congress to change hands next year. The recent decision by four veteran House Democrats to call it quits is raising questions about whether more will soon follow as the 2010 political climate grows more threatening in the midterm congressional elections, a year when government and business forecasters are predicting high unemployment and a slow economic recovery.
Miami Herald: Senate candidates unified on Cuba
The four leading candidates for Florida's open U.S. Senate seat in 2010 were in the same room for the first time Monday at the U.S.-Cuba Democracy Political Action Committee's annual luncheon - where they staked out their positions on the future of Cuba and its relations with the United States.
Dallas Morning News: Perry's health care focus is on wellness, lawsuit limits
Gov. Rick Perry has slammed the health care legislation moving through Congress as a big government, one-size-fits-all boondoggle that mostly costs money and regulates business.
NATIONAL
For the latest national news: www.CNN.com
CNN: New DOT rule limits airline tarmac delays
In what one advocate called "a Christmas miracle for airline passengers," the Department of Transportation on Monday announced a rule prohibiting U.S. aircraft on domestic routes from remaining on a tarmac for more than three hours with travelers aboard.
Denver Post: Balloon Boy parents hit with $42,000 tab for October stunt
The parents in the "Balloon Boy" ruse have been hit with a tab of $42,000 from local, state and federal agencies for their October stunt that briefly left many fearing for the fate of their 6-year-old, their lawyer said Monday.
The Detroit News: Michigan schools on brink of funding crisis
While lawmakers enacted sweeping education reforms last week in an effort to win up to $400 million in federal Race to the Top cash, they left in place a finance system that some say is failing public schools.
Chicago Tribune: Asian carp: Michigan asks Supreme Court to shut 2 corridors to Great Lakes
The fight to keep invasive Asian carp from the Great Lakes reached the nation's highest court Monday as Michigan's attorney general sued Illinois, asking for the closing of two shipping locks near Chicago in perhaps a last-ditch effort to save the region's $7 billion fishing industry.
Hartford Courant: Industry Official Faults Radiologists In Mammogram Debate
An Avon-based company that advises dozens of health insurers nationwide says the real problem with mammograms is radiologists who aren't reading them correctly.
INTERNATIONAL
For the latest international news: http://edition.cnn.com
CNN: Reporters targeted in Pakistan suicide blast
A suicide attacker detonated a bomb at a club for journalists in the northwestern Pakistani city of Peshawar on Tuesday, killing at least four people and injuring 17 others, a hospital official said.
BBC News: More than 80 dead in European winter weather
More than 80 people have died across Europe as days of snow storms and sub-zero temperatures swept the continent, causing traffic chaos for millions. At least 42 people have frozen to death in Poland over the last three days and another 27 in Ukraine.
Washington Post: In Ireland's deep budget cuts, an omen for a heavily indebted United States?
Like other heavily indebted nations around the world, Ireland is borrowing vast sums from foreign investors to plug its budget deficit. Fearing that the country will buckle under the weight of so much debt, the Irish have an answer: Put the government on a diet. …The Irish solution illustrates the tough choices ahead for countries in debt, particularly smaller, troubled nations such as Greece where analysts fear the eruption of a payments crisis if difficult steps aren't taken to control government spending.
CNN: Mexico City legalizes same-sex marriage, adoptions
Mexico City, one of Latin America's largest metropolises, on Monday legalized same-sex marriage and adoption by same-sex couples.
ABC News: Israel Took Organs of Dead Without Permission
A senior Israeli scientist has admitted that in the 1990s Israel routinely harvested organs from dead bodies without telling families.
BUSINESS
For the latest business news: www.CNNMoney.com
CNNMoney: Lower loan payments = fewer redefaults for homeowners
It should come as no surprise that fewer troubled borrowers will redefault if their loan payments are lowered in a mortgage modification. Now, there's federal data that shows this is true.
Los Angeles Times: Small-business bankruptcies rise 81% in California
The Obama administration's new plan to give a boost to small businesses reflects continued trouble in that sector, which is facing new failures even as much of the nation's economy is stabilizing.
Wall Street Journal: FBI Probes Hack at Citibank
The Federal Bureau of Investigation is probing a computer-security breach targeting Citigroup Inc. that resulted in a theft of tens of millions of dollars by computer hackers who appear linked to a Russian cyber gang, according to government officials.
Wall Street Journal: Apple TV Proposal Gets Some Nibbles
CBS Corp. and Walt Disney Co. are considering participating in Apple Inc.'s plan to offer television subscriptions over the Internet, according to people familiar with the matter, as Apple prepares a potential new competitor to cable and satellite TV.
In Case You Missed It
CNN's Jeanne Meserve reports on the U.S. Cyber Challenge, which gathers techies to test the nation's cyber networks.
http://www.cnn.com/video/#/video/tech/2009/12/21/meserve.hacker.tests.cnn
Subscribe to the CNN=Politics DAILY podcast at http://www.cnn.com/politicalpodcast
And now stay posted on the latest from the campaign trail by downloading the CNN=Politics SCREENSAVER at http://www.CNN.com/situationroom