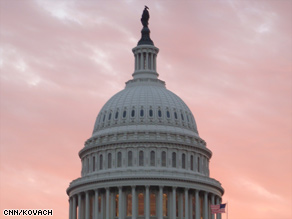 The CNN Washington Bureau's morning speed read of the top stories making news from around the country and the world.
Compiled by Alison Harding
WASHINGTON/POLITICAL
For the latest political news: www.CNNPolitics.com
CNN: Final Senate vote on health care set for Thursday morning
The Senate will hold its final vote on a sweeping health care bill Thursday morning under an agreement that Majority Leader Harry Reid announced Tuesday.
Washington Post: Robert Byrd back in form for Senate health-care vote
This week, amid a historic blizzard, the 92-year-old senator arrived in the wee hours after midnight, and in the frigid minutes just after dawn. When an aide guided him in his wheelchair onto the chamber floor just after 7:30 a.m. Tuesday, his fellow Democrats leapt to their feet and cheered, for the third time in five days.
Boston Globe: Health fight shifts to insurer shopping
The public option is gone. Expansion of Medicare is dead. But an intense fight continues over a crucial issue in the proposed health care overhaul: how far Congress should go in emulating the type of insurance marketplace that is at the center of the pioneering Massachusetts insurance program.
CNN: CNN Poll: Afghanistan war still unpopular, but troop increase isn't
Although the war in Afghanistan remains unpopular with most Americans, the public supports President Obama's decision to send more U.S. troops to the conflict, according to a new national poll.
Bloomberg: Bernanke's Confirmation Support Runs 3-1 in Favor in Senate
U.S. senators are backing Federal Reserve Chairman Ben S. Bernanke for a second term by a 3-to-1 margin, based on a count of 77 lawmakers by Bloomberg News.
Christian Science Monitor: Skeptics dominate hearing on Guantanamo detainees in Illinois
Federal and state officials faced a vociferous public and skeptical state legislators here Tuesday at a public hearing on the proposal to transfer Guantánamo Bay detainees to the Thompson Correctional Center in northwest Illinois.
Los Angeles Times: Schwarzenegger to seek federal help for California budget
Facing a budget deficit of more than $20 billion, Gov. Arnold Schwarzenegger is expected to call for deep reductions in already suffering local mass transit programs, renew his push to expand oil drilling off the Santa Barbara coast and appeal to Washington for billions of dollars in federal help, according to state officials and lobbyists familiar with the plan.
CNN: Giuliani to back rival in NY gov. battle, forgo run of his own
It appears Rudy Giuliani is giving fellow Republican Rick Lazio an early Christmas gift. The former two-term New York City mayor and 2008 GOP presidential candidate is scheduled to endorse Lazio for governor Tuesday afternoon at an event in New York City, according to a press release from the Lazio campaign. Lazio, a former congressman from Long Island, announced his candidacy for governor in September.
Washington Times: Primary foe has yuletide jeer for Specter
Not even warm holiday wishes can soothe Pennsylvania's brutal Democratic primary fight between incumbent Sen. Arlen Specter and Rep. Joe Sestak. Mr. Sestak, who has relentlessly pummeled Mr. Specter for not being a "real Democrat," couldn't resist taking one more swing at his opponent in a holiday e-mail sent out to supporters last week.
CNN: Griffith: 'I can no longer align myself' with Dems
Democratic Rep. Parker Griffith announced Tuesday he is switching to the Republican Party, citing fundamental differences with his former party on key issues including, health care reform, 'cap and trade,' and the stimulus bills.
NATIONAL
For the latest national news: www.CNN.com
CNN: Pregnant soldiers won't be court-martialed, commander says
The commander who instituted a policy cracking down on pregnancy among soldiers defended it Tuesday as necessary to maintain troop strength, but said no soldier would ever be court-martialed for violating the directive.
NY Times: Latino Leaders Use Churches to Push Census Bid
Fearing that millions of illegal immigrants may not be counted in the 2010 census, Latino leaders are mobilizing a nationwide drive to urge Hispanics to participate in the survey, including an intense push this week in evangelical Christian churches.
Los Angeles Times: Toyota found to keep tight lid on potential safety problems
A Times investigation shows the world's largest automaker has delayed recalls and attempted to blame human error in cases where owners claimed vehicle defects.
CNN: Jetliner misses runway at Jamaican airport
No one was seriously injured Tuesday evening when an American Airlines plane overshot a runway near Kingston, Jamaica, during bad weather and crashed into a fence, officials said.
Denver Post: Denver cops give 911-only cellphones to refugees worried about recent attacks
Recent beatings of South Asian refugees have prompted Denver police to hand out cellphones to newcomers from abroad. The hope is that the emergency-only phones, which require no payments, will help refugees reach paramedics and police to prevent future trouble, said Scott Snow, director of the Denver police Victim Assistance Unit.
INTERNATIONAL
For the latest international news: http://edition.cnn.com
CNN: World powers discuss options should Iran miss nuclear deadline
World powers are discussing next steps toward Iran if it fails to meet a year-end deadline for addressing international concern over its nuclear program, the White House and State Department said Tuesday.
Bloomberg: China Signals Resistance to Iran Sanctions, Seeks Further Talks
China signaled resistance to any U.S. and European push for tougher United Nations sanctions on Iran, saying talks aimed at preventing its development of nuclear weapons should be given a chance to succeed.
CNN: Drug cartel retaliation suspected in Mexico shootings
Three members of the family of a Mexican marine who died in a shootout last week were killed Tuesday in the southern state of Tabasco, Mexican President Felipe Calderon said.
Times of London: Osama bin Laden's missing family found in secret compound in Iran
Osama bin Laden's closest relatives are living in a secret compound in Iran, members of the family said last night. They include a wife and children who disappeared from his Afghan camp at the time of the 9/11 attacks on the United States.
Los Angeles Times: Egypt's barrier along Gaza border called 'wall of shame'
An underground barrier to prevent tunneling by smugglers along Egypt's border with the Gaza Strip has been dubbed a "wall of shame" by Arab writers and politicians who charge that Cairo is siding with Israel in isolating the 1.5 million Palestinians living in the seaside enclave.
Bloomberg: Brazil's Congress Approves Lula's Budget Before 2010 Elections
Brazil's Congress approved the country's 2010 budget that may allow President Luiz Inacio Lula da Silva to boost spending before October's presidential elections.
CNN: Brazil high court lifts stay, allowing boy to return to U.S.
The chief justice of the Brazilian Supreme Court ruled Tuesday in favor of an American father in an international custody battle.
CNN: Winter weather causes travel chaos in Europe
Severe winter weather continued its stranglehold on Europe as travelers battled heavy snow, airlines canceled flights and motorists were left stranded.
BUSINESS
For the latest business news: www.CNNMoney.com
Washington Post: AIG executives' promises to return bonuses have gone largely unfulfilled
When word spread earlier this year that American International Group had paid more than $165 million in retention bonuses at the division that had precipitated the company's downfall, outrage erupted, with employees getting death threats and President Obama urging that every legal avenue be pursued to block the payments. New York Attorney General Andrew M. Cuomo threatened to publicize the recipients' names, prompting executives at AIG Financial Products to hastily agree to return about $45 million in bonuses by the end of the year.
Wall Street Journal: BP Faces Federal, State Investigations Into Alaska Spills
Federal and Alaska investigators are examining BP Plc (BP) after two recent oil spills, a new black eye for a company that pleaded guilty to a U.S. government criminal charge two years ago for its management of oil fields in the state.
CNN: Senate rewrites financial reform
More than a year after the financial system blew up, efforts to build a better financial regulatory system are just now getting hammered out in the Senate. The big question is: Will it be tough enough?
Investors Business Daily: ATM Firm Deposits Profits As Customers Make More Withdrawals
In these times of credit crisis, merchants and consumers alike know what to trust: cold, hard cash. That's one reason Cardtronics (CATM), which runs the world's largest network of ATMs, has been doing so well lately. In the third quarter, withdrawals from its machines totaled $64 million, up 8.5% from the year-ago quarter. Each ATM clocked an average 642 transactions per month, up from 595 last year.
Bloomberg: Marijuana-Reeking Tour Bus, Red Ferrari Are FDIC's Crisis Booty
The financial crisis that popped the real estate bubble and pushed U.S. bank failures to a 17-year high landed the Federal Deposit Insurance Corp. a rapper's tour bus that reeked of marijuana. … The FDIC has reaped $6.2 million from the sale of so-called other assets in 2009, six times the total last year, according to the agency.
In Case You Missed It
Senators are feeling the exhaustion of working overtime to debate health care reform. CNN's Dana Bash reports.
http://www.cnn.com/video/#/video/politics/2009/12/22/bash.senate.exhaustion.tension.cnn
Lobbyists are on track to spend record amounts despite the economy. Lisa Sylvester reports
http://www.cnn.com/video/#/video/politics/2009/12/22/sylvester.gov.lobbyists.cnn
Subscribe to the CNN=Politics DAILY podcast at http://www.cnn.com/politicalpodcast
And now stay posted on the latest from the campaign trail by downloading the CNN=Politics SCREENSAVER at http://www.CNN.com/situationroom