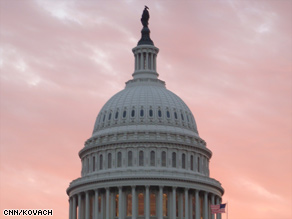 The CNN Washington Bureau's morning speed read of the top stories making news from around the country and the world.
WASHINGTON/POLITICAL
For the latest political news: www.CNNPolitics.com
CNN: Obama orders review of flight screenings
President Obama has ordered a review of security screening processes after Friday's botched terror attack on a U.S. airliner, White House press secretary Robert Gibbs said Sunday.
The Hill: Lieberman: Yemen will be 'tomorrow's war' if pre-emptive action not taken
Sen. Joe Lieberman (I-Conn.) Sunday said that Yemen could be the ground of America's next overseas war if Washington does not take preemptive action to root out al-Qaeda interests there.
Washington Post: Abstinence proponents look for aid from new health bill
Proponents of sex education classes that focus on encouraging teenagers to remain virgins until marriage are hoping that the rescue plan for the nation's health-care system will also save their programs, which are facing extinction because of a cutoff of federal funding.
USA Today: Metro areas get chunk of rural stimulus aid
More than $2.7 billion of stimulus aid for struggling parts of rural America has gone to the nation's biggest metropolitan areas. That's nearly a quarter of the $12 billion in rural assistance the government has paid out so far under President Obama's economic stimulus package, a USA TODAY review shows.
Wall Street Journal: After the Bailouts, Washington's the Boss
In 2008 and 2009, Washington strove to save the economy. In 2010, Americans will get a clearer picture of how Washington has changed the economy. Only as the recession recedes will it become fully evident how permanently the state's role has expanded and whether, as a consequence, a new, hybrid strain of American capitalism is emerging.
Times of London: Democrats pose threat to President Obama's cap-and-trade climate Bill
Less than ten days after claiming a breakthrough on climate change in Copenhagen President Obama is facing a mutiny from senior Democrats who are imploring him to postpone or even abandon his cap-and-trade Bill.
New York Times: As Aisle Gets Wider, Arms Get Shorter
It was a startling admission. A top congressman revealed that he had voted against an administration priority as a way to score political points as his party battled to regain power. …Keenly aware from recent history that political missteps can cause big swings in the make-up of the House and Senate, members of the party out of power increasingly see little advantage in working with those controlling Congress to help them achieve victories that could come at the minority's expense.
McClatchy: If GOP wins big in 2010, credit California's Rep. McCarthy
With visions of a Republican majority dancing in his head, California U.S. Rep. Kevin McCarthy is driving the back roads of America these days, looking for fresh faces to represent his party in 2010. …To regain control of the House of Representatives, Republicans must pick up 41 seats. If they win big in the House next year, it will be at least partly because the party put McCarthy in charge of its recruiting efforts.
Politico: Sparks open to Griffith challenge
Alabama Agriculture Commissioner Ron Sparks is signaling that he's open to dropping his gubernatorial bid to run against party-switching Rep. Parker Griffith, a move that would give House Democrats their preferred recruit to reclaim the seat and also clear the party's field in the governor's race.
NATIONAL
For the latest national news: www.CNN.com
CNN: Terror suspect out of hospital, held at undisclosed location
Investigators combed through Umar Farouk Abdulmutallab's history Sunday in hopes of learning how the British-educated son of a Nigerian bank executive ended up carrying what authorities said was a bomb onto a Michigan-bound jetliner.
USA Today: New air scare brings renewed travel hassles
Taking off your shoes is no longer enough. Security agents may pat the soles of your feet, work up your legs to your waist and run a wand across your whole body. Bags may be searched even after they pass the scanner. Bathroom breaks may be eliminated for the last hour of international flights. Blankets on your lap on those flights are verboten, too. Forget about that extra carry-on bag. And those controversial body scanners that can see under passengers' clothes? They could show up at more airports.
New York Times: The Recession Begins Flooding Into the Courts
New York State's courts are closing the year with 4.7 million cases — the highest tally ever — and new statistics suggest that courtrooms are now seeing the delayed result of the country's economic collapse. The Great Recession may be showing signs of easing, but the legal fallout from the financial troubles, the numbers suggest, may have only just begun.
NPR: Pot Dispensaries Pop Up In Colorado
The number of businesses that sell marijuana has increased greatly in Colorado, where use of pot for medical reasons has been allowed since 2000. A mix of confusing regulations and court rulings had kept its distribution in check — until earlier this year. Now pot stores are showing up in many neighborhoods — and there are calls for more regulation.
Boston Globe: Arson rampage leaves 2 men dead
Two people were killed early yesterday in one of at least 18 fires set during what the state's top firefighter called the state's worst day of arson in memory.
INTERNATIONAL
For the latest international news: http://edition.cnn.com
Daily Telegraph: Al-Qaeda warned of imminent bomb attack
An al-Qaeda terrorist in Yemen warned the United States "we are carrying a bomb" in a video posted online four days before the attempt to blow up a Northwest Airlines flight bound for Detroit.
CNN: Several killed, 300 arrested in Tehran protests
Several people were killed and more than 300 were arrested in anti-government protests in Tehran Sunday, Iran's Deputy Police Chief Ahmad Reza Radan said on state television station IRINN.
Christian Science Monitor: West Bank killings could scupper Shalit prisoner deal
On the eve of the anniversary of Israel's offensive in Gaza against Hamas, an outbreak of violence in the West Bank could complicate a long anticipated prisoner swap that would ease tensions in the war-torn coastal strip.
New York Times: Thailand Begins Repatriation of Hmong to Laos
Armed with riot shields and batons, Thai military officers began early on Monday to forcibly return 4,000 Hmong asylum seekers to Laos in a lingering echo of the Vietnam War.
Miami Herald: Honduras' business leaders hope elections restore investors' faith
Just days after Honduras' recent presidential elections, Tegucigalpa Chamber of Commerce members gathered for their monthly meeting and breathed a collective sigh of relief. "Finally, we can get back to business," said Luisa Maria Willingham, the chamber's director.
BUSINESS
For the latest business news: www.CNNMoney.com
Wall Street Journal: Businesses to Push for Modifications to Senate Bill
Businesses are set to push for modifications to the Senate-approved health bill, while urging lawmakers to steer clear of the version passed by the House. The Senate bill, which passed 60-39 on Christmas Eve with no Republican backing, has drawn tentative support from some large corporations and industry groups, despite containing a range of provisions that they hope to change. By contrast, businesses of all sizes oppose the House bill, which contains more-stringent requirements on employers to offer health coverage to employees.
Times of London: Pound may fall below parity with euro, economists warn
Economists have warned that the pound is on the brink of sinking below parity with the euro due to the Government's unconvincing plans to tackle Britain's £178 billion budget deficit.
Washington Post: As college costs rise, loans become harder to get
The upheaval in financial markets did not just eliminate generous lending for home buyers; it also ended an era of easy credit for students and their families facing the soaring cost of a college degree.
In Case You Missed It
CNN's Drew Griffin speaks with Mohammed Jamjoom about the conditions in Yemen and why the U.S. and others are concerned.
http://www.cnn.com/video/#/video/world/2009/12/27/nr.yemen.concern.cnn
Former Chiefs of Staff Andy Card and John Podesta and former presidential adviser David Gergen preview 2010.
http://www.cnn.com/video/#/video/politics/2009/12/27/previewing.obama.second.year.cnn
Subscribe to the CNN=Politics DAILY podcast at http://www.cnn.com/politicalpodcast
And now stay posted on the latest from the campaign trail by downloading the CNN=Politics SCREENSAVER at http://www.CNN.com/situationroom