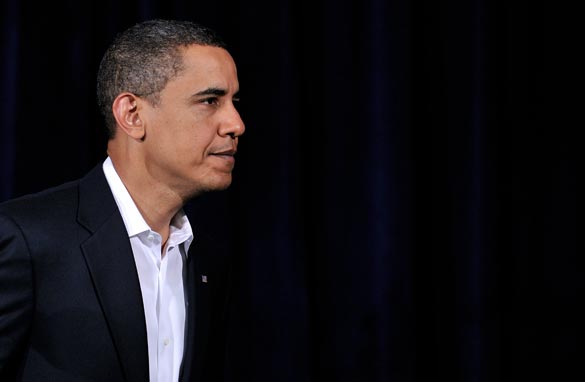 African-Americans remain supportive of President Obama, according to a new CNN/Opinion Research Corp. survey.  (Getty Images)
Washington (CNN) - African-Americans are incredibly supportive of President Barack Obama, but their enthusiasm appears to have dramatically dropped from earlier this year, according to a new national poll.
The CNN/Opinion Research Corporation survey, released Tuesday, also indicates that Obama's presidency appears to have made blacks more optimistic about race relations, but less than one in five believe the new president has ushered in a new era of race relations in the country.
More than nine in 10 blacks questioned in the poll approve of the job Obama's doing in the White House, far higher than 42 percent of whites who approve of his performance as president. But when asked how they personally feel about Obama's presidency, only 42 percent of black respondents say they're thrilled, with nearly half of those questioned saying they are happy but not thrilled. The 42 percent who are thrilled is down from 61 percent in January, when Obama was inaugurated.
"African-Americans are still big fans of the first black president in U.S. history, but the thrill is gone," says CNN Polling Director Keating Holland.
According to the poll, 51 percent of African-Americans say Obama's presidency has brought some improvement in race relations in the U.S., but only 18 percent feel it's the start of a new era. Another 23 percent say they've seen a real change in race relations over the past 11 months and 7 percent say things have gotten worse.
The survey indicates that three-quarters of blacks think that race relations will eventually improve, which is up from 49 percent of blacks who felt that way a year before Obama was elected.
"Whites take a dimmer view of Obama's effect on race relations, with a third believing that the new presidency has not changed race relations in the country and 15 percent of whites saying that Obama has made race relations worse," adds Holland. "Not surprisingly, whites are less supportive of Obama, although for a notable number of whites, their negative view of the president is due to the perception that he's not been liberal enough."
The CNN/Opinion Research Corporation poll was conducted December 16-20, with 1,160 adult Americans, including 259 African-Americans and 786 whites, questioned by telephone. The survey's overall sampling error is plus or minus 3 percentage points and plus or minus 6 percentage points for the African-Americans sample.
- CNN Deputy Political Director Paul Steinhauser contributed to this story