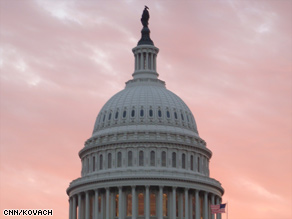 The CNN Washington Bureau's morning speed read of the top stories making news from around the country and the world.
WASHINGTON/POLITICAL
For the latest political news: www.CNNPolitics.com
CNN: Obama: U.S. will 'do more than strengthen our defenses'
President Obama warned Monday that the United States would respond aggressively to terrorism such as last week's botched attempt to blow up a U.S. airliner.
Washington Post: Republican senator DeMint holds up nomination for TSA chief
An alleged attempt to blow up a transatlantic flight from Amsterdam to Detroit on Christmas would be all-consuming for the administrator of the Transportation Security Administration - if there were one.
Los Angeles Times: A White House intervention for bickering leaders of U.S. intelligence
The White House this month issued a classified order to resolve mounting frictions between the nation's intelligence director and the CIA over issues including how the agency conducts covert operations, U.S. officials said. The intervention reflects simmering tension between the two most powerful players in the U.S. intelligence community: Director of National Intelligence Dennis C. Blair and CIA Director Leon E. Panetta.
Politico: GOP seizes on terror issue
Republicans have wasted no time in attacking Democrats on intelligence and screening failures leading up to the failed Christmas Day bombing of Flight 253 — a significant departure from the calibrated, less partisan responses that have followed other recent terrorist activity.
CNN: Public option may be dropped from final health care bill
House Democrats are signaling that a final health care bill will drop the government-run public health insurance option favored by liberals but rejected by conservatives from both parties.
New York Times: At State Level, Health Lobby Fights Change
Like about a dozen other states, Florida is debating a proposed amendment to its state constitution that would try to block, at least symbolically, much of the proposed federal health care overhaul on the grounds that it tramples individual liberty.
USA Today: Cardiologists sue Sebelius over Medicare fee cuts
Heart specialists on Monday filed suit against Secretary of Health and Human Services Kathleen Sebelius in an effort to stave off steep Medicare fee cuts for routine office-based procedures such as nuclear stress tests and echocardiograms.
Houston Chronicle: Immigration reform facing long odds
Immigration reform is increasingly looking like a political albatross that could hurt Democrats in the 2010 midterm elections whether President Obama succeeds or fails in overhauling today's widely disliked system.
Chicago Sun-Times: GOP opponent claims front-runner Mark Kirk is gay in attack ad
U.S. Rep. Mark Kirk, the front-runner in the Republican primary election for U.S. Senate, finds himself the object of an unusual attack ad from one of his lesser-known opponents.
The Hill: Anti-BCS group claims Fiesta Bowl staffers pushed to donate
The Fiesta Bowl improperly encouraged employees to give donations to political candidates, a group said in a legal complaint filed Monday.
NATIONAL
For the latest national news: www.CNN.com
CNN: Official: Dad warned U.S. of son but 'no suggestion' of terrorist act
When the father of suspected terrorist Umar Farouk AbdulMutallab visited the U.S. embassy in Nigeria in November, he told officials he believed his son was under the influence of religious extremists and had traveled from London, England, to Yemen, a senior administration official said Monday.
CNN: Al Qaeda link investigated as clues emerge in foiled terror attack
Part of an explosive device that failed to take down a plane last week was sewn into the underwear of the Nigerian man accused of igniting it, a law enforcement official told CNN Monday. …Al Qaeda in the Arabian Peninsula claimed responsibility Monday for the attack, saying it was in retaliation for alleged U.S. strikes on Yemeni soil.
Wall Street Journal: Snow-Removal Bills Leave States Scrambling
The blizzards that hit the Midwest and the Eastern Seaboard this month rang up huge snow-removal bills for cash-strapped state and local governments - and left officials scrambling to figure out how they will pay to clear roads later in the winter.
INTERNATIONAL
For the latest international news: http://edition.cnn.com
CNN: Official: Behind scenes, U.S. prodding Yemen to confront al Qaeda
"Solid intelligence" from U.S. and Yemen services finally persuaded Yemeni President Ali Abdullah Saleh last summer to accept increased help in fighting al Qaeda in his country, a senior U.S. official told CNN.
Washington Post: In online posts apparently by Detroit suspect, religious ideals collide
The 23-year-old Nigerian man accused of the attempted Christmas Day bombing of an American airliner apparently turned to the Internet for counseling and companionship, writing in an online forum that he was "lonely" and had "never found a true Muslim friend."
CNN: China executes British citizen for drug smuggling
The British government condemned China's execution of a British national Tuesday on drug smuggling charges. …Akmal Shaikh was convicted of carrying up to 4 kilograms (8.8 pounds) of heroin at the Urumqi Airport in September 2007. China says he received due process under its laws, and he exhausted his appeals last week.
CNN: Iranian dissenters reportedly arrested
The latest violent protests to hit Iran has prompted hundreds of arrests, including some prominent figures, and left at least eight dead, although the Iranian government denied its security forces have killed anyone.
Christian Science Monitor: Mousavi supporters say Iran ordered murder of his nephew
A spokesman for Mir Hossein Mousavi, the former presidential candidate and Iran Green Movement leader, charged that the murder of Mousavi's nephew on Sunday was a targeted assassination designed to send a message to the political reformist.
CNN: North Korea says it's holding American
North Korea announced Tuesday that it is holding an American who illegally entered the country on Christmas Eve, possibly a Korean-American missionary who told relatives he was trying to sneak into the isolated communist state.
BBC News: Gaza marchers on hunger strike in Egypt
Protesters trying to march into Gaza a year after an Israeli offensive are on hunger strike after Egypt blocked them from crossing the border. Hundreds of people in Cairo have been prevented from getting close to the border with Gaza.
BUSINESS
For the latest business news: www.CNNMoney.com
CNNMoney: Stocks hit new highs
Stocks ended a choppy session higher Monday, with the Dow, S&P 500 and Nasdaq managing fresh 2009 highs on some optimism about a recovery in retail sales and gains in select sectors.
Bloomberg: Oil Trades Near Five-Week High on Signs of Economic Recovery
Crude oil traded near a five-week high on signs the global economy is recovering from the worst recession since World War II.
Wall Street Journal: Morgan Stanley to Overhaul Pay Plan
Morgan Stanley is poised to overhaul the way it pays its most senior executives, deferring more of their compensation over time and benchmarking their pay against rival firms, according to people familiar with the matter.
CNNMoney: Blank check sends Fannie, Freddie soaring
Shares of mortgage finance giants Fannie Mae and Freddie Mac soared Monday after the Treasury Department announced what essentially amounts to a blank check for their bailouts. Treasury lifted a $200 billion limit on the amount it was ready to pump into each of the two mortgage firms after the markets closed Thursday.
Wall Street Journal: Retailers Jockey to Market Swine-Flu Shots
Pharmacies, supermarkets and other retailers are jockeying to become the go-to provider for swine-flu vaccinations, in a bid to attract more customers and, in many cases, promote their in-store health clinics.
CNNMoney: Airline stocks lower after failed terror attack
Airline stocks opened lower Monday after a botched terror attack aboard a Northwest Airlines flight approaching Detroit on Christmas Day shook the industry.
In Case You Missed It
CNN's Barbara Starr reports on new attention to the al Qaeda threat in Yemen.
http://www.cnn.com/video/#/video/world/2009/12/28/starr.al.qaeda.yemen.cnn
President Obama speaks out against the attempted terror attack on a U.S. plane. CNN's Ed Henry reports.
http://www.cnn.com/video/#/video/politics/2009/12/28/henry.obama.terror.statement.cnn
Subscribe to the CNN=Politics DAILY podcast at http://www.cnn.com/politicalpodcast
And now stay posted on the latest from the campaign trail by downloading the CNN=Politics SCREENSAVER at http://www.CNN.com/situationroom