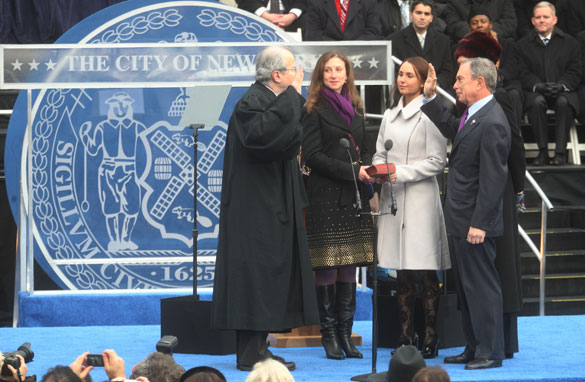 Michel Bloomberg was sworn in Friday for a third term as mayor of New York City. (PHOTO CREDIT: Getty Images)

(CNN) – New York City Mayor Michael Bloomberg was sworn in to a third term Friday afternoon, becoming only one of a handful of mayors in the city's history to serve more than two terms.
"This term is a special opportunity, one that comes with extraordinary responsibilities," said Bloomberg, a Democrat-turned-Republican-turned-Independent who successfully campaigned the city council to amend the mayoral term limit law in 2008.
His election last November was closer than expected, when he beat an underfunded challenger by just 5 points after spending more than a $100 million of his own money.
"I realize, too, that the building behind me is yours — and the job in front of me is to listen and to lead," Bloomberg also said as he took the oath of office in front of City Hall.
In the fifteen minute speech, Bloomberg pledged to shake up his administration by rotating his deputy commissioners to oversee different agencies for three weeks as a way to "break down the bureaucratic barriers that all too often impede innovation."
"This is not a game of musical chairs, this is a management challenge, and a unique opportunity for collaboration and innovation," said Bloomberg.