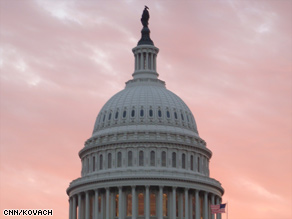 The CNN Washington Bureau's morning speed read of the top stories making news from around the country and the world.
WASHINGTON/POLITICAL
For the latest political news: www.CNNPolitics.com
CNN: Source: 2 killed in Afghanistan bombing were security contractors
Two of the seven CIA officers killed Wednesday in a suspected terrorist attack on a U.S. base in Afghanistan were contractors for Xe, a private security firm formerly known as Blackwater, a former intelligence official said Thursday.
Washington Post: CIA base attacked in Afghanistan supported airstrikes against al-Qaeda, Taliban
The CIA base attacked by a suicide bomber in Afghanistan this week was at the heart of a covert program overseeing strikes by the agency's remote-controlled aircraft along the Afghanistan-Pakistan border, officials familiar with the installation said Thursday.
New York Times: C.I.A. Takes On Expanded Role on Front Lines
The deaths of seven Central Intelligence Agency operatives at a remote base in the mountains of Afghanistan are a pointed example of the civilian spy agency's transformation in recent years into a paramilitary organization at the vanguard of America's far-flung wars.
Washington Post: TSA nominee misled Congress about accessing confidential records
The White House nominee to lead the Transportation Security Administration gave Congress misleading information about incidents in which he inappropriately accessed a federal database, possibly in violation of privacy laws, documents obtained by The Washington Post show.
CNN: Official: Apparent contact between AbdulMutallab and radical cleric
Terror suspect Umar Farouk AbdulMutallab appears to have had direct contacts with radical Muslim cleric Anwar al-Awlaki, a U.S. counterterrorism official told CNN Thursday.
Investors Business Daily: Government Will Dominate 2010 Agenda
Democrats in 2009 moved to vastly expand the size and scope of government. But with the public already souring on Washington, 2010 may see limits on the new largesse. The clearest example is health care. As legislation to overhaul one-sixth of the economy contorted and morphed to pass the Senate, support plunged. The health bill may go through, but with midterm elections looming, other big items on the liberal agenda could stall.
Boston Globe: Romney says Brown can 'make history'
Mitt Romney – that rare political breed, a Republican elected statewide in Massachusetts – told supporters yesterday that if Scott Brown can pull off a similar feat next month in the US Senate special election, it "would shock the country and send a strong message that business as usual in Washington is coming to an end.''
St. Petersburg Times: For Gov. Charlie Crist, a battered image and uncertain future
Charlie Crist's final year as governor begins like no other: with perilous poll numbers, his optimism worn thin and his shell of political Teflon deeply scratched.
Chicago Sun-Times: Former Blago aides fined
Three aides to former Gov. Rod Blagojevich have been fined by a state ethics panel for campaigning for Barack Obama on the taxpayers' dime. Sheila Nix, Abigail Ottenhoff and Rebecca Rausch broke the law in 2007 when they issued a press release supporting Obama on behalf of Blagojevich, the Illinois Executive Ethics Commission ruled.
Sacramento Bee: Judge rules Schwarzenegger can't furlough 3 unions
An Alameda Superior Court judge has ordered the Schwarzenegger administration to stop furloughing thousands of state workers who are members of three big public sector unions, including Service Employees International Union Local 1000, offering them a huge legal victory as 2010 begins.
NATIONAL
For the latest national news: www.CNN.com
CNN: Charges dismissed against Iraq contractors
A federal judge dismissed manslaughter charges Thursday against five Blackwater security guards in the 2007 deaths of Iraqi civilians in a Baghad square, finding that prosecutors wrongly used the men's own statements against them.
Daily Telegraph: New Mexico town to host world's first spaceport
Fifty years after a small desert town in southern New Mexico put itself on the map by re-naming itself after a quiz show, the inhabitants of this remote corner of America and neighbouring townships are pinning their hopes on an even more radical transformation.
Bloomberg: Mayo Clinic in Arizona to Stop Treating Some Medicare Patients
The Mayo Clinic, praised by President Barack Obama as a national model for efficient health care, will stop accepting Medicare patients as of tomorrow at one of its primary-care clinics in Arizona, saying the U.S. government pays too little.
CNN: TSA maintains high security at airports
The Transportation Security Administration on Thursday extended through at least the weekend heightened security measures in the aftermath of a failed attempt to blow up a U.S. jetliner, the agency said.
Bloomberg: Fatal Flying on Airlines No Accident in Pilot Complaints to FAA
On the evening of Dec. 10, 2007, pilot Kenny Edwards got the order to fly a Continental Airlines Inc. commuter flight from Tampa, Florida, to West Palm Beach. He told his dispatch supervisor he wouldn't do it. …As a result, he was fired.
INTERNATIONAL
For the latest international news: http://edition.cnn.com
Times of London: Freed Iraq hostage Peter Moore denies Iranian involvement in kidnapping
Peter Moore, the British hostage freed this week, has named two locations in Iraq where he was held during his two and a half years in captivity. During an initial debriefing the 36-year-old computer consultant, who is due to fly home today, has told officials that he last saw his fellow hostages about 18 months ago.
Bloomberg: Terror, Protests Keep Pakistan's Economy Closed on First Day
Pakistan's businesses remained closed on the first day of the year as traders and political groups in the commercial capital of Karachi protested riots this week that destroyed thousands of stores in the aftermath of the city's deadliest bombing in over two years.
New York Times: U.N. to Cut Foreign Staff in Pakistan for Safety
The United Nations is moving as many as 60 foreign employees, or about one-quarter of its international staff, out of Pakistan for at least six months over safety concerns, a United Nations official said Thursday.
Bloomberg: North Korea Calls for End to Hostile U.S. Relations
North Korea issued a New Year's message calling for an end to its "hostile relationship" with the U.S. and said the regime is committed to making the Korean peninsula nuclear-free.
Der Spiegel: Battered Spain Brings High Ambitions to EU Presidency
Spain will assume the six-month rotating presidency of the European Union on Jan. 1. A week later, on Jan. 8, a gala ceremony will be held at Madrid's Teatro Real, with its velvet armchairs and gilded mouldings and the country's royal couple in attendance. Though the surroundings might be glamourous, the battered Spaniards will face enormous responsibilities in their new role - and perhaps even ones that are too great.
BUSINESS
For the latest business news: www.CNNMoney.com
CNNMoney: Tax showdown ahead on health reform
Democrats in the House and Senate are on the same page when it comes to health reform. They want it. They even agree on some of the biggest ticket items in bills that they will be combining when they return from their holiday in January.
But there are a couple of areas where the head-butting could be fierce. Key among them: Taxes.
CNNMoney: Stocks falter at the end of an up year
Stocks slumped Thursday in a thinly-traded session on the last day of 2009 as investors mulled a better-than-expected report on initial jobless claims at the end of a big year on Wall Street.
CNNMoney: Fox stands firm in Time Warner Cable fee dispute
A midnight deadline has passed, but the Fox network has still not resolved its differences with Time Warner Cable to keep its channels on the air.
Bloomberg: AT&T Biggest Winner From Record Corporate Bond Rally
AT&T Inc., with $6.63 billion of debt coming due, may be the biggest beneficiary of the record rally in U.S. corporate bonds in 2009. Borrowing costs have fallen to almost a five-year low, meaning the Dallas-based phone company and the rest of corporate America with $429 billion of debt maturing are poised to shave $17.4 billion off annual interest expense in 2010, according Moody's Investors Service and data compiled by Bloomberg.
Investors Business Daily: Parts Maker In Driver's Seat
China topped the U.S. in 2009 as the world's largest auto market by units sold, and Chinese firms now own or have bid for Hummer and Volvo, two iconic Western brands.
Birmingham News: Chrysler, other automakers to turn retiree health plans over to UAW
The United Auto Workers union is prepared to take over retiree health-care plans from the three U.S. automakers tomorrow, President Ron Gettelfinger said.
In Case You Missed It
CNN's Joe Johns reports on recommendations from the 911 Commission still being disregarded.
http://www.cnn.com/video/#/video/us/2009/12/31/johns.911.commission.recomm.cnn
CNN's Jim Acosta takes a look at the good, the bad and the scandalous over the past year in politics.
http://www.cnn.com/video/#/video/politics/2009/12/31/acosta.political.year.review.cnn
Subscribe to the CNN=Politics DAILY podcast at http://www.cnn.com/politicalpodcast
And now stay posted on the latest from the campaign trail by downloading the CNN=Politics SCREENSAVER at http://www.CNN.com/situationroom