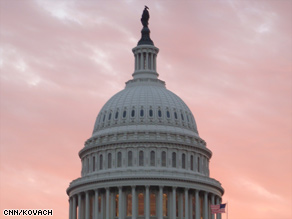 The CNN Washington Bureau's morning speed read of the top stories making news from around the country and the world.
Compiled by Alison Harding
WASHINGTON/POLITICAL
For the latest political news: www.CNNPolitics.com
CNN: TSA: Enhanced screening for people flying to U.S. from certain nations
The Transportation Security Administration announced Sunday that it will begin enhanced screening procedures Monday on any U.S.-bound air passenger traveling through "state sponsors of terrorism or other countries of interest" such as Pakistan, Yemen and Nigeria.
Washington Post: Jordan emerges as key CIA counterterrorism ally
Although its participation is rarely acknowledged publicly, Jordan is playing an increasingly vital role in the fight against al-Qaeda and other terrorist groups, sometimes in countries far beyond the Middle East, according to current and former government officials from both countries.
Politico: Brennan: Deal 'on the table' for terror suspect
The U.S. Government is offering the suspect charged with attempting to bomb an aircraft on Christmas Day, Omar Abdulmutallab, some kind of incentives to share what he knows about Al Qaeda, White House counterterrorism adviser John Brennan said Sunday.
Wall Street Journal: In 2010, Economy Again to Crowd Domestic Stage
If the big domestic story of 2009 was an economic crisis and its ripple effects in the real world, 2010 will be about cleaning up the debris from that crisis - and discovering what kind of toll it takes in the political world.
Los Angeles Times: Obama's nuclear-free vision mired in debate
President Obama's ambitious plan to begin phasing out nuclear weapons has run up against powerful resistance from officials in the Pentagon and other U.S. agencies, posing a threat to one of his most important foreign policy initiatives.
Washington Post: Use of potentially harmful chemicals kept secret under law
Of the 84,000 chemicals in commercial use in the United States - from flame retardants in furniture to household cleaners - nearly 20 percent are secret, according to the Environmental Protection Agency, their names and physical properties guarded from consumers and virtually all public officials under a little-known federal provision.
USA Today: Health bills could expand IRS role
Internal Revenue Service agents already try to catch tax cheats and moonshiners. Under the proposed health care legislation, they would get another assignment: checking to see whether Americans have health insurance.
Miami Herald: Laid-off workers struggling to keep COBRA benefits
Unemployed workers relying on COBRA health coverage might need to make dozens of phone calls and work their way through a maze of bureaucracy to maintain their benefits - and even that might not be enough.
New York Times: Alabama Democrat Casts His Lot With G.O.P.
In the deep-red states of the South, it is very hard these days to be a Blue Dog, as members of the group of 52 centrist House Democrats are known. Suspicions about the Obama administration's expansive view of government power have made the Democratic label so toxic in some parts of the South that merely voting like a Republican — as many Blue Dogs do — may no longer be enough.
Dallas Morning News: No serious challengers for Texas' U.S. House delegation
Congress is poised to undergo a fairly dramatic shift in 2010. Dozens of lawmakers are retiring, and a president's party almost always loses lots of seats in a midterm election. Texas, though, will be a bystander to the action. All 32 House members are running for re-election, from freshman Republican Pete Olson of Sugar Land to 86-year-old Republican veteran Ralph Hall of Rockwall, the oldest member of the U.S. House.
The Hill: Reids, Bidens and Pauls to attempt to follow the Bushes and Kennedys
Voters will see several familiar names on the ballot in 2010 as the offspring of prominent politicians try to follow their relatives into office. America has a long tradition of political families: the Adamses, the Roosevelts, the Kennedys and the Bushes, to name a few.
Boston Globe: Republican gets McCain's nod; rival adds to her list
State Senator Scott Brown yesterday trumpeted an endorsement from Republican heavyweight John McCain, the former presidential candidate, while Attorney General Martha Coakley raided Brown's Senate district for endorsements from local officials, as the two sparred in their campaign for a US Senate seat.
NATIONAL
For the latest national news: www.CNN.com
CNN: Newark terminal locked down; search continues for man
Hours after a security breach forced the closure of a terminal at the Newark, New Jersey, airport Sunday, authorities were still searching for a man who went the wrong way through a checkpoint exit.
Des Moines Register: Iowa veterans gain freedom, family through foster program
If they weren't living in Joe Wymer's house, Vietnam War veterans Ron Marusek and Bob Fenoglio would be in a nursing home by now. Marusek, 65, has terminal cancer. Fenoglio, 67, has a severe case of multiple sclerosis. Both decided to enroll in a new federal program in which veterans can choose to live with paid "foster families" instead of in an institution.
USA Today: $340 million blitz launches 2010 Census
Anyone who doesn't know there is a Census this year will know after Monday. The government's unprecedented $340 million promotional blitz of the 2010 Census launches Monday with the debut of the Census Portrait of America Road Tour in New York City's Times Square.
Los Angeles Times: Homeowners forced to buy flood insurance after FEMA redraws maps
It's part of an ongoing effort to update the list of high-risk areas. But the changes have met with resistance from tens of thousands of Southern California residents now being forced to buy coverage.
Arizona Republic: New effort vs. drug smugglers stirs questions of legality
No fear. That was the mantra of Mexican drug smugglers bringing marijuana into the United States….But a new program being tested at the Nogales ports of entry could radically change the way these cases are handled along the entire U.S.-Mexican border. Instead of being deported and set free, some marijuana smugglers arrested in the United States are being turned over to Mexican authorities for prosecution.
INTERNATIONAL
For the latest international news: http://edition.cnn.com
CNN: U.S., Britain close embassies in Yemen
Threats by al Qaeda in the Arabian Peninsula against targets in Yemen prompted the closure of the U.S. and British embassies there Sunday, officials said.
CNN: Iraq spokesman: Ex-Blackwater employees not wanted in Iraq
The Iraqi government is actively pursuing any former Blackwater personnel still working in the country, spokesman Ali al-Dabbagh told CNN in an interview Sunday.
The Guardian: Brown gives go-ahead for full-body scanners at Britain's airports
Full-body scanners are to be introduced at Britain's airports after Gordon Brown gave the go-ahead for the technology in a move which pre-empted his own urgent review of airline security.
Washington Post: Afghanistan parliament's rejection of Karzai cabinet picks signals power shift
The Afghan parliament's rejection of most of President Hamid Karzai's proposed cabinet this weekend dealt him a major setback and has created more political turmoil that could last months.
CNN: Report: Iran to hold 'large-scale military exercise' next month
Iran will hold a "large-scale military exercise" next month in order to prepare its forces to repel an offensive by the nation's enemies, government-funded Press TV reported, citing a top military official.
Bloomberg: Dubai Opens Tallest Tower Partially Leased in Slump
Dubai's Sheikh Mohammed bin Rashid Al Maktoum will open the world's tallest tower today. It won't be the world's fullest.
BUSINESS
For the latest business news: www.CNNMoney.com
CNNMoney: Bernanke defends Fed record
Federal Reserve chairman Ben Bernanke said Sunday that low interest rates in the first half of the last decade were "appropriate" at the time and were not the main cause of the ensuing housing bubble.
Washington Post: Fox-Time Warner Cable deal could mean billions for broadcasters
Time Warner Cable's agreement to pay News Corp. for over-the-air television programming has opened the door for broadcasters to demand as much as $5 billion a year from pay-TV providers and their subscribers, analysts said.
Wall Street Journal: Chinese Evade U.S. Sanctions on Iran
Chinese companies banned from doing business in the U.S. for allegedly selling missile technology to Iran continue to do a brisk trade with American companies, according to an analysis of shipping records.
Wall Street Journal: Mobile TV Gets Closer As Backers Cut a Path
Watching live television broadcasts on mobile devices is common in some countries, but not the U.S. A new effort is taking shape to change that. A group of broadcasters plans to use this week's Consumer Electronics Show to promote their plans to deliver news, sports, weather and other local content to users on the go.
In Case You Missed It
CNN's Samantha Hayes reports that terror threats in Yemen are directed at more than just embassies.
http://www.cnn.com/video/#/video/world/2010/01/03/hayes.yemen.al.queda.cnn
CNN's Ed Henry reports on Hawaii's plan to avert a budget crisis by drastically cutting the school year
http://www.cnn.com/video/#/video/us/2010/01/03/henry.hawaii.education.cnn
Subscribe to the CNN=Politics DAILY podcast at http://www.cnn.com/politicalpodcast
And now stay posted on the latest from the campaign trail by downloading the CNN=Politics SCREENSAVER at http://www.CNN.com/situationroom