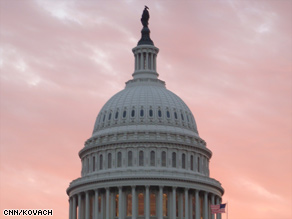 The CNN Washington Bureau's morning speed read of the top stories making news from around the country and the world.
Compiled by Alison Harding
WASHINGTON/POLITICAL
For the latest political news: www.CNNPolitics.com
CNN: Congress prepares for final health care push
The new year will bring new challenges for President Obama, but the fight for health care reform continues to top his domestic agenda as Congress prepares to reconvene. The House of Representatives is scheduled to return from vacation January 12; the Senate meets January 19. At issue for both chambers: how to merge two sweeping bills that differ on several critical details.
Washington Post: IRS to regulate paid tax preparation
The Internal Revenue Service plans to test, register and screen people who get paid to prepare tax returns, stepping into a virtually unregulated business on which millions of Americans depend for crucial financial services.
CNN: Obama promises justice for Christmas terror plotters
President Obama on Saturday linked the man accused in a botched Christmas Day airline bombing to an al Qaeda affiliate based in Yemen.
Foreign Policy: State Department official: Visas Viper cable "just the tip of the iceberg"
The State Department's official cable about underwear-bomber Umar Farouk Abdulmutallab wasn't the only report to come out of the U.S. Embassy in Nigeria as part of the Visas Viper process, a State Department official tells The Cable.
Daily Telegraph: MI5 told US about Detroit bomber's terror links 'a year ago'
Britain told American intelligence agents more than a year ago that the Detroit bomber had links to extremists, according to Downing Street.
CNN: U.S. reopens embassy in Yemen
The U.S. Embassy in Yemen, which was closed over the weekend due to security concerns, reopened Tuesday. A statement posted on the embassy's Web site said that "successful counter-terrorism operations" conducted by Yemeni security forces had addressed specific concerns.
CNN: U.S. lifts restriction on visas to HIV-positive foreigners
Foreign nationals who are HIV-positive will find it easier starting Monday to visit the United States. The Department of Health and Human Services and the Centers for Disease Control and Prevention removed HIV infection from the list of diseases that prevent non-U.S. citizens from entering the country.
Washington Post: GOP retirements in House may affect party's gains in November
While the recent political chatter in Washington has focused on Democrats retiring from Congress, Republicans are leaving the House in greater numbers, a trend that could blunt the party's momentum heading into the November midterm elections.
The State: Heated S.C. races brewing
Retirements, well-funded challengers and one high-profile outburst mean S.C. voters will have an unusually high number of competitive congressional races next year.
Salt Lake Tribune: Bennett gets new challenger
Attorney Mike Lee plans to join the field of candidates challenging Sen. Bob Bennett for the Republican nomination for the U.S. Senate. … Bennett is under fire from conservative Republicans, in large part because he supported the first round of bank bailouts during the Bush administration, and because he has supported health reform legislation that is unpopular in some circles.
NATIONAL
For the latest national news: www.CNN.com
CNN: Terrorist Zacarias Moussaoui's appeal of life sentence denied
A federal appeals court on Monday affirmed the conviction and life sentence for convicted terrorist and 9/11 co-conspirator Zacarias Moussaoui.
Wall Street Journal: Dozens of Names Shifted to No-Fly List
The Obama administration has transferred dozens of names from a broad terrorism database to watch lists that are more closely monitored in an effort to plug security holes revealed by the Christmas Day airline-bombing attempt.
New York Times: C.I.A. Is Sharing Data With Climate Scientists
The nation's top scientists and spies are collaborating on an effort to use the federal government's intelligence assets — including spy satellites and other classified sensors — to assess the hidden complexities of environmental change. They seek insights from natural phenomena like clouds and glaciers, deserts and tropical forests.
CNN: Courthouse gunman lost Social Security case, official says
A man who lost a recent Social Security claim opened fire with a shotgun in a federal courthouse Monday, killing a court security officer and injuring a deputy U.S. marshal, authorities said.
INTERNATIONAL
For the latest international news: http://edition.cnn.com
CNN: Source: Jordanian double-agent killed 7 CIA officers in suicide blast
The suicide bomber who killed seven CIA officials and a Jordanian military officer last week in Afghanistan was a Jordanian double-agent, a former U.S. intelligence official told CNN Monday.
CNN: Iran cites 60 groups as 'soft war' agents
Iran's Intelligence Ministry has compiled a list of 60 groups - several based in the United States - saying it considers them "soft war" agents against the country, Iranian media reported Monday.
CNN: 5 American terror suspects appear in Pakistan court
A Pakistani court Monday gave police two weeks to prepare their case for charging five Americans whom police suspect of planning terrorist attacks. Authorities have said they plan to prosecute the five men - who are being held in jail - under the country's anti-terrorism act.
The Guardian: New scanners break child porn laws
The rapid introduction of full body scanners at British airports threatens to breach child protection laws which ban the creation of indecent images of children, the Guardian has learned.
Times of London: Bankrupt and feeble Yemen 'can survive for only one year'
Yemen is only a year away from total economic collapse, with its coffers emptied by corruption and cronyism as the feeble Government struggles to fight wars on two fronts, a leading economic analyst said yesterday.
Miami Herald: New photos show Fidel Castro using hospital-type chair
Three Nicaraguan websites have posted new photos of Fidel Castro using a hospital-style wheeled chair during meetings in Havana with President Daniel Ortega last year.
BUSINESS
For the latest business news: www.CNNMoney.com
Washington Post: Defense titan Northrop Grumman to leave Los Angeles for D.C. area
Northrop Grumman said Monday that it plans to move its corporate headquarters from Los Angeles to the Washington area by 2011, solidifying the growing importance of Washington as a center for the defense industry and other businesses.
Bloomberg: Housing Animal Spirits to Be Banished by Prime Foreclosures
Homeowners with the best credit are the next big risk for the U.S. housing market. An increase in mortgage defaults among prime borrowers in 2009 is likely to accelerate this year, slowing the real estate recovery even as Americans become more optimistic about the economy, said Robert Shiller and Karl Case, the economists who created the S&P/Case-Shiller Home Price Index.
CNNMoney: Google's bold mobile move: Nexus One
Google is expected to take a giant leap forward into the smartphone arena Tuesday, with the much-anticipated unveiling of the Nexus One, the first smartphone completely designed by the search leader.
New York Times: How Visa, Using Card Fees, Dominates a Market
Every day, millions of Americans stand at store checkout counters and make a seemingly random decision: after swiping their debit card, they choose whether to punch in a code, or to sign their name.It is a pointless distinction to most consumers, since the price is the same either way. But behind the scenes, billions of dollars are at stake.
In Case You Missed It
CNN's Carol Costello reports on some unlikely special interest groups that are spending millions to influence reform.
http://www.cnn.com/video/#/video/politics/2010/01/04/costello.am.special.interests.cnn
CNN's Carol Costello reports on some unlikely special interest groups that are spending millions to influence reform.
http://www.cnn.com/video/#/video/world/2010/01/04/clinton.yemen.briefing.cnn
Subscribe to the CNN=Politics DAILY podcast at http://www.cnn.com/politicalpodcast
And now stay posted on the latest from the campaign trail by downloading the CNN=Politics SCREENSAVER at http://www.CNN.com/situationroom