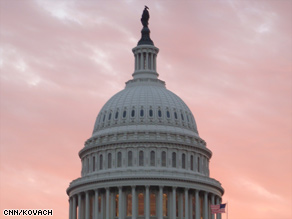 The CNN Washington Bureau's morning speed read of the top stories making news from around the country and the world.
Compiled by Alison Harding
WASHINGTON/POLITICAL
For the latest political news: www.CNNPolitics.com
CNN: Sen. Dodd to retire, sources tell CNN
Sen. Chris Dodd, D-Connecticut, plans to announce his retirement, two sources close to the lawmaker told CNN. A news conference is planned for Wednesday to announce the decision, one of the sources said.
CNN: Dorgan announces he won't seek re-election
North Dakota Democratic Sen. Byron Dorgan announced Tuesday that he will not seek re-election in 2010.
CNN: Obama, House Dems finalize decision to bypass formal health care conference
President Barack Obama and congressional Democratic leaders finalized a decision Tuesday to bypass a formal House and Senate conference to meld their health care bills, according to two congressional Democratic leadership sources.
The Hill: Pelosi tells C-SPAN: 'There has never been a more open process'
C-SPAN wrote a letter to congressional leaders Tuesday asking that TV cameras be allowed to film negotiations to reconcile the House and Senate versions of healthcare reform legislation. But Pelosi said Congress has already been transparent throughout the process.
USA Today: Congressional 'earmarks' in spending bills cut by a third
The 2010 federal spending bills disclose $10.2 billion for pet projects inserted by members of Congress, a drop of nearly a third since 2008, an analysis of the bills shows.
CNN: Obama: 'System failed' in a major way
President Obama said Tuesday that U.S. intelligence has had considerable success, but that the botched Christmas Day attack shows "the system has failed" in a major way.
CNN: Top intel officer slams work of U.S. spies in Afghanistan
U.S. spies "can do little but shrug" when commanders ask for the information they need to fight the Taliban insurgency, the top U.S. military intelligence officer in Afghanistan said in a blistering report.
CNN: U.S. lowers threshold for inclusion on no-fly lists
The U.S. government has lowered the threshold for information deemed important enough to put suspicious individuals on a watch list or no-fly list, or have their visa revoked, senior State Department officials tell CNN.
CNN: U.S. halting transfer of Guantanamo detainees to Yemen
The United States is halting for now its plans to continue transferring terror suspects detained at the Guantanamo Bay, Cuba, facility to Yemen, President Barack Obama said Tuesday.
Washington Post: $250 million initiative for science, math teachers planned
President Obama will announce a $250 million public-private effort Wednesday to improve science and mathematics instruction, aiming to help the nation compete in key fields with global economic rivals.
Los Angeles Times: Schwarzenegger to propose spending $500 million for worker training
Gov. Arnold Schwarzenegger today will lay out plans to spend $500 million on worker training in an effort to create 100,000 jobs, along with other measures to stimulate the economy, as a centerpiece of his policy agenda for his final year in office.
New York Times: Harold Ford Jr. Weighs a Challenge to Gillibrand
Encouraged by a group of influential New York Democrats, Harold Ford Jr., the former congressman from Tennessee, is weighing a bid to unseat Senator Kirsten E. Gillibrand in this fall's Democratic primary, according to three people who have spoken with him.
Attleboro Sun Chronicle: US Senate candidates spar in debate
U.S. Senate candidate Scott Brown compared himself to the late President John Kennedy in a debate Tuesday, while his Democratic opponent said he is more like George W. Bush and Dick Cheney. Brown, a state senator from Wrentham, said he ran television advertisements in which an image of Kennedy morphed into him to show that although they are from different eras and different parties, he and Kennedy agree on lowering taxes.
NATIONAL
For the latest national news: www.CNN.com
CNN: Federal court limits rights of Guantanamo detainees
Accused foreign terrorists and war fighters in U.S. custody will have a more difficult time challenging their detention in the wake of a key ruling Tuesday by a federal appeals court.
Los Angeles Times: Male prostitution is Nevada's newest legal profession
After months of debate in the state's surprisingly squeamish brothel community, Nye County officials agree to let Shady Lady Ranch near Death Valley hire men.
Seattle Times: Washington state felons should have voting rights, federal court rules
A federal appeals court on Tuesday tossed out Washington's law banning incarcerated felons from voting, finding the state's criminal-justice system is "infected" with racial discrimination.
INTERNATIONAL
For the latest international news: http://edition.cnn.com
CNN: Jordanian doctor called double agent behind CIA attack
The man identified as the double agent who killed eight people at a U.S. base in Afghanistan was a Jordanian doctor recruited as a counterterrorism intelligence source, a senior Jordanian official said Tuesday.
New York Times: U.S. Saw a Path to Qaeda Chiefs Before Bombing
Before detonating a suicide bomb in Afghanistan last week, a Jordanian militant was considered by American spy agencies to be the most promising informant in years about the whereabouts of Al Qaeda's top leaders, including Ayman al-Zawahri, the terrorist group's second-ranking operative.
New York Times: Iran Shielding Its Nuclear Efforts in Maze of Tunnels
Last September, when Iran's uranium enrichment plant buried inside a mountain near the holy city of Qum was revealed, the episode cast light on a wider pattern: Over the past decade, Iran has quietly hidden an increasingly large part of its atomic complex in networks of tunnels and bunkers across the country.
Washington Post: At U.N., China insists it's not 'right' time for sanctions on Iran
China's envoy to the United Nations said Tuesday that his government is not ready to impose tough new sanctions on Iran for defying the world body's demands that it suspend its uranium enrichment program.
Wall Street Journal: Authorities in China Likely Knew of Bad Milk
– New signs emerged that Chinese health authorities suspected a Shanghai dairy was producing milk tainted with deadly melamine well before the first public announcements last week that it had been shut.
BBC News: Anti-whaling activists accuse Japan fleet of attack
Anti-whaling activists have accused a Japanese vessel of ramming their high-tech speed boat during a confrontation in the Southern Ocean.
Christian Science Monitor: Taiwan curbs US beef imports in latest Asia trade frictions
Health concerns and angry protests have prompted partial bans on US beef imports in Taiwan, Japan, and South Korea – most recently by Taipei on Tuesday. The recurring dispute has strained relations.
BUSINESS
For the latest business news: www.CNNMoney.com
CNNMoney: 3-D TV coming soon to your living room
Both ESPN and Discovery Communications announced Tuesday that they will launch 3-D TV networks. ESPN will start airing its 3-D sports network in June, while Discovery Communications did not specify when it would begin airing 3-D content.
Wall Street Journal: China Dethrones Germany as Top Goods Exporter
China took over the mantle of the world's top merchandise exporter from Germany in 2009, according to the latest figures, aided by a global economic crisis that has taken a greater toll on other trading powers.
Bloomberg: Buffett Reins In Kraft, Recalling Coke's Retreat on Quaker Oats
Warren Buffett, the billionaire investor who helped scuttle Coca-Cola Co.'s bid for Quaker Oats 10 years ago, is restraining Kraft Foods Inc. in its quest to acquire Cadbury Plc. Buffett's Berkshire Hathaway Inc., Kraft's biggest shareholder, urged fellow investors to oppose a plan to issue as many as 370 million shares to help buy the U.K.-based candy maker.
Los Angeles Times: Most automakers report boom in December sales
Car dealers are seeing buyers come back to their showrooms - giving the beaten-down auto industry a glimmer of hope that a long-awaited turnaround has begun.
Bloomberg: Northern Hemisphere Freeze Boosts Oil, Hurts Crops
Crude oil traded near its highest level in 14 months, citrus growers in Florida fought to protect their crops and Beijing had its coldest morning for almost four decades as winter weather gripped China, Europe and the U.S.
CNN: Google unveils Nexus One 'superphone'
Calling it their "superphone," Google unveiled the Nexus One on Tuesday, marking the online search giant's first leap into the smartphone market.
In Case You Missed It
President Obama says the Christmas Day terror attempt shows that the security system failed.
Subscribe to the CNN=Politics DAILY podcast at http://www.cnn.com/politicalpodcast
And now stay posted on the latest from the campaign trail by downloading the CNN=Politics SCREENSAVER at http://www.CNN.com/situationroom