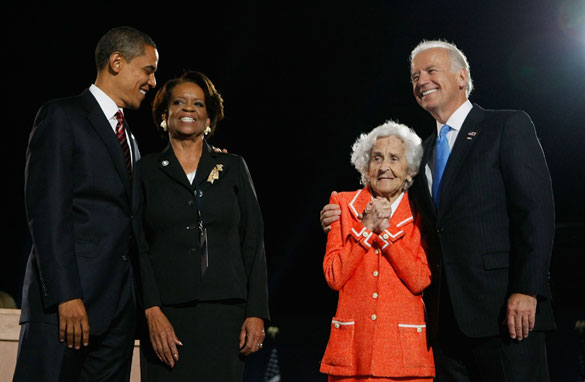 Jean Biden stands with her son, Vice President Joe Biden, next to President Obama and his mother-in-law, Marian Anderson, on election night in 2008. (PHOTO CREDIT: Getty Images/File)

(CNN) - Vice President Joe Biden on Friday announced the death of his mother, Catherine Eugenia "Jean" Finnegan Biden. She was 92.
Biden said his mother died Friday at the family's home in Wilmington, Delaware, surrounded by loved ones.
"At 92, she was the center of our family and taught all of her children that family is to be treasured, loyalty is paramount and faith will guide you through the tough times. She believed in us, and because of that, we believed in ourselves," Biden said in a statement.
The vice president's father, Joseph Robinette Biden Sr., who was married to Jean Biden for 61 years, died in 2002.
(Vice President Biden's statement, as released by the White House, after the jump)

In his acceptance speech in August 2008 for the Democratic vice presidential nomination, Biden said of his mother: "She believes that bravery lives in every heart, and her expectation is that it will be summoned. Failure at some point in your life is inevitable, but giving up is unforgivable."
"As a child, I stuttered, and she lovingly would look at me and tell me, 'Joey, it's because you're so bright you can't get the thoughts out quickly enough,'" he said. "When I was not as well-dressed as the other kids, she'd look at me and say, 'Joey, oh, you're so handsome, honey, you're so handsome.'
"And when I got knocked down by guys bigger than me - and this is the God's truth - she sent me back out and said, 'Bloody their nose so you can walk down the street the next day.' And that's what I did."
In addition to the vice president, her eldest son, Jean Biden is survived by sons James Biden of Pennsylvania and Francis Biden of Florida, and numerous grandchildren and great-grandchildren.
THE WHITE HOUSE

Office of the Vice President

For Immediate Release

January 8, 2010

Statement from Vice President Joe Biden

"My mother, Catherine Eugenia "Jean" Finnegan Biden, passed away peacefully today at our home in Wilmington, Delaware, surrounded by her children, her grandchildren, her great-grandchildren and many loved ones. At 92, she was the center of our family and taught all of her children that family is to be treasured, loyalty is paramount and faith will guide you through the tough times. She believed in us, and because of that, we believed in ourselves. Together with my father, her husband of 61 years who passed away in 2002, we learned the dignity of hard work and that you are defined by your sense of honor. Her strength, which was immeasurable, will live on in all of us."

###