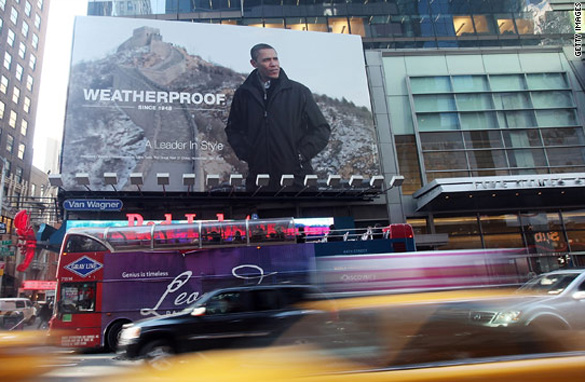 New York (CNN) - A billboard featuring President Obama that was erected three days ago will be coming down, according to a spokesman for the company that paid for the outdoor ad in Times Square.
Weatherproof Garment Company, which licensed an Associated Press photo of the president wearing one of the company's jackets, had intended to leave the Times Square ad and another in midtown Manhattan for two months.
Company spokesman Allen Cohen on Friday said the ads will be removed "in an expeditious manner" after what he described as a cordial conversation late Thursday with White House counsel Kendall Burman, who requested their prompt removal.
"It's my understanding that the counsel's office spoke with the company and that the company is supposed to take that ad down," White House spokesman Robert Gibbs said Friday.