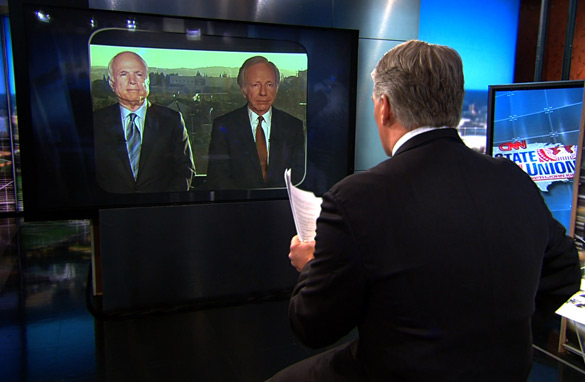 Sen. Lieberman said Sunday that he does not agree with a new hard-hitting ad released as part of friend's 2010 re-election bid. (Photo Credit: CNN)
Washington (CNN) – Sometimes election year politics can drive a bit of a wedge between the closest of political allies. In this case, Sen. John McCain's first foray into 2010 campaign advertising is rubbing his longtime ally the wrong way.
In a new radio ad released Thursday, McCain takes on the record deficit spending by the Obama administration, which has defended it as an effort to pull the country out of the most severe economic crisis since the Great Depression.
"President Obama is leading an extreme, left-wing crusade to bankrupt America," McCain says in the new ad, I stand in his way every day."
Asked about McCain's new ad Sunday on CNN's State of the Union, Sen. Joe Lieberman said "You know, every now and then, John McCain and I disagree."
"I don't agree with that," Lieberman added referring to McCain's attack on Obama for record federal spending in the last year. "I think that the president understands the importance of bringing our government back into balance. Look, he came in at a most difficult economic time, inheriting a national debt that had doubled in the preceding eight years."
Lieberman also told CNN Chief National Correspondent John King that he thought Obama might mention "some tough medicine for our economy" during his first State of the Union address expected next month. "We need it and I hope there'll be bipartisan support in Congress for doing that," Lieberman said of the fiscal belt-tightening some observers expect Obama to push for in the second year of his presidency.
McCain, appearing side-by-side with Lieberman Sunday while the two senators are on an overseas Congressional visit, defended his hard-hitting ad against Obama.
"The president promised that he would stop the wasteful spending. He has not vetoed these pork barrel bills. We have increased the debt and deficit dramatically," McCain told King.
"The spending is out of control and it's not been brought under control," the Arizona Republican also said Sunday. "And that's what I'm fighting because we've laid a debt on our children and grandchildren that is unconscionable."