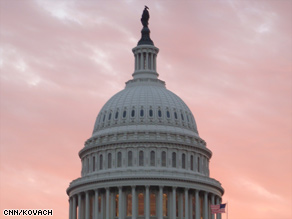 The CNN Washington Bureau's morning speed read of the top stories making news from around the country and the world.
Compiled by Alison Harding
WASHINGTON/POLITICAL
For the latest political news: www.CNNPolitics.com
CNN: Democrats dismiss Republican call for Reid to step down
The Congressional Black Caucus said Sunday that it had accepted Senate Majority Leader Harry Reid's apology for a remark he made about Barack Obama during the 2008 campaign and dismissed calls for the Nevada Democrat to step down.
Washington Post: Yemeni president vows crackdown on al-Qaeda branch
Yemen's president vowed over the weekend to track down al-Qaeda militants who refuse to renounce terrorism, as President Obama affirmed in a magazine interview that he has no plans at the moment to send troops to Yemen in response to concerns that the terrorist network's presence has become more dangerous in that country.
Washington Post: U.S. food delivery contracts in Middle East worth billions
One of the least publicized elements of the cost of the fighting in Afghanistan and Iraq is the need to truck into Iraq and landlocked Afghanistan almost all the perishable and non-perishable food items consumed by U.S. forces and civilian personnel. The Defense Logistics Agency is preparing to contract out delivery of more than $10 billion worth of food to U.S. troops and other government personnel serving in Iraq, Afghanistan, Kuwait and Jordan
New York Times: Drone Flights Leave Military Awash in Data
As the military rushes to place more spy drones over Afghanistan, the remote-controlled planes are producing so much video intelligence that analysts are finding it more and more difficult to keep up.
Wall Street Journal: States Want Delay on Emission Rules
A growing number of state regulators are urging the Obama administration to slow the rollout of proposed federal rules curbing industrial greenhouse-gas emissions, saying the administration's approach could overwhelm them with paperwork, delay construction projects and undercut their own efforts to fight climate change.
Los Angeles Times: Some Democrats want to rein in the filibuster
With Republicans using endless speeches to block all manner of legislation, and the prospect of fewer Democrats after midterm elections, some say it's time for a change so the majority can govern.
Wall Street Journal: Insurance Mandate Feeds GOP's Attack on Legal Front
As congressional Democrats try to iron out differences in the House and Senate health-care bills, Republicans are attacking the legal premise of the legislation, saying Congress has no power to make people carry health insurance or pay a penalty or tax.
The Hill: White House makes effort to hold key governors' mansions
The White House is taking an increasingly active role in 2010 gubernatorial contests in key battleground states. Administration officials have used a variety of tactics to ensure Democrats retain the governor's mansion in at least four states.
New York Times: Gillibrand Takes On Possible Ford Threat
As United States Senator Kirsten E. Gillibrand's allies have elbowed out her would-be Democratic challengers one by one, they emphasized what was perhaps her most formidable weapon: her fund-raising muscle.But it is not clear that the senator's knack for amassing cash will be enough to scare off Harold E. Ford Jr., the former Tennessee congressman who said last week that he was considering a primary campaign against her this fall.
Boston Globe: Consensus on gay rights eludes GOP
The divergent views of the three prominent GOP candidates running statewide in Massachusetts – Baker; Christy Mihos, who is also running for governor; and state Senator Scott Brown, who is running for US Senate – are a reflection of how Republicans continue to wrestle with gay rights, and with how to balance social issues with economic ones in their political campaigns.
Chicago Sun-Times: Emanuel urges Daley to run for re-election
White House Chief of Staff Rahm Emanuel praised Mayor Daley on Saturday and urged him to run for re-election in 2011 in a statement designed to quash gossip that Emanuel is considering a City Hall bid.
NATIONAL
For the latest national news: www.CNN.com
Los Angeles Times: Prop. 8 trial to include unprecedented testimony
Scholars, gay and lesbian partners and opponents of same-sex marriage are expected to testify about the nature of marriage and homosexuality during an unprecedented federal trial Monday to determine whether gays and lesbians may marry.
New York Times: New York Seeks National Effort to Curb Salt in Food
First New York City required restaurants to cut out trans fat. Then it made restaurant chains post calorie counts on their menus. Now it wants to protect people from another health scourge: salt.On Monday, the Bloomberg administration plans to unveil a broad new health initiative aimed at encouraging food manufacturers and restaurant chains across the country to curtail the amount of salt in their products.
USA Today: Spirit of giving drops off after holidays
A post-holiday slump in donations and volunteerism has some social-service agencies and non-profit groups wondering if people packed away generosity with the tinsel.
Syracuse Post-Standard: Mayor mulls a city hall takeover of the school district
Syracuse Mayor Stephanie Miner said she is seriously considering a mayoral takeover of the city school district. … Miner, a Democrat, said she recently discussed mayoral takeover with New York City Mayor Michael Bloomberg, who gained mayoral control there, and with Rochester Mayor Robert Duffy, who is trying to do the same.
INTERNATIONAL
For the latest international news: http://edition.cnn.com
CNN: Detained Iranian protesters mistreated, government panel finds
A report released Sunday by an Iranian fact-finding committee has found that 147 detainees held after last summer's post-election protests were stuffed into a small room, deprived of adequate food and subjected to other forms of mistreatment, Iranian media reported.
Los Angeles Times: Iraqis say they were forced to take Blackwater settlement
Several of the plaintiffs say they were told the firm, now called Xe, was in danger of bankruptcy and that they might not get any damages at all. They want the agreements nullified.
Daily Telegraph: US envoy says North Korea must improve 'appalling' human rights record
North Korea must improve its "appalling" human rights record if it wants better relations with the United States, a visiting US envoy has said. The comments from Robert King, the new US special envoy for North Korean rights issues, came 10 days after the communist state said it wants warmer ties with its traditional enemy.
BBC News: North Korea calls for peace treaty
North Korea has said it could return to talks on its nuclear disarmament in exchange for a peace treaty with the US and an end to sanctions. The 1950-53 Korean War ended in a ceasefire but not a peace treaty.
Times of London: Yemen offers to strike a deal with al-Qaeda fighters
The President of Yemen said yesterday that he was willing to strike a deal with al-Qaeda if militants laid down their weapons, amid warnings that dozens of foreign fighters were streaming into the country.
Christian Science Monitor: Israel shrugs off Mitchell's loan threat
Israel's finance minister, Yuval Steinitz, said on Sunday that Israel could do without loan guarantees after US envoy George Mitchell told PBS last week that the US could consider withholding the guarantees if Israel doesn't stop settlement construction.
BUSINESS
For the latest business news: www.CNNMoney.com
CNNMoney: Detroit Auto Show 2010: Less is more
The annual auto show that kicks off here Monday is very much like the auto industry itself: Greatly relieved to not be on death's door. But it's still a long way from its former glory.
Wall Street Journal: Citi Unit Grows - With Feds' Help
Even as federal officials move to rein in the nation's biggest banks, one chunk of giant Citigroup Inc. keeps expanding - with the help of the U.S. government. Citigroup's Global Transaction Services unit, or GTS, zaps more than $3 trillion around the world each day for hundreds of corporations and dozens of governments and agencies, including the Federal Reserve. It converts currencies for the Fed, processes all passport applications for the U.S. government and handles U.S. military payments to Iraqi contractors.
New York Times: Goldman Sachs Weighs Requirement for Charity
As it prepares to pay out big bonuses to employees, Goldman Sachs is considering expanding a program that would require executives and top managers to give a certain percentage of their earnings to charity.
Financial Times: US banks braced for bonus backlash
Goldman Sachs, JPMorgan Chase and other big banks are bracing for a renewed public and political backlash against their compensation plans as they prepare to unveil multi-billion dollar bonus packages.
In Case You Missed It
In an exclusive interview, CNN's John King talks with Sen. John McCain and Joe Lieberman about the fight against al Qaeda.
Subscribe to the CNN=Politics DAILY podcast at http://www.cnn.com/politicalpodcast
And now stay posted on the latest from the campaign trail by downloading the CNN=Politics SCREENSAVER at http://www.CNN.com/situationroom