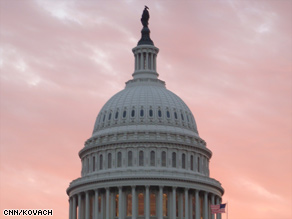 The CNN Washington Bureau's morning speed read of the top stories making news from around the country and the world.
WASHINGTON/POLITICAL
For the latest political news: www.CNNPolitics.com
CNNMoney: Obama may use bank tax to recoup bailout
The White House is considering a tax on financial institutions to ensure that taxpayers who bailed out banks get paid back, a senior administration official said Monday. The law that created the $700 billion Troubled Asset Relief Program empowered the president to ask Congress to recoup money if bailouts were not paid back in full.
Washington Post: Federal Reserve earned $45 billion in 2009
Wall Street firms aren't the only banks that had a banner year. The Federal Reserve made record profits in 2009, as its unconventional efforts to prop up the economy created a windfall for the government.
New York Times: Clinton, Starting Trip, Acknowledges Possible Tensions With China
Secretary of State Hillary Rodham Clinton, embarking on her first diplomatic trip of 2010, will try to ease tensions with Japan, America's most important Asian ally, over a stalled agreement to relocate a Marine base on the island of Okinawa.
CNN: US launches new push for Mideast peace talks
The Obama administration is making a renewed push for Mideast peace, stepping up pressure on Israelis and Palestinians to resume talks focusing on borders of a future Palestinian state and the status of Jerusalem
Wall Street Journal: New Breast Screening Limits Face Reversal
Annual mammograms, seemingly on their way out under new federal guidelines last year, may be coming back. The final health-care bill is likely to require coverage for more mammograms than the new guidelines recommend after women's groups, doctors and imaging-equipment makers stepped up pressure on lawmakers - one of many threads of the bill negotiated behind the scenes.
Washington Post: Sen. Reid and son Rory each considered a burden for the other's campaign in Nevada
It will be Reid and Reid atop the November ballot in this state, the father running for his sixth term, the son making his first bid at statewide office. So far, this double bill is not going so great. Each candidate is dragging down the other, to look at the polls and listen to the Silver State's political oddsmakers. And neither is mentioning the other's campaign.
Albany Times-Union: Paterson slams Reid comments
Gov. David Paterson said remarks about Barack Obama attributed to Senate Majority Leader Harry Reid in a newly published book are "reprehensible," but that Reid should not have to resign his leadership position in that chamber.
The Hill: Scheduled weeks ago, 'African Americans for Harry Reid' will go on as planned
The Senate's embattled majority leader is moving ahead with an "African Americans for Harry Reid" event this week as he seeks to weather a political firestorm sparked by his racially insensitive remarks about President Barack Obama.
New York Daily News: President Obama to Harold Ford: Drop talk of running for Kirsten Gillibrand's Senate seat
The White House dropped a 2-ton hint on Harold Ford Monday: Steer clear of any primary against Sen. Kirsten Gillibrand, or risk President Obama's wrath. With the ex-Tennessee congressman weighing a challenge against Hillary Clinton's replacement, Obama's top spokesman said the White House had no interest in trading in its favored Gillibrand for a new Ford.
Boston Globe: Coakley, Brown in bitter debate
Meeting for their final debate of the US Senate campaign, Republican Scott Brown and Democrat Martha Coakley tried to capitalize on voters' fears last night, with Brown raising the specter of another terrorist attack and Coakley warning about a return to Bush-era economic policies.
Dallas Morning News: Hutchison shifts focus from Senate to governor's race
Two months ago, as the debate over health care raged in Washington, Kay Bailey Hutchison told supporters that she was needed in the Senate because of her experience and leadership. On Monday as she opened her Dallas gubernatorial campaign office, she changed the focus, arguing that her impending resignation would not hurt Texas and that a new Republican could quickly build a career.
St. Petersburg Times: Crist loses straw poll to Rubio in his home county
Among the many indignities Gov. Charlie Crist has faced over the last several rocky months, this one hit home. Republican Party activists in his own county of Pinellas, many of whom have been campaigning alongside Crist for years, on Monday overwhelmingly declared that they prefer Marco Rubio for U.S. Senate.
CNN: CNN confirms: Palin inks TV deal
Former Alaska Gov. Sarah Palin has signed a deal with Fox News to appear as a contributor on the network, a source with knowledge of the agreement confirms to CNN.
NATIONAL
For the latest national news: www.CNN.com
USA Today: Black coalition pushes for 'unified' 2010 Census tally
The campaign to get blacks to participate in the 2010 Census has forged an unprecedented bond between two groups that have not traditionally shared common goals: African Americans and black immigrants.
Los Angeles Times: Tearful testimony on discrimination at Prop. 8 trial
A widely anticipated federal trial over the constitutionality of California's ban on same-sex marriage opened Monday, with lawyers and witnesses debating the meaning of marriage and sexual orientation and gay and lesbian couples testifying about the humiliation of being denied matrimony.
Las Vegas Sun: Recession-stung governments target public employee unions
In Nevada and across the country, growing deficits and a sluggish economy are emboldening local, county and state officials to challenge public employee unions, once thought to be virtually untouchable because of their political muscle come election time. Labor experts say the recession and record unemployment has hardened public — and political — sentiment against public sector unions.
CNN: New Jersey legislature approves medical marijuana bill
The New Jersey legislature voted Monday to make that state the 14th in the country to approve marijuana for medicinal use, pending the governor's signature.
INTERNATIONAL
For the latest international news: http://edition.cnn.com
Los Angeles Times: U.S., South Korea, dismiss North Korea's peace talks proposal
South Korea and the U.S. rejected North Korea's proposal to start peace talks to formally end the Korean War, with Seoul saying Tuesday that can happen only after the North rejoins disarmament talks and reports progress in denuclearization.
Washington Post: Somalis fleeing to Yemen prompt new worries in fight against al-Qaeda
Thousands of Somali boys and teenagers fleeing war and chaos at home are sailing to Yemen, where officials who have long welcomed Somali refugees now worry that the new arrivals could become the next generation of al-Qaeda fighters.
New York Times: War's Fury No Longer Pauses for Afghan Winter
Afghanistan's high mountains and harsh weather once meant that winter was a respite from much of the war's violence, but as the deaths of six Western soldiers in three separate attacks on Monday show, this winter is proving to be different.
The Guardian: Pakistan suffers record number of deaths due to militant violence
A record number of Pakistani civilians and security forces died in militant violence last year as the country reeled from an onslaught of Taliban suicide bombings that propelled it into the ranks of the world's most perilous places.
Times of London: Jordanians question alliance with US after Humam al-Balawi's CIA suicide bombing
Jordan has long been one of America's closest allies in the region but only recently have Jordanians discovered how close to home the War on Terror is being waged. A suicide bombing last month at a CIA base in Afghanistan, perpetrated by a Jordanian double agent — and targeting, along with seven CIA officers, a fellow Jordanian — has put the country on the international terror map.
Washington Post: On Asia-Pacific trip, Hillary Clinton downplays U.S.-China friction
Secretary of State Hillary Rodham Clinton on Monday played down friction between the United States and China, saying she thinks the countries have a "mature" enough relationship to be able to handle differences of opinion.
Wall Street Journal: Israeli Robots Remake Battlefield
Israel is developing an army of robotic fighting machines that offers a window onto the potential future of warfare. Sixty years of near-constant war, a low tolerance for enduring casualties in conflict, and its high-tech industry have long made Israel one of the world's leading innovators of military robotics.
Times of London: China tests missile technology after Taiwan-US deal
China has carried out a successful test of new technology to destroy missiles in mid-air, just days after the United States angered Beijing by selling Patriot missiles to arch-foe Taiwan
BUSINESS
For the latest business news: www.CNNMoney.com
CNNMoney: Use American Express points to pay taxes
American Express cardmembers can now use rewards points to pay their taxes, the credit card giant said Monday. AmEx (AXP, Fortune 500) cardholders can use the points toward federal, state and local income tax payments when they use one of two Web sites to file their taxes: Pay1040.com and OfficialPayments.com.
Bloomberg: Buffett-Backed BYD Sees U.S. as Key for Electric Cars
BYD Co., the Chinese auto- and battery maker backed by Warren Buffett, may sell a rechargeable electric car in the U.S. as soon as this year to meet demand for fuel-efficient models, the company's founder said.
The Detroit News: Automakers to add jobs as recovery takes hold
Automakers signaled plans Monday to hire, add overtime or extra shifts and boost production of crucial models, all signs of life for an industry emerging from a tumultuous year that saw General Motors Co. and Chrysler Group LLC file for bankruptcy.
In Case You Missed It
CNN's Paul Steinhauser talks to Polling Director Keating Holland about new polls on Obama, terror and full body scans.
How much will health-care reform cost? Bill Tucker takes a look.
Subscribe to the CNN=Politics DAILY podcast at http://www.cnn.com/politicalpodcast
And now stay posted on the latest from the campaign trail by downloading the CNN=Politics SCREENSAVER at http://www.CNN.com/situationroom