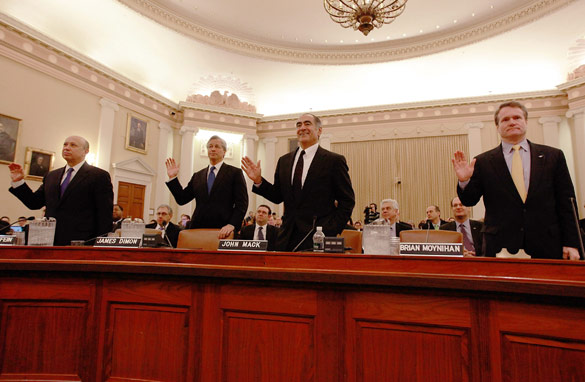 The CEO's of some of the nation's largest banks were sworn in Wednesday during a hearing of the Financial Crisis Inquiry Commission. (Photo Credit: Getty Images)
NEW YORK (CNNMoney.com) - Four top bank chief executives told a panel probing the financial crisis Wednesday that they made mistakes but didn't realize how bad they were at the time.
In a heated exchange in Washington with the head of the Financial Crisis Inquiry Commission, Lloyd Blankfein, Goldman Sachs' CEO, agreed the banks had assumed too much exposure to risk at the height of the crisis, and he wished he could go back and change things.
"Anyone who says I wouldn't change a thing, I think, is crazy," Blankfein said. "Knowing now what happened, whatever we did, whatever what the standards of the time were - It didn't work out well."
"Of course, I'd go back and wish we had done whatever it took not to find ourselves in the position we found ourselves in," he added.