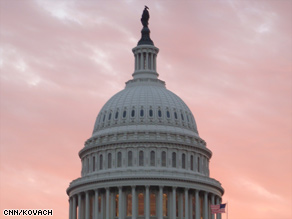 The CNN Washington Bureau's morning speed read of the top stories making news from around the country and the world.
WASHINGTON/POLITICAL
For the latest political news: www.CNNPolitics.com
CNN: Obama to announce bank fees to cover billions in TARP losses
President Obama, looking to recoup billions in expected losses from the Troubled Asset Relief Program, will announce a plan Thursday to impose fees on the country's biggest financial institutions, a senior administration official told CNN.
Bloomberg: California Creditors See IOUs With Schwarzenegger Missing Obama
California's hopes are fading for federal help in closing a projected $19.9 billion deficit that has caused the lowest-rated state's borrowing costs to rise 26 percent in three months.
CNN: President Obama to speak at House GOP retreat
Rep. Mike Pence, chair of the House Republican Conference, said Tuesday that President Obama had accepted an invitation to address GOP members of Congress at the group's retreat later this month.
Washington Post: In Massachusetts, Republican Brown steps up campaign for Kennedy's Senate seat
Fueled by the energy of conservative activists, a solid debate performance and a 24-hour, $1.3 million Internet fundraising haul, Massachusetts state Sen. Scott Brown (R) has thrown a major scare into the Democratic establishment in his bid to win next Tuesday's special Senate election over once heavily favored Attorney General Martha Coakley.
Boston Globe: Union plans major ad buy for Coakley
A major national union supporting Democrat Martha Coakley is taking out a massive TV ad buy that slams her Republican rival, Scott Brown, for his positions on abortion and climate change. The ad taken out by the Service Employees International Union, will begin airing statewide tomorrow. The buy size is $685,000, one of the largest of the election.
New York Times: Senate Hopeful in New State Airs Evolving Views
In his first extensive interview since he began weighing a run for United States Senate from New York, Harold E. Ford Jr. distanced himself from his previous opposition to same-sex marriage, his description of himself as "pro-life" and his push to permit local police officers to enforce federal immigration law, and said he would be a fiercer advocate for New York than Senator Kirsten E. Gillibrand.
Wall Street Journal: Big in Capitol, Reid Stumbles in Nevada
In the nation's capital, Senate Majority Leader Harry Reid is on the brink of pushing through a national health program that Democrats rank alongside the creation of Social Security and Medicare. In Nevada, that very achievement is imperiling his re-election prospects.
Poltico: Russ Feingold now OK with Harry Reid
Senate Majority Leader Harry Reid (D-Nev.) is keeping the calls for him to step down on the Republican side of the aisle. A day after Wisconsin Sen. Russ Feingold became the first Senate Democrat to publicly express reservations about supporting Reid as majority leader, Feingold's staff has passed on word that he still backs Reid to lead the Democratic Caucus
New York Times: Race Assumes Central Role in New Orleans Vote
The balance of power between blacks and whites in New Orleans has been an issue for decades, a back-and-forth that has only intensified since Hurricane Katrina struck in 2005, now that every election is a referendum on the future of the city. But a recent decision by a black candidate to drop out of the 2010 mayor's race has made the possibility of a white man in the city's most powerful office startlingly real.
Los Angeles Times: Senate race to unseat Boxer takes unexpected turn
The race to unseat U.S. Sen. Barbara Boxer is growing increasingly volatile: The presumed Republican front-runner's fundraising is anemic, the underdog is attracting the party's most passionate voters, and a third major GOP politician is pondering whether to leap into the contest.
NATIONAL
For the latest national news: www.CNN.com
CNN: Military review: Troubling signals from Fort Hood suspect missed
An upcoming military review of the Fort Hood, Texas, shootings finds that the alleged shooter, Maj. Nidal Hasan, was promoted despite supervisors' concerns about his extremist views on Islam and odd behavior.
Los Angeles Times: Suspect in Northwest Airlines bomb plot had round-trip ticket
The alleged Christmas Day airline bomber had purchased a round-trip ticket - not a one- way fare, as has been widely reported - the Obama administration told congressional aides in a closed briefing Tuesday.
New York Times: Top Terror Prosecutor Settles Into a Familiar Role
[David] Raskin, an assistant United States attorney in Manhattan, is widely expected to be the lead prosecutor in the trial of Khalid Shaikh Mohammed and four other terrorism suspects when they arrive from Guantánamo Bay, Cuba, former colleagues say.
Anchorage Daily News: Judge rules against state in lease battle with Exxon
In a state-versus-oil company battle with major implications for the development of Alaska's untapped North Slope gas, a state judge this week issued a ruling in favor of oil companies.
Los Angeles Times: Marijuana legalization bill approved by key Assembly committee
A proposal to legalize and tax marijuana in California was approved by a key committee of the Assembly on Tuesday, but it is not expected to get further consideration by the Legislature until next year.
INTERNATIONAL
For the latest international news: http://edition.cnn.com
CNN: Battered by major quake, Haiti braces for huge death toll
A major earthquake struck southern Haiti on Tuesday, knocking down buildings and power lines and inflicting new misery on the Western Hemisphere's poorest nation.
CNN: Experts warned of earthquake risk on Haiti
Scientists have warned for years that the island of Hispaniola, which Haiti shares with the Dominican Republic, was at risk for a major earthquake.
CNN: Source: CIA bomber was about to be searched when explosives detonated
The suicide bomber who killed seven CIA officers and contractors and a Jordanian intelligence official in Afghanistan was within seconds of being searched by two security contractors when he detonated his explosives, a former intelligence official with knowledge of the incident told CNN on Tuesday.
Washington Post: Detainee was helping Cuban Jewish groups involved in U.S. democracy project
An American who has been jailed in Cuba and denounced as a spy is a 60-year-old international development expert from Potomac who was working on a U.S. government project to help the island's Jewish community access the Internet, according to former colleagues and other sources.
BBC News: Defence cuts 'will shrink UK armed forces'
The British armed forces could be forced to shrink by up to a fifth because of a lack of money, a military think tank has predicted.
The Guardian: Illegal, inevitable – Chilcot inquiry casts new doubts on Iraq war
The government's justification for ­launching the Iraq war was dramatically undermined today when two separate inquiries cast new light on the build-up to the invasion. Delivering the first independent assessment of the legality of the conflict, an official Dutch inquiry concluded that "the military action had no sound mandate in international law".
BUSINESS
For the latest business news: www.CNNMoney.com
CNNMoney: House panel to subpoena N.Y. Fed over AIG
The House Oversight Committee will issue subpoenas Tuesday to the Federal Reserve Bank of New York to get its correspondence with rescued insurer American International Group.
New York Times: For Bankers, Saying 'Sorry' Has Its Perils
As America recovers from the worst financial crisis since the Depression, some of the nation's chief executives are offering that rarest of statements — an apology.
CNN: Google reports China-based attack, says pullout possible
Google said Tuesday the company and at least 20 others were victims of a "highly sophisticated and targeted attack" originating in China in mid-December, evidently to gain access to the e-mail accounts of Chinese human rights activists.
Bloomberg: Asian Stocks, Copper, Oil Fall as China Raises Reserve Ratio
Asian stocks plunged the most in more than seven weeks, while copper and oil declined after China raised the amount banks have to hold in reserve in an effort to control its economic growth and stem inflation.
CNNMoney: GM: We'll sell more in China than the U.S. soon
Chinese consumers bought more automobiles last year than Americans did for the first time. A top executive at General Motors thinks that it won't be long before it too will sell more cars in China than in its home market.
In Case You Missed It
CNN's Jeanne Meserve reports on suspicions surrounding the TSA's new body image scanners.
Subscribe to the CNN=Politics DAILY podcast at http://www.cnn.com/politicalpodcast
And now stay posted on the latest from the campaign trail by downloading the CNN=Politics SCREENSAVER at http://www.CNN.com/situationroom