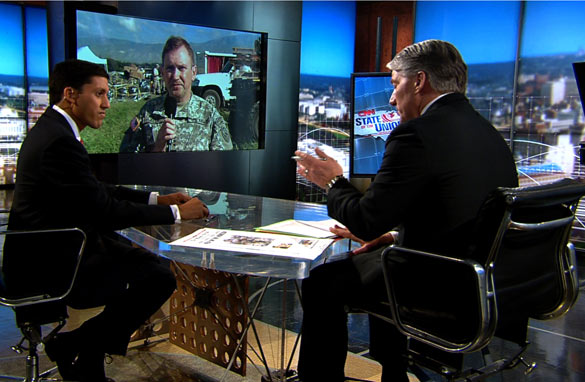 Lt. Gen. P.K. Keen and USAID Administrator Rajiv Shah said Sunday that the United States is committed to helping Haiti after a massive earthquake. (Photo Credit: CNN)
(CNN) – The United States intends to help Haiti as long as the impoverished Caribbean nation needs assistance in the wake of last week's earthquake, the top U.S. military and civilian officials overseeing the relief effort said Sunday
"We're going to be here as long as we are needed," Army Lt. Gen. P. K. Keen said Sunday on CNN's State of the Union when asked how long U.S. military assets would be in Haiti.
Related video: Keen and Shah explain U.S. relief efforts in Haiti

Keen told CNN Chief National Correspondent John King that there are already roughly 1,000 American military personnel on the ground Haiti with another approximately 3,600 providing support from a U.S. aircraft carrier and other naval vessels offshore. In the coming days, Keen is expecting more American service members to join the relief effort, including U.S. Marines who will be tasked with clearing roads.
"We're building up capacity every day and getting what we need to accomplish the mission," Keen also told King.
Keen said Sunday that the military is also focused on providing security in the quake-ravaged country whose own government and security forces were severely impaired by the 7.0 magnitude quake.

"Security is an essential component of being able to accomplish our humanitarian assistance mission," Keen told King. "So we are doing everything we can," Keen also said, adding that the U.S. military was working alongside the United Nations to provide order.
"Security is a concern. We're paying very close attention to it," said Keen.
Keen's sentiments were echoed by Dr. Rajiv Shah, the Administrator for the United States Agency for International Development (USAID). Shah, the top U.S. civilian official in charge of the Haitian relief effort, said the Obama administration has made a long-term commitment.
"The president when he noted that we're making a $100 million commitment – when he made that commitment – also noted that we will do whatever it takes to mount an aggressive response and to serve the people of Haiti effectively and so that's what we're doing," Shah said Sunday on State of the Union.
"Our goal and our metric of success is to really do more every single day and exponentially more in terms of the delivery of services, the delivery of commodities," Shah also told King.
Asked about a bottleneck at the Port-au-Prince airport that has made it difficult for some relief agencies to get all of the supplies they need, Keen said the U.S. military has been working hard to keep the airport operational and use the airport to meet as many of Haiti's competing needs as possible.
The American military arrived on the scene within 24 hours of the quake and opened the airport for round-the-clock operation "almost immediately," Keen told King.
"So, we are putting a through-put here at maximum capacity 24 hours a day," the lieutenant general said. "It's a matter of balance between getting relief supplies on the ground, getting the people on the ground that are necessary to get those relief supplies distributed and getting the logistical capability on the ground to continue that and the vehicles so that we can get [relief] out by ground as well as by air."