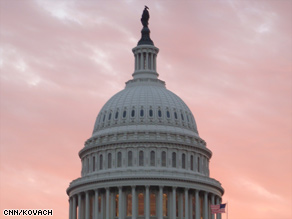 The CNN Washington Bureau's morning speed read of the top stories making news from around the country and the world.
WASHINGTON/POLITICAL
For the latest political news: www.CNNPolitics.com
Washington Post: FBI broke law for years in phone record searches
The FBI illegally collected more than 2,000 U.S. telephone call records between 2002 and 2006 by invoking terrorism emergencies that did not exist or simply persuading phone companies to provide records, according to internal bureau memos and interviews. FBI officials issued approvals after the fact to justify their actions.
Bloomberg: Treasury Delay on Bank Home-Equity Debt Imperils Housing Pickup
The U.S. Treasury Department has failed to win agreements to get struggling borrowers' home- equity debt reworked, among the biggest roadblocks to reducing foreclosures that may reach a record 3 million this year.
New York Post: GOP win in Mass. makes Ford Jr. run more likely: insiders
Many New York Democratic insiders are privately speculating that if the Democrats face a Martha Coakley loss – or near-loss – in Massachusetts to GOPer Scott Brown in tomorrow's senate election, it increases the odds of a Harold Ford Jr. candidacy.
Minnesota Star-Tribune: Coleman's exit is turning point for all parties
Within hours of Norm Coleman's exit from the 2010 gubernatorial race, the effect of his decision could be felt by candidates of all stripes. Lesser-known Republicans now have a clear shot at center stage, even though they lack the big bucks and cachet Coleman would have wielded. Democrats get to cross off a longtime nemesis, but could find DFL anger and national cash in shorter supply without one of their favorite foils.
SPECIAL COVERAGE OF THE MASSACHUSETTS SENATE CAMPAIGN
Boston Globe: All eyes on Bay State ballot
From Pittsfield to Framingham, North Andover to Dorchester, the candidates for US Senate made a last dash across the state yesterday, issuing their final pitches to voters ahead of a special election today that has drawn the eyes of the nation.
CNN: Health reform teeters as GOP seeks Massachusetts miracle
A couple of weeks ago, President Obama appeared to be on the brink of achieving the Democratic dream of comprehensive health care reform. Today that dream is at risk of being derailed in the most Democratic of states: Massachusetts.
Boston Herald: Ground forces mobilize
The high-flying campaigns of Republican Scott Brown and Democrat Martha Coakley have traded fire in the debates and over the airwaves – but now it's up to their ground troops to turn out the vote and deliver victory.
CNN: Poll: Brown makes gains in Mass. Senate Race
A new poll released Monday afternoon indicates that Republican Scott Brown has a 7-point edge over Democrat Martha Coakley in Tuesday's special election in Massachusetts for the late Sen. Ted Kennedy's seat.
USA Today: Independents may settle Mass. race today
Independent voters who helped Republicans win two gubernatorial races last year have turned Massachusetts' special Senate election into a wildly unpredictable race and could be a deciding factor at the polls today, political analysts say.
Boston Globe: Sen. Kerry says Scott Brown supporters engaged in bullying, threats
Massachusetts Senator John F. Kerry is calling on Republican Scott Brown, who is waging a surging campaign against Democrat Martha Coakley, to curb his supporters, saying that they have engaged in "bullying and threats" in recent days and that some of them are from out-of-state.
Wall Street Journal: Turnout Is Key in Massachusetts Battle
The fight for a Massachusetts U.S. Senate seat, and with it President Barack Obama's domestic agenda, is coming down to one essential challenge: maximizing turnout of core supporters in dismal wintry weather conditions.
Boston Herald: Joseph L. Kennedy sticks to guns, ignores calls to drop out
Independent U.S. Senate candidate Joseph L. Kennedy predicted he'll be the kingmaker in a close race tomorrow, saying he'll likely throw the election to upstart Republican state Sen. Scott Brown.
Politico: NRSC worked under the radar in Massachusetts
Working quietly and under the radar, the National Republican Senatorial Committee shifted $500,000 to the Massachusetts GOP in the weeks leading up to Tuesday's dramatic election, according to Republican sources.
NATIONAL
For the latest national news: www.CNN.com
Los Angeles Times: The Southland's forecast is all wet
The first of several powerful storms rumbled across Southern California on Monday, prompting evacuations in mudslide-prone foothill areas, knocking out power for tens of thousands of people and causing havoc on flooded streets and highways.
USA Today: Poor economy sweetens pool of Census workers
The Census Bureau is finding itself with the most highly skilled, highly educated workforce in its 220-year history — thanks in part to a struggling economy that has produced millions of people eager to work.
Washington Post: Inquiry into Fort Hood shootings urges new programs to identify violent behavior
In the aftermath of the investigation of the alleged shooter, Maj. Nidal Malik Hasan, the Department of Defense Independent Review Related to Fort Hood called for new Pentagon programs to update "outdated [and] incomplete" procedures that "fail to include key indicators of potentially violent behavior."
New York Times: Researchers Find Study of Medical Marijuana Discouraged
Despite the Obama administration's tacit support of more liberal state medical marijuana laws, the federal government still discourages research into the medicinal uses of smoked marijuana. That may be one reason that — even though some patients swear by it — there is no good scientific evidence that legalizing marijuana's use provides any benefits over current therapies.
ABC News: U.S. Military Weapons Inscribed With Secret 'Jesus' Bible Codes
Coded references to New Testament Bible passages about Jesus Christ are inscribed on high-powered rifle sights provided to the United States military by a Michigan company, an ABC News investigation has found.
INTERNATIONAL
For the latest international news: http://edition.cnn.com
CNN: U.S. Air Force drops 55,000 pounds of food, water into Haiti
Bypassing the gridlock of Haiti's main airport and congestion of roadways in the earthquake-ravaged country, the U.S. military delivered badly needed food and water on Monday by parachute.
Full Coverage: http://www.cnn.com/SPECIALS/2010/haiti.quake
CNNMoney: Haiti donations exceed $200 million
Nearly a week after the devastating earthquake struck near Haiti's capital, donations for relief efforts are still pouring in - in excess of $200 million.
Bloomberg: UN to Vote on Sending More Troops for Haiti Aid
The United Nations Security Council is set to vote today on sending 2,000 more troops and 1,500 extra police to Haiti as forces on the ground struggle to keep order and speed delivery of food, water and medicine.
Miami Herald: Hundreds file for Temporary Protected Status at Little Haiti church
Hundreds of undocumented Haitian immigrants crowded inside Notre Dame D'Haiti Catholic Church on Monday seeking help in filing applications for Temporary Protected Status, or TPS, a special federal immigration program that will allow them to remain legally in the United States and obtain work permits.
CNN: Blair to face public grilling over Iraq war
Former British Prime Minister Tony Blair will testify in public about the invasion of Iraq on January 29, Britain's Iraq Inquiry announced Monday.
Christian Science Monitor: Ukraine presidential race revives bitter rivalry
After voters on Sunday rejected incumbent President – and 'Orange Revolution' hero – Viktor Yushchenko, the Feb. 7 second round will revolve around the starkly differing styles of rivals Yulia Tymoshenko and Viktor Yanukovich.
Daily Telegraph: Iran 'reviewing' relations with Britain
Iran is reviewing all areas of co-operation with Britain in the wake of calls by its MPs to cut diplomatic relations, its foreign minister has said.
BUSINESS
For the latest business news: www.CNNMoney.com
Los Angeles Times: Hackers create opportunity for military firms
For U.S. military firms, the latest revelations of highly sophisticated hacker attacks on Google Inc. are highlighting a new reality, and a potentially lucrative business: The battlefield is shifting to cyberspace.
Times of London: Cadbury surrenders to foreign takeover
The iconic British chocolate manufacturer Cadbury fell last night to an £11.7 billion takeover by the US food conglomerate Kraft. The deal, struck after hours of negotiations, brings to a conclusion one of the most fiercely contested takeover battles the City has seen in recent years.
Bloomberg: Japan Air Bond Yields Jump on Bankruptcy Speculation
Japan Airlines Corp.'s bonds plunged and the yields rose to records on concern Asia's biggest carrier by sales will file for bankruptcy as soon as today.
Wall Street Journal: New York Times May Charge Core Web Readers
The New York Times is nearing a decision to charge its core online readers, a person familiar with the matter said, as the paper wraps up its assessment of the benefits and risks of restricting access to news on the Web.
Der Spiegel: German News Media Challenge Google
Search engine giant Google could be facing an investigation over allegedly anti-competitive practices in Germany following complaints from newspaper and magazine publishers who accuse the company of unfair search results and profiting from journalism that is expensive to produce. Google executives, however, say they believe the company complies with German and European laws.
In Case You Missed It
Republican Scott Brown and Democrat Martha Coakley are in an unexpectedly close race to replace Sen. Ted Kennedy.
CNN's Brian Todd takes an inside look at the mission to rescue Haiti's injured.
Subscribe to the CNN=Politics DAILY podcast at http://www.cnn.com/politicalpodcast
And now stay posted on the latest from the campaign trail by downloading the CNN=Politics SCREENSAVER at http://www.CNN.com/situationroom