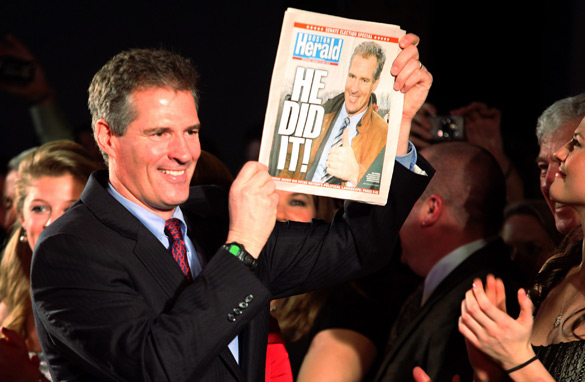 A top pollster for Martha Coakley says what happened in Massachussetts could happen to Democrats across the country next fall. (Getty Images)
Boston (CNN) - Martha Coakley's top pollster Celinda Lake has a warning for Democrats, insisting that tonight's loss is part of an anti-incumbent fever that threatens to take down Democrats across the nation.
"There's a wave here. The first shore was New Jersey and Virginia," Lake told CNN Tuesday, referring to Democratic losses in the governor's races in New Jersey and Virginia. "The second was Massachusetts, and it's coming to the island now, so we'd better do something about it."
She added: "We need to understand that angry voters are the ones turning out to vote. Our base complacent. We need to respond to that.
Lake, formerly a pollster for Joe Biden's presidential and vice presidential campaigns, was responding to a barrage of criticism lobbed by national Democrats at the Coakley campaign and Lake personally. In various news reports Tuesday, they anonymously accused Coakley of waging a weak and misguided campaign and failing to recognize the surge by her Republican opponent until it was too late.
White House aides have aggressively refuted suggestions that a Coakely loss is a repudiation of the President or his policies - insisting that the President's polling numbers are strong in Massachusetts. (While his personal approval is high, some polls show his job approval below 50 percent, and lower among independents.)
Democrats close to the White House said Coakley's missteps went beyond her well-reported stumbles - calling Red Sox hero Curt Schilling a "Yankees fan"; suggesting that Catholics shouldn't work in hospitals if they don't believe in providing emergency contraception; and asking a reporter if she should be expected to stand outside the baseball stadium "shaking hands in the cold." National Democrats involved in helping the campaign said there were key strategic mistakes as well.
Among them:
– The campaign didn't poll on "Tea Party" issues and didn't poll at all from mid-December until the second week in January, missing the Brown surge.
– The campaign didn't run their first general election ad until January 6 - well after Brown had put up two ads defining himself as the people's candidate.
– The campaign was so slow to identify likely supporters. So slow that as of a week ago they had compiled a list of only 18-thousand people who could be persuaded to vote for Coakley - when turnout was predicted to be 1.7 million.
– The campaign alienated local elected officials and failed to call on them for help.
But Lake is adamant that the loss had as much to do with voter attitudes to Democrats nationally.
"We got a message here and what are we going to do about it?," asked Lake. Her answer: Democrats need to do a better job explaining their policies - including the stimulus package, cap-and-trade, and especially health care reform.
"Even public polls show health care is 20 points down among independent women ," she said, explaining that they just don't know what's in the bill.
"But when we said it would eliminate pre-existing condition exemptions and strengthen medicare, they loved it," she said."They don't know what the bill does." Lake also argued that Democrats should pass a jobs bill and financial reform. She said the only way for incumbent Democrats to fight the anti-incumbent wave is "to get something done."
Coakley's loss is largely blamed on weak support among the state's independents. Ted Kennedy routinely won the independents.
"They voted for change in 2008 and they voted for change in the primary and they voted for change tonight," Lake said. "Either we deliver the change or the voters will deliver it. You either get swamped by this or you ride it, and we'd better ride it."