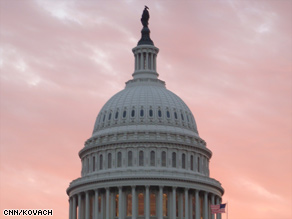 The CNN Washington Bureau's morning speed read of the top stories making news from around the country and the world.
WASHINGTON/POLITICAL
For the latest political news: www.CNNPolitics.com
Wall Street Journal: Military Helps Fund Congressional Trips
Military officials bought thousands of dollars worth of alcohol, food and other amenities for the U.S. lawmakers they accompanied on trips overseas, travel records viewed by The Wall Street Journal show.
Washington Post: U.S. increases efforts to boost security in Yemen amid increasing terror threat
Experienced fighters returning to Yemen from the Iraq war and radicalized U.S. citizens who have taken up residence in that country have broadened assessments of the threat posed by the al-Qaeda affiliate there, according to administration and congressional officials.
New York Times: Paterson Seeks Huge Cuts and $1 Billion in Taxes and Fees
Gov. David A. Paterson proposed on Tuesday what would be the largest cut to school aid in more than two decades and nearly $1 billion in new or increased taxes and fees as he unveiled his budget, a plan that is likely to be the first chapter in a prolonged battle with the Legislature.
Washington Post: Justice Department and FBI begin investigation of Sen. John Ensign
The Justice Department and the FBI have begun a preliminary investigation into actions by Sen. John Ensign (R-Nev.), who arranged to provide money and career assistance to the husband of his mistress, sources familiar with the case said Tuesday.
NY Post: Ford takes leave of absence from Wall Street job to focus on NY bid
In another sign that he seriously plans to challenge embattled Sen. Kirsten Gillibrand in this year's Democratic primary, ex-Tennessee Rep.Harold Ford Jr. has taken a leave of absence from his Wall Street job so he can have more free time to travel around the state.
SPECIAL COVERAGE OF THE MASSACHUSETTS SENATE CAMPAIGN
CNN: Brown wins Massachusetts Senate race
Republican Scott Brown won a major upset victory in Tuesday's special election for the U.S. Senate seat formerly held by liberal Democrat Ted Kennedy.
Boston Globe: McGrory: Seduced by our new senator
I'm going to need some Advil and a cold compress, please. I'm the Massachusetts Electorate, and I have what is bar none the absolute worst hangover of my entire voting life.
Boston Herald: State independents lead Scott Brown's charge
High turnout in Bay State 'burbs and among independent voters who flocked to the polls eclipsed a healthy turnout in staunchly Democratic Boston, fueling Republican Scott Brown's victory yesterday.
CNN: House Dems largely reject idea of passing Senate health care bill
In the face of a major political upset Tuesday night and with Republican Scott Brown poised to fill Ted Kennedy's Massachusetts Senate seat – ending the Senate Democrats losing their filibuster proof majority – House Democrats across the political spectrum largely rejected the idea of passing the Senate health care bill.
CNN: Democrats point fingers after stunning loss
Even before the polls closed on Tuesday night, Democrats were distancing themselves from Democrat Martha Coakley and blaming her lackluster campaign for her stunning loss in the U.S. Senate race in Massachusetts.
Politico: Forces of change now target Obama
Republican Scott Brown's eye-opening victory in Massachusetts Tuesday has unmistakably framed the problem for President Barack Obama and the Democratic Party: he same forces of disgust with establishment politicians and hunger for change in Washington that vaulted Obama to power 14 months ago can be harnessed with equal success by people who want to stop his agenda in its tracks.
San Francisco Chronicle: Dems' Massachusetts loss clouds Pelosi's future
If the late Edward Kennedy's Massachusetts Senate seat isn't safe for Democrats, is Nancy Pelosi's speakership of the House safe? The answer is yes, unless there's a Republican landslide in November. Forty Democratic House members would have to lose their seats to topple the San Francisco Democrat from the third-highest elected job in the country, just two steps down from the presidency.
NATIONAL
For the latest national news: www.CNN.com
Christian Science Monitor: FBI sting nets 22 executives charged with paying bribes abroad
Twenty-two executives at military and law-enforcement supply companies have been arrested in a sting operation by federal authorities. It is billed as the nation's largest effort to enforce the Foreign Corrupt Practices Act, the Justice Department announced on Tuesday.
CNN: Senate panel: Americans in Yemen may be getting al Qaeda training
As many as three dozen Americans who converted to Islam in prison have traveled to Yemen, "possibly for al Qaeda training," according to a new report prepared by the Senate Foreign Relations Committee.
CNN: Manhunt on in killings of 8 in Virginia
Police searched into the early hours of Wednesday for a 39-year-old gunman wanted in the deaths of eight people in rural central Virginia.
INTERNATIONAL
For the latest international news: http://edition.cnn.com
CNN: Haitian authorities record 72,000 deaths from earthquake
In the week since a 7.0-magnitude earthquake shattered this capital and jolted observers around the world, authorities have buried 70,000 bodies, about a third of the estimated final toll, officials said Tuesday.
Full Coverage: http://www.cnn.com/SPECIALS/2010/haiti.quake
CNN: Fighting in Somalia displaces 63,000 people
In just the past 19 days, an estimated 63,000 people have been displaced from their homes in Somalia by fighting involving government forces and militias, combined with "general insecurity," the United Nations' refugee agency said Tuesday.
Washington Post: U.S. aid workers find few trained Afghan partners
Alongside the thousands of additional U.S. troops, civilian aid workers are surging into Afghanistan to help refurbish schools, open rural health clinics, build irrigation systems, vaccinate livestock and provide fertilizer to farmers. But like their military counterparts, the civilian technicians are finding the lack of trained Afghan partners their most difficult challenge.
Jerusalem Post: Revised NIE: Iran's program continuing
US spy agencies evaluate that Iran has accelerated its research into creating a nuclear weapon but has yet to restart its program in full, Reuters quoted US officials as saying on Wednesday. The new estimate comes as the American intelligence community is putting the finishing touches on a revised National Intelligence Estimate (NIE) that was published near the end of the George W. Bush administration and that was out of line with European countries' estimates, as well as Israel's.
New York Times: South Korea Warns North on a First Nuclear Strike
South Korea would launch a pre-emptive conventional strike against the North if there were clear indications of an impending nuclear attack, the South Korean defense minister said Wednesday in Seoul, even as both countries were holding talks about improvements at their jointly operated industrial park.
BBC News: Nigeria religious riots 'kill 200' in Jos
At least 200 people have been killed in violence between Christians and Muslims in the Nigerian city of Jos, says the monitoring group, Human Rights Watch.
BUSINESS
For the latest business news: www.CNNMoney.com
CNNMoney: More wives outearning their husbands
The financial balance of power in American marriages is shifting. A Pew Research Center survey released Tuesday found that 22% of men made less money than their wives in 2007. By comparison, 4% of husbands earned less than their wives in 1970.
CNNMoney: Harder to get an Uncle Sam mortgage
It's going to be harder to get a government-backed mortgage from now on. Looking to shore up its weakening finances, the Federal Housing Administration is set to announce stricter standards on Wednesday.
USA Today: Springtime house hunters out early thanks to tax credit
The springtime spurt in home buying may hit before the snow melts this year as buyers scramble to meet an April 30 tax credit deadline.
Wall Street Journal: AIG Deal Holds Payback Hope
After committing $182.3 billion to prop up insurer American International Group Inc., U.S. taxpayers may finally be getting a chunk of their dollars back. AIG has in recent weeks been in final negotiations to sell a big international life-insurance unit to rival MetLife Inc., for $14 billion to $15 billion, people familiar with the matter said.
Bloomberg: Hershey May Lose Market Share, Investors as Cadbury Slips Away
Hershey Co.'s third failed effort to merge with Cadbury Plc in eight years may leave the U.S. chocolate maker and the charitable trust that controls it grappling to retain investors and market share.
Times of London: Thousands of Cadbury jobs under threat as Kraft swallows a British icon
The multibillion-pound contest to win control of Cadbury has brought fears that Kraft, the new US owner, will institute swingeing job cuts. With memories of broken promises in previous sales of British confectioners, unions, politicians and members of the Cadbury family warned that the move could be disastrous.
In Case You Missed It
Republican Scott Brown makes his victory speech after being declared the winner in the race for Massachusetts' open Senate seat.
CNN Radio's Steve Kastenbaum drove through Port-au-Prince, Haiti, four days after the earthquake.
Subscribe to the CNN=Politics DAILY podcast at http://www.cnn.com/politicalpodcast
And now stay posted on the latest from the campaign trail by downloading the CNN=Politics SCREENSAVER at http://www.CNN.com/situationroom