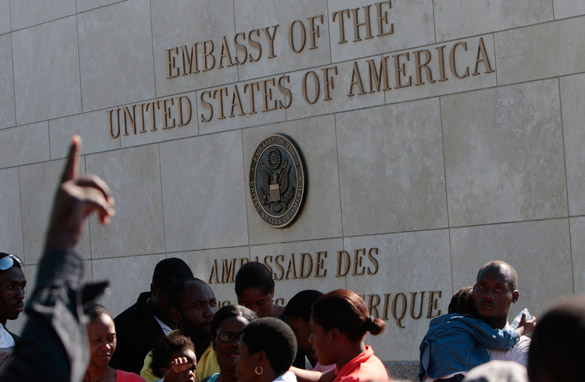 .Hundreds of people, some with U.S. passports, lined up outside the U.S. Embassy in Port-au-Prince last week.(Photo Credit: Getty Images/File)
Washington (CNN) - Secretary of State Hillary Clinton said Monday the Obama administration is "looking at" the idea of allowing more legal immigration to the U.S. from Haiti.
Speaking to reporters at the State Department before departing to Montreal, Quebec, for a conference on international relief efforts for Haiti, Clinton said, "We are looking at every option that can provide a better future for the Haitian people."
Asked about the secretary's comments, State Department spokesman P.J. Crowley told reporters, "There is a cap, you know, levied on the number that can travel to the United States from Haiti. And that is something that we'll be ... working with a variety of interest groups on as we go forth."
Some Haiti experts and non-governmental organizations say that allowing more legal immigration from Haiti would relieve some of the burden of providing earthquake relief efforts on the island.
The Obama administration, after the earthquake, allowed Haitians currently in the United States illegally to apply for temporary protected status for 18 months. That would allow them to work and send cash remittances back to help their families in Haiti.
Clinton, along with foreign ministers, major donors and regional and multilateral partners, was going to Montreal for a Monday's one-day Ministerial Preparatory Conference of the Group of Friends of Haiti.
Updated: 3:42 p.m.