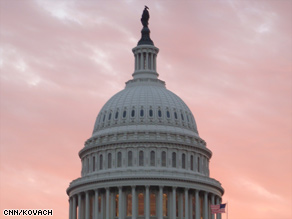 The CNN Washington Bureau's morning speed read of the top stories making news from around the country and the world.
WASHINGTON/POLITICAL
For the latest political news: www.CNNPolitics.com
CNN: CNN Poll: Majority of Americans say much of stimulus wasted
Nearly three out of four Americans think that at least half of the money spent in the federal stimulus plan has been wasted, according to a new national poll.
CNN: Senators say they'll support Bernanke
As the White House tries to rally wavering support for the re-confirmation of Federal Reserve chief Ben Bernanke, two senators – one Democrat and one Republican – announced Sunday that they will support the nation's top banker despite reservations about him.
CBS News: McCain: Campaign Finance Reform Is Dead
Senator John McCain, who helped rewrite the nation's campaign finance laws, said Sunday that this week's Supreme Court ruling removing limits from corporate spending on political advertising means that campaign finance reform is dead.
ABC News: Foreign Money in American Politics?
Some election lawyers believe that last week's landmark U.S. Supreme Court opinion may have opened a new avenue for foreign money to enter the American political system, and that the justices are inviting a repeat of the 1996 Chinese money scandal that bloodied the Clinton administration.
CNN: Frustration over Israeli, Palestinian talks
U.S. President Barack Obama's special envoy to the Middle East ended a four-day trip to Israel and the West Bank with no breakthrough in persuading Israelis and Palestinians to go back to the negotiating table.
Washington Post: Pakistani government, military wary of U.S. overtures
Despite a string of high-profile visits designed to reassure Pakistan of Washington's commitment, U.S. officials have failed to win over a military and civilian establishment here that remains suspicious of U.S. ties to India and reluctant to plunge into war with Afghan militants who may outlast the U.S. presence.
CNN: Arkansas Democrat Berry expected to announce retirement
Arkansas Rep. Marion Berry is expected to announce Monday that he will not seek re-election and instead retire at the end of the year, two Democratic sources confirm to CNN. Berry would become the 12th Democrat to announce that he will not run for his House seat again in 2010.
Washington Post: Republicans' allies eye state legislatures as redistricting nears
Seeking to capitalize on the excitement among Republican potential donors after Scott Brown's stunning capture of a Senate seat in Massachusetts last week, two independent groups focused on helping the party regain state legislative majorities before next year's nationwide redistricting are significantly ramping up their efforts.
New York Times: An Unofficial Candidate, on the Trail
Mr. Ford, a five-term congressman from Tennessee, has given himself until the end of February to decide whether to challenge Senator Kirsten E. Gillibrand in New York's Democratic primary, but in the first week of a statewide tour, he is quickly revealing what kind of candidate he would be: an effortless retail politician, equally at ease in baroque restaurants and Baptist churches, who makes instant, Clinton-like connections with voters.
NY Daily News: Gov. Paterson's team starts firing away at expected primary foe Andrew Cuomo
Gov. Paterson's campaign opened fire on Attorney General Andrew Cuomo Sunday after the Daily News reported he'll soon announce he's running for governor. "Voters have had enough of Albany politicians winking at them while doing nothing to solve their problems," said Paterson campaign manager Richard Fife.
NY Post: Gov. Paterson's campaign strategist resigns
Tracy Sefl, the Washington-based strategist and chief spokesman for Gov. Paterson's troubled election campaign, has abruptly resigned, saying "my decision is a business one." Sefl, in a formal statement released a few minutes ago, insisted that "it has been a privilege to work with the governor over the past year" and "I wish him and his team - both at the campaign and inside the Executive Chamber– much success."
Dallas Morning News: Exclusive: Perry voter turnout project signs up felons
The campaign lists about 300 part-time workers on the financial disclosure forms it filed with the state, recruits under the "Perry Home Headquarters" program that pays people to get others to sign up as a Perry supporter and pledge to vote. A handful have criminal histories, a Dallas Morning News review shows.
Christian Science Monitor: Unify the new American 'tea party'? Good luck with that.
America has seen plenty of tea party protests around the country in the last year. The image of tea party activists protesting at a major tea party event, however, would be new. It could happen. Some activists are panning a planned "Tea Party Convention" in Nashville next month, saying the for-profit group Tea Party Nation – which scored a major coup by convincing Sarah Palin to come for a $100,000 speaker's fee – is trying to co-opt the movement for dubious purposes.
Chicago Tribune: Obama to skip jury duty in Bridgeview
If Cook County had had its druthers, President Barack Obama would have shown up Monday for jury duty. But court officials were told several weeks ago the prospect was a no-go, a White House official said today. The summons showed up at the president's home in Chicago's Kenwood neighborhood.
NATIONAL
For the latest national news: www.CNN.com
CNN: Cleanup under way in 462,000-gallon oil spill off Texas
Crews removed about 46,000 gallons of oil from waters near Port Arthur, Texas, on Sunday, roughly 10 percent of the oil spilled a day earlier when a tanker collided with two barges, a U.S. Coast Guard officer said.
Christian Science Monitor: Marijuana in the classroom? Sometimes it's legal
Medical marijuana legally prescribed to young people is showing up in classrooms. This is putting teachers and principals in a new and challenging position.
USA Today: Census count starts with No. 1 in Alaska
When World War II veteran Clifton Jackson — at 88 the oldest resident of Noorvik, Alaska— answers his door at 1 p.m. local time Monday, he will become the first American counted in the 2010 Census. The painstakingly choreographed event will unfold in the tiny Inupiat Eskimo village north of the Arctic Circle.
Wall Street Journal: In Washington, a Lesson in Bureaucracy Comes in Every Bag
The Washington, D.C., bag tax seemed simple enough: Beginning Jan. 1, grocery stores in the district would charge five cents a bag, plastic or paper. The goal was to cut down on waste and raise money to clean up the polluted Anacostia River. But nearly a month into the program, it's turning out that government is having trouble legislating its way out of a plastic bag.
INTERNATIONAL
For the latest international news: http://edition.cnn.com
CNN: Families to Haiti: Don't give up, keep searching for quake victims
Thousands of people were pushing for rescue efforts in Haiti to continue Sunday, after a 24-year-old man was pulled alive from the ruins on Saturday, 11 days after the nation's devastating earthquake. The Haitian government says it will be switching from a search and rescue operation to a search and recovery mission.
Full Coverage: http://www.cnn.com/SPECIALS/2010/haiti.quake
Bloomberg: Haiti Rescue Efforts Fade as Donor Nations to Meet in Montreal
Rescue workers wound down the search for survivors of Haiti's earthquake as officials from 20 nations headed to Montreal for a meeting today to coordinate aid. U.S. Secretary of State Hillary Clinton will be among the delegates in Canada to discuss long-term reconstruction and arrangements for a donor conference to be held in March, the United Nations said in a statement.
CNN: Nine bodies found from Ethiopian Airlines crash
Rescue crews searched feverishly in poor weather conditions Monday for passengers from an Ethiopian Airlines flight that crashed into the Mediterranean Sea minutes after takeoff with 90 people aboard.
BBC News: US commander signals peace talks with Taliban
The top US commander in Afghanistan has said a negotiated peace with the Taliban is the way forward. Gen Stanley McChrystal told the UK's Financial Times that there had been "enough fighting" and he wanted a political solution to the conflict.
Irish Times: Suu Kyi 'to be freed in November'
Burmese pro-democracy leader Aung San Suu Kyi will be freed when her house arrest ends in November, according to a government minister quoted by witnesses today.
NPR: Bomb Plot Suspect Tied To Alleged U.K. Terrorists
British and U.S. intelligence authorities have linked the young Nigerian at the center of the alleged attack on Northwest Flight 253, Umar Farouk Abdulmutallab, to two men accused of ties to major terrorist plots in the United Kingdom, NPR has learned.
CNN: Report: New bin Laden tape emerges
A new audio tape allegedly from al Qaeda leader Osama bin Laden claims responsibility for an attempt to blow up a plane en route to Michigan on Christmas Day and warns the United States of more attacks.
Times of London: British troops face five more years in Helmand
British troops will have to fight the Taleban for another five years, according to a leaked draft of the communiqué that will conclude the London conference on Afghanistan this week.
Washington Post: Digest: Russian president Medvedev says arms-reduction treaty is nearly ready
A new nuclear arms reduction treaty is "95 percent ready," Russian President Dmitry Medvedev said Sunday, in the clearest indication to date that an end to wrangling over the seminal agreement may be close.
CNN: Afghanistan postpones parliamentary election until fall
Afghanistan said Sunday it will postpone parliamentary elections from May until September.
BBC News: Japan 'may rethink' US Futenma air base after poll
Japan's Prime Minister Yukio Hatoyama has said the result of a weekend mayoral poll could fuel a major rethink about US military bases in Japan. Residents of the Japanese city of Nago, on Okinawa, chose a candidate opposed to the hosting of an American air base.
BUSINESS
For the latest business news: www.CNNMoney.com
CNNMoney: Stocks: Trying to reverse the slide
After the worst week on Wall Street in almost a year, investors will return to work looking for greater clarity - from Washington, from the banks and from corporate America.
Washington Post: Stakes are high as government plans exit from mortgage markets
For more than a year, the government pulled out the stops to revive home buying by driving down mortgage rates. Now, whether the housing market is ready or not, the government is pulling out. The wind-down of federal support for mortgage rates, set to end in two months, is a momentous test of whether the Obama administration and the Federal Reserve have succeeded in jump-starting the housing market and ensuring it can hold its own.
USA Today: Toyota knew of sticky-throttle problem late last year
Toyota says it knew there were problems with accelerator-pedal assemblies from supplier CTS late last year, but not enough to warrant a recall. The automaker says it hurriedly announced last Thursday a planned recall of 2.3 million Toyotas, back to 2005 models, because the defect trend had picked up.
Wall Street Journal: Sizing Up Wall Street Sheriffs
New York's next attorney general won't be elected until November, but some of the likeliest contenders are taking a surprisingly conciliatory tone toward Wall Street, blaming its messes more on a broken system than a culture of greed.
In Case You Missed It
CNN's Brian Todd takes us on a trip around tent cities that survivors have set up post-earthquake.
CNN's John King visits Mike's City Diner to gauge the mood following the Massachusetts Senate race.
Subscribe to the CNN=Politics DAILY podcast at http://www.cnn.com/politicalpodcast
And now stay posted on the latest from the campaign trail by downloading the CNN=Politics SCREENSAVER at http://www.CNN.com/situationroom