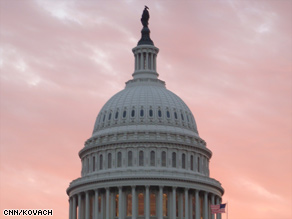 The CNN Washington Bureau's morning speed read of the top stories making news from around the country and the world.
WASHINGTON/POLITICAL
For the latest political news: www.CNNPolitics.com
CNN: Obama wants to freeze discretionary spending for 3 years
President Obama will announce in Wednesday's State of the Union address that he's proposing to save $250 billion by freezing all nonsecurity federal discretionary spending for three years, according to two senior administration officials.
CNN: CNN Poll: Has stimulus been effective?
Most Americans say that the economic stimulus plan has either helped the economy or prevented conditions from getting worse, but only a third see any personal benefit from the stimulus, according to a new national poll.
ABC News: Pay Czar Playing Hardball With AIG On Bonus Pledges
Ken Feinberg, the Obama administration's pay czar, is insisting that bailout recipient AIG fulfill pledges from its employees to return portions of their controversial 2009 retention payments, ABC News has learned.
New York Times: U.S. Envoy's Cables Show Concerns on Afghan War Plans
The United States ambassador in Kabul warned his superiors here in November that President Hamid Karzai of Afghanistan "is not an adequate strategic partner" and "continues to shun responsibility for any sovereign burden," according to a classified cable that offers a much bleaker accounting of the risks of sending additional American troops to Afghanistan than was previously known.
Washington Post: Report says Al-Qaeda still aims to use weapons of mass destruction against U.S.
When al-Qaeda's No. 2 leader, Ayman al-Zawahiri, called off a planned chemical attack on New York's subway system in 2003, he offered a chilling explanation: The plot to unleash poison gas on New Yorkers was being dropped for "something better," Zawahiri said in a message intercepted by U.S. eavesdroppers. The meaning of Zawahiri's cryptic threat remains unclear more than six years later, but a new report warns that al-Qaeda has not abandoned its goal of attacking the United States with a chemical, biological or even nuclear weapon.
CNN: Obama says focus is on major challenges, not boosting ratings
President Barack Obama said Monday he would continue pushing for major changes on tough issues such as health care and energy reform, even if it endangered his chances for re-election in 2012.
New York Times: Fresh Off a Massachusetts Victory, G.O.P. Aims at Illinois
Republicans in Illinois hold no statewide offices, are minorities in both chambers of the State Legislature and struggle some years to recruit viable candidates even at the top of the ballot.But the election last week of a long-shot Republican, Scott Brown, to the Senate in Massachusetts, a similarly blue state, has invigorated Republicans here.
CNN: Democrats suffer new setbacks in Arkansas, Delaware
Democrats reeling from last week's upset loss of Ted Kennedy's U.S. Senate seat in Massachusetts suffered a new setback in Arkansas on Monday as a longtime Democratic House incumbent announced his intention to retire at the end of this year.
NATIONAL
For the latest national news: www.CNN.com
New York Times: In Digital Combat, U.S. Finds No Easy Deterrent
On a Monday morning earlier this month, top Pentagon leaders gathered to simulate how they would respond to a sophisticated cyberattack aimed at paralyzing the nation's power grids, its communications systems or its financial networks. The results were dispiriting. The enemy had all the advantages: stealth, anonymity and unpredictability.
Washington Post: Rise in teenage pregnancy rate spurs new debate on arresting it
The pregnancy rate among teenage girls in the United States has jumped for the first time in more than a decade, raising alarm that the long campaign to reduce motherhood among adolescents is faltering, according to a report released Tuesday.
Christian Science Monitor: Prop. 8 trial: defenders of gay-marriage ban make their case
In the federal trial on California's Prop. 8, defenders of the voter ban on gay marriage called their first witnesses Monday. Defense lawyers argue that gays and lesbians in California enjoy plenty of political power and do not need extra constitutional protection.
BBC News: Schwarzenegger proposes Mexican jails take US inmates
California Governor Arnold Schwarzenegger has suggested the state could reduce prison spending by housing undocumented inmates in Mexican jails.
Dallas Morning News: Feds find dubious home tax credit claims from Texas
Federal inspectors scouring tax returns that contain a credit for first-time homebuyers have found something curious about claims from Texas. Nearly 1,000 were filed by people employing a special taxpayer identification number primarily used by illegal immigrants, who are not entitled to the credit.
INTERNATIONAL
For the latest international news: http://edition.cnn.com
CNN: Haiti donors meet to plan rebuilding after quake destruction
U.S. Secretary of State Hillary Clinton and foreign ministers from more than a dozen countries met Monday to discuss how to rebuild Haiti after the devastating January 12 earthquake.
Full Coverage: http://edition.cnn.com/SPECIALS/2010/haiti.quake
Miami Herald: In land of manual labor, a tough future for Haitian amputees
Simon is one of untold thousands of Haitians who lost limbs in the catastrophic earthquake that shook Port-au-Prince on Jan. 12. He will struggle to rehabilitate in a city that thrives on physical labor, and doctors are predicting that many amputees will languish or even die without proper follow-up care, or access to prosthetic limbs or crutches.
Bloomberg: Davos Too Big to Fail as Bankers Recoil in Political Backlash
Financiers will cede the spotlight to government officials, regulators and central bankers at this year's annual showcase of global power brokers as government's role in markets has gained prominence. More than a year after the high-water mark of the worst financial crisis since the Great Depression, bankers are in retreat on issues ranging from the size of their companies to the size of their paychecks.
Washington Post: Britain, Japan to help reintegrate Taliban foot soldiers
Britain and Japan have agreed to head an international fund, expected to total up to $500 million over the next five years, as part of a broad plan to help lure Taliban fighters away from the insurgency with the promise of jobs, protection against retaliation, and the removal of their names from lists of U.S. and NATO targets.
BBC News: Hamid Karzai to urge UN to ease Taliban sanctions
Afghan President Hamid Karzai says he will propose lifting UN sanctions against some Taliban leaders at a summit in London later this week. He said he believed Western allies backed his reconciliation plans for Taliban members who renounce al-Qaeda.
Bloomberg: Dubai Helps Iran Evade Sanctions as Smugglers Ignore U.S. Laws
Years before the world turned its attention to Dubai's financial crisis, the second largest of the seven states in the United Arab Emirates was amassing clout - and money - as Iran's back door to the West, Bloomberg Markets magazine reported in its March issue. Iran's biggest non-oil trading partner provides a stream of household items - from diapers and mobile phones to laptops and washing machines - as well as illicit items such as aircraft parts and computer chips that the U.S. says have nuclear and military uses.
The Guardian: Brown and Cowen in talks to rescue Stormont power-sharing deal
The prime minister Gordon Brown flew into Belfast last night for urgent talks with his Irish counterpart, Brian Cowen, to try to rescue Northern Ireland's power-sharing executive, as senior British government sources expressed deep unease at the Conservative approach to the political crisis in Ulster.
Times of London: Bomb blasts mar Sri Lanka elections as polls open
Pre-dawn bomb blasts in Sri Lanka's Tamil heartland marred the start of voting this morning in the country's first presidential election since the end of a 26-year civil war with the Tamil Tiger rebels in May.
BBC News: Envoys of Tibet's Dalai Lama in new China talks
Envoys of the exiled Tibetan spiritual leader, the Dalai Lama, are in Beijing to resume talks with China's government after a break of 15 months. Discussions broke down in acrimony in 2008, with Beijing saying that no progress had been made.
BUSINESS
For the latest business news: www.CNNMoney.com
CNNMoney: Bernanke quest: The scramble for 60 votes
Ben Bernanke watch: 6 days and counting. The Federal Reserve chairman's term ends on Sunday, and Washington is abuzz with speculation about whether the Senate will reconfirm him.
Der Spiegel: European Union Sees Threats to the Euro
Late last year, it became fashionable to predict the dollar's demise. This year, however, shaky state finances within the European common currency zone have many worried about the future of the euro. Even the EU thinks the monetary union could be in danger.
New York Daily News: $5.4B Stuyvesant Town complexes unloaded
The biggest real estate deal in American history collapsed on Monday. The owners of Stuyvesant Town and Peter Cooper Village on Manhattan's East Side, said they are handing the massive property over to their creditors.
CNNMoney: Apple doubles iPhone sales in record quarter
Apple Inc. reported another strong quarter Monday on the back of its current product lineup, including iPhones and Macintosh computers, as the company gears up for its widely anticipated announcement of a new tablet computer on Wednesday.
NY Post: Apple turn over
AT&T may have a bitter tablet to swallow. Apple is expected to name Verizon Wireless as one of its carriers with its anticipated unveiling of a new tablet device on Wednesday, sources told The Post.
Detroit Free Press: Whitacre to become GM's permanent CEO
General Motors' board of directors, hoping to bring some stability to the Detroit automaker, has stopped its search for a new CEO and named Ed Whitacre as the permanent chief executive.
In Case You Missed It
CNN takes an up-close look at Haiti's presidential palace after it was heavily damaged by the earth quake on January 12.
Only a portion of the $787 billion stimulus has actually gone to programs. Josh Levs reports.
Subscribe to the CNN=Politics DAILY podcast at http://www.cnn.com/politicalpodcast
And now stay posted on the latest from the campaign trail by downloading the CNN=Politics SCREENSAVER at http://www.CNN.com/situationroom