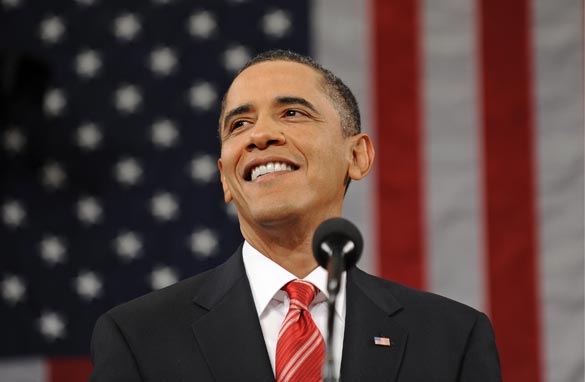 The Tea Party Express has issued a statement responding to President Obama's first State of the Union address. (Photo Credit: Getty Images)
After the jump, read the full statement issued by the Tea Party Express in response to President Obama's State of the Union address:

State of the Union: We're Unimpressed, Mr. Obama

Actions Speak Louder Than Words

The Tea Party Express released the following statement in response to the president's State of the Union Address:

"Tonight was a night of hot air, delivered in a way too long speech that revisited pledges we've quite frankly heard from Barack Obama before.

"His comments in the State of the Union were similar in tone and substance to his comments made after he won the 2008 presidential election and during his inauguration.

"But actions speak louder than words, and this administration violated its promise for increased transparency. Lobbyists were appointed by the president to positions he swore would never be filled by former lobbyists.

"Worst of all, we've seen out-of-control spending, and an unparalleled growth in the size and power of government.

"We'll start to believe Barack Obama when his actions match his words. Until then, it's just more empty promises, and we've all heard far too many unfulfilled promises from the politicians in Washington.
"In our opinion, the best part of this speech was the end."