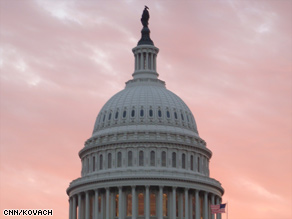 The CNN Washington Bureau's morning speed read of the top stories making news from around the country and the world.
WASHINGTON/POLITICAL
For the latest political news: www.CNNPolitics.com
CNN: Obama calls for unified effort to confront nation's problems
Citing a "deficit of trust" in government by the American people, President Obama's first State of the Union address urged Congress to erode the influence of special interests and work together to confront the nation's most pressing problems.
CNN: GOP response to Obama targets spending, health reform, jobs
Virginia Gov. Bob McDonnell addressed the federal deficit, job growth and health care reform in the Republican response to President Obama's State of the Union address Wednesday night.
Full Coverage: http://www.cnn.com/SPECIALS/2010/state.of.the.union
CNN: Obama wants nationwide high-speed rail system
President Obama mentioned an $8 billion investment in high-speed train systems across the country in his State of the Union speech on Wednesday. Details released Thursday said the investment would be grants from the government's $862 billion economic stimulus package to begin the planning and initial work on creating the first nationwide program of high-speed intercity passenger rail service.
CNN: CNN Poll: Half of speech watchers have very positive reaction
Nearly half of Americans who watched President Obama's State of the Union address said they had a very positive reaction to his speech, according to a poll of people who viewed the address. A CNN/Opinion Research Corporation survey indicated that 48 percent of speech watchers had a very positive reaction, with three in 10 saying they had a somewhat positive response and 21 percent with a negative response.
Washington Post: N.Y. federal prosecutors pursue foreign cases aggressively
Federal prosecutors in New York are ratcheting up an aggressive strategy to pursue terrorists, drug traffickers and corrupt public officials who operate on foreign soil. The expansion of traditional crime-fighting boundaries, which has its roots in an approach begun by the office in the 1990s, has been controversial among experts, with some questioning whether the effort is the best use of the U.S. government's limited resources.
CNN: Clinton pushes for new sanctions on Iran over nuclear program
The United States is pushing world powers to consider a tough new round of sanctions against Iran for its continued global defiance over its nuclear program.
CNNMoney: Geithner: 'I had no role' in an AIG cover up
Treasury Secretary Timothy Geithner told lawmakers Wednesday that he had no involvement in an apparent attempt by government regulators to withhold crucial information about AIG's bailout from the public.
Christian Science Monitor: Congress wants details about Obama's healthcare reform deals
In an unusual bipartisan move, Rep. Henry Waxman (D) of California joined Republicans on the House Energy and Commerce panel Wednesday in a call for the Obama White House to produce documents and details on the deals cut with industry groups on healthcare reform
CNN: Key RNC members to oppose 'purity resolution'
A key voting bloc within the Republican National Committee on Wednesday rejected the so-called "purity resolution" that would forbid party money from going to moderate GOP candidates.
Washington Post: EPA crackdown on mountaintop coal mining criticized as contradictory
…but to many people in Appalachia, the orders coming out of Washington, especially one this month, have appeared contradictory and mysterious, signing off on some mines and blocking others. Environmentalists are unhappy because they fear federal officials are losing their nerve to take on the powerful coal industry. The coal industry is unhappy because it thinks the administration is on the brink of giving in to the green crowd.
New York Times: Bloomberg Balks at 9/11 Trial, Dealing Blow to White House
The Obama administration on Wednesday lost its most prominent backer of the plan to try the self-described mastermind of the Sept. 11 attacks in Lower Manhattan when Mayor Michael R. Bloomberg said the trial should not be held in New York City.
Los Angeles Times: Joseph Farah found his calling in Obama-bashing
Once a little-known Los Angeles newspaper editor, [Joseph] Farah has become a leading impresario of America's disaffected right, serving up a mix of reporting and wild speculation to an audience eager to think the worst of the president. …If Farah believes Obama is bad for the country, the president has been indisputably good for Farah's business.
Chicago Tribune: Quinn defends taking interest payments from Senate campaign fund
Gov. Pat Quinn said today he would soon close a campaign account from his losing 1996 U.S. Senate race that has paid him $24,000 in interest.The governor's comments came in response to a Tribune report detailing how Quinn has kept the fund alive by pumping in a series of personal loans and then soliciting political donations so he can pay himself back, at interest rates approaching 10 percent.The end result is that Quinn has made at least $24,000 in interest from the campaign fund he controls, according to documents filed with the Federal Election Commission.
Miami Herald: Republican Senate rivals evade questions on records, policies
Facing a roomful of reporters Wednesday, Florida's Republican candidates for U.S. Senate offered a glimpse of what's ahead in their campaigns when the heat is on: dodge and weave.
USA Today: Attorney says O'Keefe didn't bug Landrieu's phones
The attorney for an independent filmmaker accused of entering a U.S. senator's office under false pretense and "interfering" with the phone system said Wednesday that his client did not bug any telephones or engage in other illegal activity.
NATIONAL
For the latest national news: www.CNN.com
CNN: Air drops sustain residents after heavy snowstorm in Arizona
Native Americans on the rugged Navajo and Hopi reservations in northern Arizona are using mirrors and red fabric to signal aircraft that they need air drops after last week's powerful snowstorm, state agency spokesmen said Wednesday.
Miami Herald: Florida farmworkers: Cold snap cost us $50M in wages
Standing atop a ruined tomato patch off Krome Avenue in Homestead, advocates for farmworkers on Wednesday called for federal relief to help thousands who are out of work, money and food in the aftermath of this month's cold snap.
USA Today: Analysis: Poor ratings persist for 1 in 5 U.S. nursing homes
One in five of the nation's 15,700 nursing homes have consistently received poor ratings for overall quality, a USA TODAY analysis of new government data finds.
Miami Herald: Rothstein seeks shorter jail term
Scott Rothstein, the newly convicted Ponzi schemer who faces up to 100 years in prison, will strive to help authorities make cases against others who profited from his massive investment scam - in hopes of shaving time off his sentence.
INTERNATIONAL
For the latest international news: http://edition.cnn.com
CNN: Traffickers targeting Haiti's children, human organs, PM says
Trafficking of children and human organs is occurring in the aftermath of the earthquake that devastated parts of Haiti, killed more than 150,000 people, and left many children orphans, Haitian Prime Minister Jean-Max Bellerive said Wednesday.
Full Coverage: http://www.cnn.com/SPECIALS/2010/haiti.quake
CNN: Afghanistan conference eyes Taliban plan
London plays host Thursday to a crucial daylong international conference to chart the future of war-torn Afghanistan. A central focus of the summit is a $500 million pay-for-peace proposal to bring Taliban fighters into the civilian fold of if they promise to renounce violence.
Washington Post: Pakistan seeks role as mediator in possible Taliban-Afghanistan peace talks
Pakistan, which once sponsored Taliban forces but turned against them under American pressure in 2001, now hopes to play a role as a broker in proposed negotiations among Taliban leaders and the Afghan government, with support from the United States. As leaders of 60 countries meet in London on Thursday to discuss how to help Afghanistan stop its downward spiral into instability, the possibilities for reconciliation and talks with both Taliban leaders and foot soldiers will top the agenda.
Jerusalem Post: 'We're willing to start low level talks'
Israel would be willing to begin negotiations with the Palestinian Authority at a low level to enable the PA to enter the talks, Defense Minister Ehud Barak told Egyptian President Hosni Mubarak on Wednesday, during a meeting in Sharm e-Sheikh, defense officials said.
BBC News: Iran 'executes two over post-election unrest'
Iran has executed two men arrested during the period of widespread unrest that erupted after June's disputed presidential election, reports say.
Irish Times: Northern parties given 48 hours to reach agreement
Taoiseach Brian Cowen and British Prime Minister Gordon Brown left Northern Ireland yesterday evening having given the Northern parties 48 hours to break the deadlock in talks and secure a political agreement.
New York Times: Swiss Back Away From Deal to Give Names of Rich UBS Clients to U.S.
The Swiss government on Wednesday backed off an agreement with the United States that required it to hand over the names of wealthy American clients of the Swiss bank UBS who were suspected of tax evasion.
BUSINESS
For the latest business news: www.CNNMoney.com
CNNMoney: Fed: Recovery gaining strength
The Federal Reserve said the U.S. economy continues to show signs of modest improvement but signaled it will stay the course and keep interest rates low to help spur a recovery.
New York Times: New Embattled Minority: Wall Street Brokers
The well-groomed brokers and traders bent on sticking up for Wall Street gathered on Wednesday in best-behaved form — no chanting, no shrill whistling, pretty much no noise at all — to mark the formation of the financial world's modest alternative to the Tea Party movement.
Investors Business Daily: Pessimism Softens As Americans Hope For Hiring's Return
Consumer confidence lifted a bit in January as Americans' hopes rose that the budding recovery will start to create jobs soon, according to the IBD/TIPP Economic Optimism Index out Tuesday.
Wall Street Journal: Banks See Ways Past Pay Limits
Despite their tough talk about clamping down on pay, banks and securities firms are using other financial perks to ease the toll on employees. Bank of America Corp. and Citigroup Inc. are doling out shares that employees can sell within months—much sooner than normally allowed. Other giant banks, including Goldman Sachs Group Inc. and Royal Bank of Scotland Group PLC, let certain employees borrow money to relieve personal cash crunches. And some U.K. banks have considered raising base, or cash salaries—funds that won't be subject to the country's new 50% tax on bonuses.
Bloomberg: Cheapest Route to Walmart From China May Skip Buffett's Railway
Chinese toys and sneakers headed to Wal-Mart Stores Inc. and Target Corp. on the U.S. East Coast may bypass Warren Buffett's $33.8 billion railway as the expansion of the Panama Canal slashes the cost of shipping them by sea.
CNNMoney: Apple unveils the iPad
Apple CEO Steve Jobs was met with thunderous applause when he took the stage at the Yerba Buena Center for the Arts Theater in San Francisco on Wednesday.
Bloomberg: Apple Shuts Out Verizon From IPad as AT&T Network Feels Strain
Apple Inc. dealt Verizon Wireless investors and customers a blow by naming AT&T Inc. as the provider of wireless service for its tablet computer. Verizon Communications Inc.'s stock fell as much as 2.2 percent yesterday after Apple said AT&T would sell wireless plans for versions of the iPad that work with phone networks. The iPad may generate $100 million in earnings a year for AT&T, Piper Jaffray & Co. analystChris Larsen said.
CNNMoney: Toyota adds 1 million vehicles to recall
Toyota announced Wednesday night that it is adding another 1.1 million vehicles to an an earlier 4.2 million vehicle recall originally announced in November.
In Case You Missed It
CNN's John King looks at how the Twitter community is reacting the President Obama's speech.
Dr. Sanjay Gupta and a couple of Haiti's medical students survey one of the nation's devastated medical schools.
Subscribe to the CNN=Politics DAILY podcast at http://www.cnn.com/politicalpodcast
And now stay posted on the latest from the campaign trail by downloading the CNN=Politics SCREENSAVER at http://www.CNN.com/situationroom