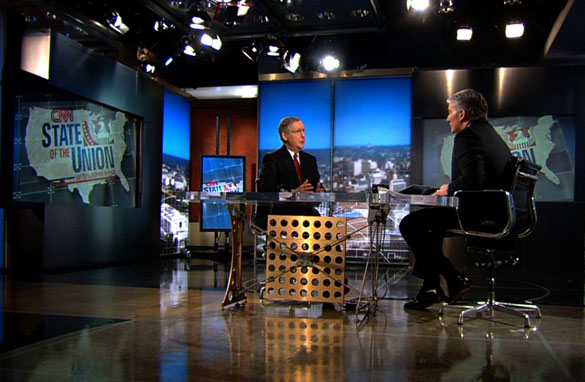 Senate Minority Leader Mitch McConnell showed little willingness Sunday on CNN's State of the Union to seek common ground with Democrats on top legislative priorities. (Photo Credit: CNN)
(CNN) - Despite White House overtures for congressional Republicans to work with Democrats, GOP leaders indicated Sunday they were unwilling to accept much of what President Barack Obama and the Democrats are proposing.
Senate Minority Leader Mitch McConnell showed little willingness on CNN's "State of the Union" program to seek common ground with Democrats on top legislative priorities such as health care, a jobs bill or creating a
bipartisan statutory commission to come up with plans to reduce the federal deficit.
His counterpart in the House, Minority Leader John Boehner of Ohio, was more blunt.
"There aren't that many places where we can come together," Boehner, R-Ohio, told the NBC program "Meet the Press."
Republicans were elected to stand by their principles, and those principles are different than the "leftist proposals" offered by Obama and congressional Democrats, Boehner said.

Obama used his State of the Union address last Wednesday, as well as an unprecedented public meeting with House Republicans on Friday, to criticize the GOP for political intransigence while offering concessions on some issues in a bid to gain bipartisan support.
For example, Obama proposed tax breaks for small businesses championed by Republicans as part of a jobs bill he wants passed as quickly as possible. In the State of the Union, Obama mentioned nuclear power and some offshore oil and gas drilling - both longtime Republican favorites - as possible components of his energy policy. Earlier last week, Obama endorsed a Senate bill to create a deficit reduction commission proposed by members of both parties.
In response, Republicans riding high after their Jan. 19 special election victory in Massachusetts shifted the fulcrum of power in the Senate have shown they believe that this election year, the American public backs GOP opposition to the policies of Obama and Democrats.
Passage of a Democratic health care bill appeared certain until Republican Scott Brown's victory in the Massachusetts Senate race to fill Democrat Ted Kennedy's seat cost Democrats their 60-vote super-majority in the 100-member chamber necessary to overcome a GOP filibuster. Now, with the bill's chances severely curtailed, Republicans are moving in for the kill.
McConnell told "State of the Union" that Democrats should put their comprehensive approach "on the shelf" and start over by working with Republicans on more limited legislation. Another Republican senator, John Thune of South Dakota, took the debate a step further by telling the CBS program "Face the Nation" that the "the best thing we can do about jobs is put that massive health care expansion on the shelf."
On a jobs bill, Democrats are offering ordinarily Republican-supported provisions such as tax cuts and credits for small businesses to spur hiring. That's not enough for McConnell, R-Kentucky.
"Well, we're willing to take a look at it," he told CNN. Asked about about creating a deficit reduction panel, presumably a red-meat Republican issue, McConnell showed the politics of the moment at play.
Obama said Saturday that a Senate bill proposed by Democrats and Republicans to create such a commission was defeated by the Senate last week because seven of the GOP co-sponsors changed their mind and voted against it.
"Now, it's one thing to have an honest difference of opinion about something. I will always respect those who take a principled stand for what they believe, even if I disagree with them," Obama said in his weekly radio address. "But what I won't accept is changing positions because it's good politics. What I won't accept is opposition for opposition's sake. We cannot have a serious discussion and take meaningful action to create jobs and control our deficits if politicians just do what's necessary to win the next election instead of what's best for the next generation."
McConnell said Sunday he favored forming a commission, but wanted to change the mandate to instead look at how to cut spending. When pressed, McConnell noted he changed his stance because of the likelihood that a deficit-reduction plan would include tax increases.
"This commission would have made it possible to raise taxes," McConnell said, later adding: "I think the problem is we spend too much. So I like the commission idea, just as I said a few months ago. I think a better way to do it is to target spending - a spending reduction commission."
White House Press Secretary Robert Gibbs lamented what he characterized as Republican intransigence since Obama came to power with majorities in both chambers of Congress.
"Understanding that we may not agree on 100 percent, but lord knows that was never the test in this town until very recently, that everybody had to agree on every single word to get bipartisan support," Gibbs said on CNN's "State of the Union."
David Axelrod, Obama's senior adviser, said Republicans have so far been uninvolved in efforts to move forward.
"All I know is that in the first year of our administration, they largely sat on the sideline on a lot of issues," Axelrod said on NBC's "Meet the Press."
To Boehner, Obama was "the most liberal" member of the Senate before becoming president, and his policies now reflected that liberalism.
"Leadership is about standing on your principles and opposing those policies that we believe are bad for the country," Boehner said.
Updated: 4:41 p.m.