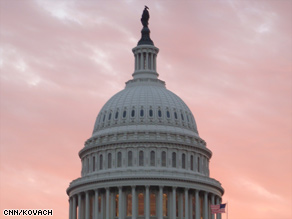 The CNN Washington Bureau's morning speed read of the top stories making news from around the country and the world.
WASHINGTON/POLITICAL
For the latest political news: www.CNNPolitics.com
CNN: Crowley moves into anchor chair
Veteran political correspondent Candy Crowley was named on Sunday the new anchor of "State of Union," CNN's political news program. Crowley moves into the anchor chair that has been occupied for the past year by John King, CNN's chief national correspondent. King is moving to weekdays to anchor a new 7 p.m. ET political program.
CNN: Ex-Edwards' aide tells of politician's affair
A new book about former Sen. John Edwards paints him as a cold, calculating and reckless politician willing to deny fathering a daughter, risking his marriage and putting the Democratic Party in potential political jeopardy - all in the name of trying to win the presidency.
CNN: White House to roll out $3.8 trillion budget plan
President Obama will take the wraps off his $3.8 trillion budget plan for fiscal 2011 at a White House ceremony Monday. The spending package comes as the administration struggles to strike a balance between fiscal restraint and job creation in an economy that has struggled to rebound from recession.
New York Times: Forces Pushing Obama to Act on Gays in Military
President Obama and top Pentagon officials met repeatedly over the past year about repealing "don't ask, don't tell," the law that bans openly gay members of the military. But it was in Oval Office strategy sessions to review court cases challenging the ban — ones that could reach the Supreme Court — that Mr. Obama faced the fact that if he did not change the policy, his administration would be forced to defend publicly the constitutionality of a law he had long opposed.
Politico: CIA ops moonlight in corporate world
In the midst of two wars and the fight against Al Qaeda, the CIA is offering operatives a chance to peddle their expertise to private companies on the side — a policy that gives financial firms and hedge funds access to the nation's top-level intelligence talent, POLITICO has learned.
CNN: Review shows dramatic shift in Pentagon's thinking
The Pentagon will no longer shape the U.S. military to fight two major conventional wars at once, but rather prepare for numerous conflicts and not all in the same style, according to a draft of a new strategic outlook the Pentagon is announcing on Monday.
New York Times: U.S. Examines Whether Blackwater Tried Bribery
The Justice Department is investigating whether officials of Blackwater Worldwide tried to bribe Iraqi government officials in hopes of retaining the firm's security work in Iraq after a deadly shooting episode in 2007, according to current and former government officials.
CNN: Focus of health care bill may be changing, officials signal
Democratic efforts to pass a health care bill have stalled a bit, and the immediate focus may be shifting toward health insurance reform instead of quickly trying to pass a comprehensive bill, White House officials signaled Sunday.
Wall Street Journal: Something New for BofA: Washington's Ear
One month into his new job, Bank of America Corp. Chief Executive Brian Moynihan is putting in as much time in Washington as he does in the bank's hometown of Charlotte, N.C. …The D.C. push represents a major strategic shift by Bank of America under the 50-year-old Mr. Moynihan. For decades, the bank's attitude toward regulators and elected officials ranged from aloof to defiant as it gobbled up rivals across the U.S. It is the largest U.S. bank in assets.
New York Times: Obama to Seek Sweeping Change in 'No Child' Law
The Obama administration is proposing a sweeping overhaul of President Bush's signature education law, No Child Left Behind, and will call for broad changes in how schools are judged to be succeeding or failing, as well as for the elimination of the law's 2014 deadline for bringing every American child to academic proficiency.
Washington Post: NASA budget for 2011 eliminates funds for manned lunar missions
NASA's grand plan to return to the moon, built on President George W. Bush's vision of an ambitious new chapter in space exploration, is about to vanish with hardly a whimper. With the release Monday of President Obama's budget request, NASA will finally get the new administration's marching orders, and there won't be anything in there about flying to the moon.
Boston Globe: Financial executives spent big on Brown
In a six-day span just before the US Senate election, Republican Scott Brown collected nearly $450,000 from donors who work at financial companies, a sign the industry is prepared to spend heavily in the upcoming midterm elections to beat back new controls and taxes President Obama wants to impose.
Washington Post: A political fundraising report card
Candidates for federal - and most state - offices were required to file their 2009 year-end fundraising reports over the weekend. Some shined, while others fumbled.
NATIONAL
For the latest national news: www.CNN.com
USA Today: States mull Rx rule for meth ingredients
State and local efforts to thwart methamphetamine production by further limiting consumer access to a popular decongestant are pitting law enforcement against pharmacists and patients.
Los Angeles Times: In rural Mississippi, dreams of a green car fleet
A hybrid and electric auto plant was promised in Tunica County last year - welcome news as the recession takes a toll on the vital casino industry here. But the automotive developer has been quiet.
Seattle Times: How the aged and frail are exploited in Washington's adult family homes
Adult family homes in the state are seen as a national model, and in King County alone, they've become more plentiful than Starbucks stores. But the explosive growth, fueled by profiteers and a lack of careful state regulation, is leaving thousands of people vulnerable to harm.
INTERNATIONAL
For the latest international news: http://edition.cnn.com
CNN: Massive food distribution begins in quake-ravaged Haitian capital
A massive two-week food distribution effort aimed at reaching 2 million people began Sunday in Haiti's quake-ravaged capital. Slightly more than 376 metric tons of rice were distributed to 100,368 people at nine locations during the day, World Food Programme spokesman Marcus Prior said.
Idaho Statesman: Idahoans' rescue effort strikes nerves in Haiti
Ten U.S. Baptists detained trying to take 33 children out of earthquake-shattered Haiti without government permission say they were just trying to do the right thing, applying Christian principles to save Haitian children. But some in Haiti say their "Orphan Rescue Mission" is misplaced in a country that has long suffered from child trafficking and foreign interventions, and where much of the aid is delivered in ways that challenge Haiti's own rich religious traditions.
The Guardian: US raises stakes on Iran by sending in ships and missiles
Tension between the US and Iran heightened dramatically today with the disclosure that Barack Obama is deploying a missile shield to protect American allies in the Gulf from attack by Tehran.
Christian Science Monitor: Nigeria militants call off truce in oil-rich Niger Delta
The tentative peace in Nigeria's oil-rich Niger Delta region appears to have finally ended this weekend, sparking fears of a return to the violence that has cut output of the No. 3 crude oil supplier to the United States by more than 25 percent in recent years.
CNN: China threatens sanctions over U.S. arms deal
China has threatened to slap sanctions on American companies that sell arms to its rival Taiwan as part of a range of punitive actions Beijing is taking to protest the deal. China also summoned U.S. ambassador Jon Huntsman to express its anger over Washington's announcement, the official Chinese news agency Xinhua said, citing the Foreign Ministry.
CNN: Report: Pakistani Taliban leader killed
The Pakistani military on Sunday was looking into a local report that the region's Taliban leader had died, officials said.
New York Times: Cleric in Yemen Admits Meeting Airliner Plot Suspect, Journalist Says
Anwar al-Awlaki, the fugitive American-born cleric accused of terrorist ties, acknowledged for the first time that he met with the Nigerian suspect in the Dec. 25 airliner bomb plot, though he denied any role in the attack, according to a Yemeni journalist who said he met with him.
Washington Post: New groups mobilize as Indians embrace the right to bear arms
In the land of Mahatma Gandhi, Indian gun owners are coming out of the shadows for the first time to mobilize, U.S.-style, against proposed new curbs on bearing arms. When gunmen attacked 10 sites in Mumbai in November 2008, including two five-star hotels and a train station, Mumbai resident Kumar Verma sat at home glued to the television, feeling outraged and unsafe.
New York Times: Yemen Seems to Reject Cease-Fire With Rebels
Yemen on Sunday appeared to reject a cease-fire offer from the leader of the Houthi rebels, raising fresh questions about a festering conflict that has diluted the government's ability to deal with a growing insurgency by Al Qaeda.
BBC News: Northern Ireland policing talks set to resume
Talks aimed at saving the power-sharing government in Northern Ireland resume on Monday with both sides optimistic.
Los Angeles Times: As Mexican teens celebrate school soccer win, gunmen open fire
Fourteen people are killed in Ciudad Juarez during a party in a private home, the latest victims of the drug war. More than 3,700 people have been slain in two years in this violent area of Mexico.
BUSINESS
For the latest business news: www.CNNMoney.com
CNNMoney: Stocks: New month, same worries
The worst month on Wall Street in nearly a year has left market pros and retail investors wondering if the long-in-the-works correction is finally here.
Times of London: Lloyd Blankfein of Goldman Sachs 'expecting $100 million bonus'
Goldman Sachs, the world's richest investment bank, could be about to pay its chief executive a bumper bonus of up to $100 million in defiance of moves by President Obama to take action against such payouts.
Wall Street Journal: Dealers Told Part Could Arrive This Week to Repair 2.3 Million Vehicles in Sudden-Acceleration Recalls
Toyota Motor Corp. on Monday will spell out an aggressive program to fix the 2.3 million vehicles it recalled over sudden-acceleration reports that raised questions about the Japanese car maker's commitment to safety.
Bloomberg: Toyota's U.S. Dealers May Lose $2.47 Billion a Month
U.S. dealers who sell Toyota Motor Corp.'s namesake brand may lose as much as $2.47 billion in combined monthly revenue because of the halt of sales of eight models, including the popular Camry and Corolla sedans.
Bloomberg: Citigroup Said to Plan Sale of $10 Billion Private-Equity Unit
Citigroup Inc. plans to sell or split off its $10 billion Citi Private Equity unit, expanding the list of money-management businesses the U.S. bank is disposing of to reduce debt, people familiar with the matter said.
Sydney Morning Herald: Flashpoint as Jobs takes aim at Adobe
A deep-seated hatred is developing between Apple chief executive Steve Jobs and the creators of the technology powering 75 per cent of video on the web, with the dispute now public and increasingly bitter. The iPhone, and now the iPad, both lack support for Adobe Flash, an inexplicable omission for many users who have become used to Flash as one of the most common plugins on their desktop and laptop computers.
In Case You Missed It
CNN National Security Analyst Peter Bergen talks about a plan to pay Taliban fighters to switch sides.
Howard Kurtz and three top journalists debate the State of the Union address and Obama's visit to the GOP retreat.
Subscribe to the CNN=Politics DAILY podcast at http://www.cnn.com/politicalpodcast
And now stay posted on the latest from the campaign trail by downloading the CNN=Politics SCREENSAVER at http://www.CNN.com /situationroom