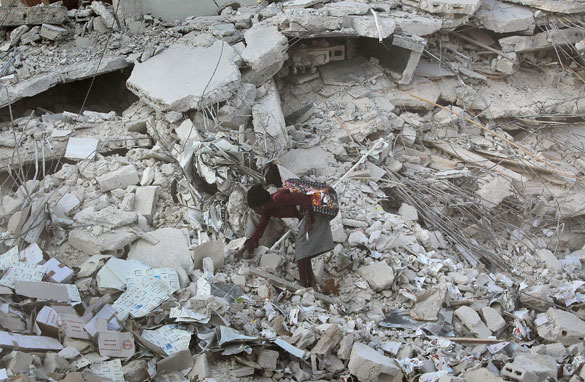 A woman searches the remains of an apartment building Wednesday where dozens of bodies are reportedly still buried. (Photo Credit: Getty Images)

(CNN) - The Clinton School of Public Service is calling on Americans to wear the colors of the Haitian flag – red and blue – next Friday to show support for the country devastated by the recent earthquake.
The school, named after former President Bill Clinton and located at the University of Arkansas, is marking the one month anniversary of when the earthquake hit the island. Clinton is the United Nation's special envoy for Haiti.
"If there was ever a call to public service, it is now," Clinton School Dean Skip Rutherford said in a statement. "The people of Haiti will need assistance for the long term, and we are proud of everyone affiliated with the Clinton School who has come to the aid of Haiti."
Clinton School student, Ivanley Noisette, is from Haiti and some members of his family are still missing in the devastated nation.
"Haitians are still suffering and working to rebuild their country and put their lives back together," Noisette said. "We ask everyone to remember their suffering and honor the people of Haiti by wearing red and blue on February 12."