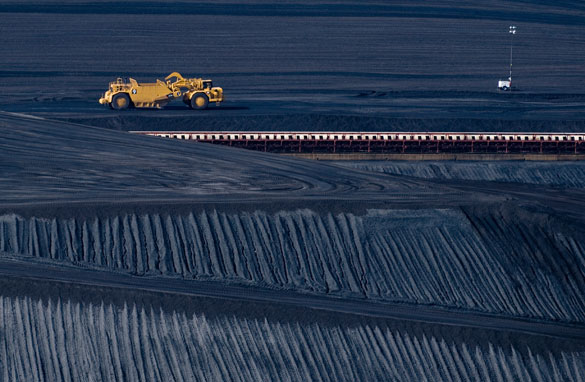 A coal scraper machine works on a pile of coal in West Virginia. (Photo Credit: Getty Images/File)

Washington (CNN) - President Barack Obama announced Wednesday he is forming a task force to oversee how the United States can "deploy affordable clean coal technology on a widespread scale within 10 years."
At a meeting with governors from both parties and senior Cabinet members, including Vice President Joe Biden, Obama said he believes that taking the global lead on developing technology to remove carbon pollutants from coal-fired energy production is vital for future economic prosperity.
Goals of the task force include having 10 commercial power plants with clean-coal technology operating as demonstration projects by 2016, Obama said.
"If we can develop the technology to capture the carbon pollution released by coal, it can create jobs and provide energy well into the future," he told reporters.
The initiative is part of a set of moderate energy policies outlined by Obama in his State of the Union speech last week and expanded on Wednesday.
He re-emphasized his strong support for developing alternative clean energy sources to fossil fuels such as oil and coal as a way to both reduce harmful greenhouse gas emissions that cause climate change and build U.S. economic growth. He called such a strategy smart policy in a world still dependent on fossil fuels but trying to shift to new alternatives.
The United States will continue to use coal as an energy source for years to come, the president said, while emerging economies such as China are building new coal-fired plants to meet their expanding energy needs. With the world also focused on reducing greenhouse gas emissions from coal energy and other sources, developing technology to remove carbon pollution from coal plant emissions makes sense, he said.
He acknowledged that some people remain skeptical that climate change is an immediate threat, saying: "Climate change is one of the reasons why we have to pursue a clean energy agenda, but it's not the only reason, so even if you don' t believe in the severity of climate change as I do, you still should want to pursue this agenda."
Other aspects of what Obama called a non-ideological energy policy included expanded use of nuclear energy, more offshore drilling for oil and natural gas, and increased emphasis on developing clean energy alternatives.
"We can't afford to spin our wheels while the rest of the world speeds ahead," he said.
In a briefing with reporters after Obama's meeting with the governors, Cabinet secretaries outlined other steps announced Wednesday, including a report by a biofuel task force set up previously that outlines the plan for meeting a goal of producing 36 billion gallons of biofuels by 2022.
The biofuel task force plan upgrades the status of corn ethanol as a clean energy source, with the goal of attracting more investment into corn ethanol production, said Lisa P. Jackson, administrator of the Environmental Protection Agency.
.