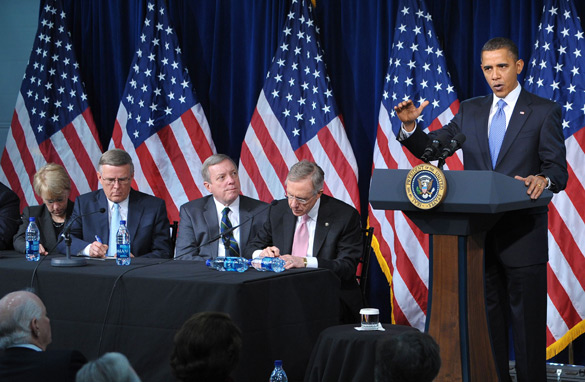 President Obama answered questions from Senate Democrats Wednesday. (Getty Images.)
Washington (CNN) - President Obama tore into the Republican opposition on Capitol Hill Wednesday, blaming the GOP for what he called politically motivated opposition on virtually every issue.
Democrats have been willing to incorporate Republican ideas on health care and other issues, he said, but Republicans have not been willing to do the same.
Addressing a gathering of Senate Democrats, Obama promised to "call (Republicans) out when (Democrats) extend a hand and get a fist in return."
Several Democrats facing tough election fights this November were given time to ask the president questions on high-profile issues such as trade and deficit reduction. Much of the president's time, however, was used to lash out at GOP tactics.
Senate Republicans, he said, have tried to employ the filibuster more over the past year than in all of the 1950s and 1960s combined. The GOP's strategy has been "20 years of obstruction packed into one," he said.
"If you want to govern, you can't just say no," he argued. "It can't be about just scoring points." The filibuster, he added, only works as intended if there is a "genuine spirit of compromise."
Updated:  1:07 p.m.