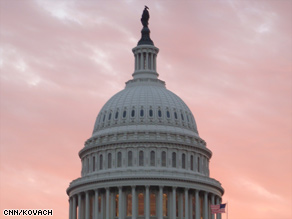 The CNN Washington Bureau's morning speed read of the top stories making news from around the country and the world.
WASHINGTON/POLITICAL
For the latest political news: www.CNNPolitics.com
CNN: White House reveals secret cooperation with AbdulMutallab's family
Senior Obama administration officials revealed late Tuesday they've secretly gained the cooperation of family members of Umar Farouk Abdulmutallab to help get the alleged Christmas Day airline bomber talking.
Politico: Shoe bomber was read Miranda rights
Republicans may have a hard time keeping up their talking point about how reading Miranda rights to the Christmas Day bomber represented a dangerous new direction under President Barack Obama. It turns out that that back in December 2001, Richard Reid — the "shoe bomber" — was read or reminded of his Miranda rights four times in two days, beginning five minutes after being taken into custody.
CNN: U.S. official: Toyota pressured into recall
U.S. Transportation Secretary Ray LaHood said Tuesday it took pressure from the government to get Toyota to take action over its sticking gas pedals.
CNN: Gates: Pentagon preparing repeal of 'don't ask, don't tell' policy
The Pentagon has taken the first steps toward repealing the military's controversial "don't ask, don't tell" policy regarding gay and lesbian service members, Defense Secretary Robert Gates said Tuesday. Laying the groundwork for a repeal of the policy will take more than a year, Gates said. In the interim, however, the Defense Department will start enforcing the policy "in a fairer manner," he told members of the Senate Armed Services Committee.
CNN: Intelligence chiefs say another terror attempt in U.S. is 'certain'
Another attempted terrorist attack on the United States in coming months is "certain," the heads of major U.S intelligence agencies told a Senate committee Tuesday.
CNN: Analysis: Tibet, Taiwan, Google sour U.S.-China ties
In recent months, China and the U.S. have been at loggerheads over a slew of prickly issues: the U.S. trade deficit with China; U.S. pressure to revalue China's currency; and U.S. criticism of China's human rights record, its ethnic and religious policies in Tibet and Xinjiang. In recent weeks, Washington and Beijing have traded sharp words over China's Internet policy after the search engine company Google threatened to pull out of China, citing problems of censorship and hacking attacks.
CNN: Obama pushes small-business job growth in New Hampshire
President Obama took his renewed jobs push beyond the Washington beltway again Tuesday, heading to the politically critical state of New Hampshire for a town hall meeting. The president used the event to spotlight his call for a $30 billion investment in a new small-business lending fund.
New York Times: Obama Acts to Engage G.O.P., Testing Party's Intentions
Emboldened by the response to President Obama's face-off with House Republicans last week, the White House is intensifying its push to engage Congressional Republicans in policy negotiations as a way to share the burden of governing and put more scrutiny on Republican initiatives.
CNN: Illinois picks contenders to fight for Obama's former Senate seat
Illinois Treasurer Alexi Giannoulias on Tuesday night emerged as the Democratic Party's choice to fight for President Barack Obama's former Senate seat. Giannoulias will now take on moderate five-term Republican Rep. Mark Kirk in the November mid-term elections. Kirk won the GOP primary handily Tuesday night.
Chicago Tribune: Quinn declares victory but Hynes won't concede in Democratic governor's race
The races for governor went down to the wire tonight with razor-thin margins separating Gov. Pat Quinn from Comptroller Dan Hynes on the Democratic side and state Sens. Kirk Dillard and Bill Brady among Republicans. The closeness of the contests, accentuated by a low voter turnout, meant no one declared victory on either side as trailing candidates pondered seeking an expensive and lengthy recount.
New York Times: Ford's Challenge to Gillibrand Splits Donors
Nowhere is the intensity of the clash between Ms. Gillibrand and Mr. Ford more evident than inside Manhattan's sprawling penthouses and boardrooms, where wealthy families and titans of finance are being stroked, wooed and pressured to choose sides in what could be the marquee political battle of 2010.
CNN: Ex-GOP senator expected to challenge Bayh
Former Sen. Dan Coats, R-Indiana, is expected to announce Wednesday that he will challenge Sen. Evan Bayh, D-Indiana, in November, a Republican source told CNN. Coats held the Senate seat that Bayh now occupies from 1989 to 1999.
Houston Chronicle: Neophyte Medina may not be widely known, but she's starting to be heard
Although she remains the longest of long shots to win the nomination, even after a solid performance in last week's second debate, the 47-year-old small-business owner and registered nurse from Wharton has made herself a factor in the race. She could be a spoiler, pulling enough votes to deny Gov. Rick Perry the re-nomination. Or she could force Perry and U.S. Sen. Kay Bailey Hutchison into an expensive runoff that could send a bruised nominee into a potentially tough battle against the probable Democratic nominee, former Houston Mayor Bill White.
Miami Herald: Now trailing Rubio, Crist emphasizes job
Charlie Crist's supporters across Florida are in varying states of panic, and for good reason: Two polls released this week show the once-inevitable Republican U.S. Senate nominee trailing challenger Marco Rubio by 12 points and 14 points among GOP voters. A third poll, released last week, showed Rubio ahead by 3 points.
Boston Globe: Kerry backs amendment to restore giving rules
As congressional Democrats mobilize to limit the impact of last month's Supreme Court decision gutting decades of campaign finance law, Senator John Kerry joined calls yesterday for states to go a step further by amending the Constitution.
Salt Lake Tribune: State takes a stand against federal government, but will it stand?
Fueled by a deep resentment of the federal government and Tea Party fervor, lawmakers advanced a pair of bills Tuesday aimed at enabling Utah to opt out of national health-reform efforts and federal firearms laws.
Boston Globe: Vision tests proposed for drivers over 75
Key lawmakers, facing public concern over a raft of highly publicized accidents involving older drivers, yesterday proposed requiring vision tests for drivers over 75 years old seeking to renew their licenses, and granting legal immunity to doctors who report that their patients are not competent to drive.
NATIONAL
For the latest national news: www.CNN.com
CNN: Pilot error caused 2009 crash near Buffalo, NTSB rules
Confronted with signs that his plane was entering an aerodynamic stall, the pilot of Continental Flight 3407 pulled on the plane's control column when he should have pushed - a simple but inexplicable error that led to the death of 50 people, the National Transportation Safety Board ruled Tuesday evening.
USA Today: States struggling with EPA rules
States are slashing funds for environmental programs, threatening their ability to meet federal standards for clean air and water. All but two states, Montana and North Dakota, have made significant cuts to initiatives ranging from toxic waste cleanup to sewage treatment, says Steve Brown, executive director for Environmental Council of the States, which unites state agencies.
INTERNATIONAL
For the latest international news: http://edition.cnn.com
BBC News: Foreigners killed in north west Pakistan explosion
Police say three Western aid workers are among at least six people killed after a roadside bomb hit a convoy in north-west Pakistan. A group of journalists and aid workers was travelling in an army convoy to the opening of a girls school in the Lower Dir area when it was hit. At least 45 people, including school girls, were injured in the blast.
CNN: Sources: Drone strikes kill 29 in Pakistan
Several suspected U.S. drone strikes killed at least 29 people in Pakistan on Tuesday, Pakistani intelligence sources said.
Christian Science Monitor: Haiti: US ramps up 'cash for work' to create jobs, help recovery
While relief efforts involving food, water, and health services continue in Haiti, the United States is also ramping up support for "cash for work" programs designed to get Haitians involved in earthquake clean-up, put cash in pockets, and help get Haiti's private sector moving again.
Der Spiegel: Haiti Debates Moving Its Capital
Haiti's official seismologist, who predicted the recent earthquake, has warned that an even stronger one is likely to hit Port-au-Prince within the next 20 years. Now the Haitian government is debating how and if the capital should be rebuilt - or if it should be moved elsewhere.
Washington Post: Ahmadinejad backs deal to remove bulk of enriched uranium from Iran
A long-dormant proposal to remove the bulk of Iran's enriched uranium from the Islamic republic appeared to be revived Tuesday as President Mahmoud Ahmadinejad said Iran had "no problem" with a deal initially brokered by the International Atomic Energy Agency.l
BBC News: Iran 'test-fires satellite rocket'
Iran has successfully test-fired a satellite rocket, state television has reported. The report by broadcaster Al Alam, said the rocket was a "Kavoshgar 3 satellite carrier". It said the rocket carried an "experimental capsule," but did not give any further details.
Times of London: Fury as giant Belo Monte Amazon rainforest dam is approved by Brazil
Brazil has approved the controversial construction of a giant hydroelectric dam in the heart of the Amazon, defying a 20-year protest by indigenous and environmental campaigners who say that the project will devastate the surrounding rainforest and threaten the survival of local tribes.
BUSINESS
For the latest business news: www.CNNMoney.com
CNNMoney: U.S. probes electronics in Toyota recall
Federal investigators are looking into whether the problem with Toyota gas pedals goes beyond the fix announced by the company Monday and involves the vehicles' electrical system. The National Highway Transportation Safety Administration also is looking into possible civil penalties for Toyota (TM).
Detroit Free Press: Ford, GM zoom as Toyota sales sputter in January
Ford and General Motors started the year on a high note, posting double-digit sales gains in January that dramatically outpaced the monthly sales gain by the industry. The reason? Toyota's highly publicized recall problems - leading to a renewed investigation Tuesday - and a surge in commercial fleet sales that hints at a slowly recovering U.S. economy.
CNNMoney: AIG doling out $100 million more in bonuses – report
AIG is planning another round of bonus payments worth a total of $100 million for current and former employees of its troubled financial products division, according to a news report.
Bloomberg: Bank of America Said to Pay Bankers Average Bonus of $400,000
Bank of America Corp., the nation's largest lender, will pay investment-banking employees bonuses of about $4.4 billion for last year, or an average of $400,000 each, a person close to the bank said.
Wall Street Journal: Textbook Firms Ink E-Deals For iPad
Major textbook publishers have struck deals with software company ScrollMotion Inc. to adapt their textbooks for the electronic page, as the industry embraces a hope that digital devices such as Apple Inc.'s iPad will transform the classroom.
In Case You Missed It
CNN's Jeanne Meserve reports on the security measures on the American side of the border for the Winter Olympics.
White House senior officials say the accused Christmas day bomber Faruk AbdulMutallab has been cooperating with the FBI.
Subscribe to the CNN=Politics DAILY podcast at http://www.cnn.com/politicalpodcast
And now stay posted on the latest from the campaign trail by downloading the CNN=Politics SCREENSAVER at http://www.CNN.com/situationroom