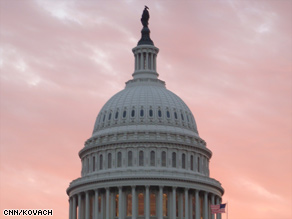 The CNN Washington Bureau's morning speed read of the top stories making news from around the country and the world.
WASHINGTON/POLITICAL
For the latest political news: www.CNNPolitics.com
CNN: Clinton: No to swapping U.S. hikers for Iranians
U.S. Secretary of State Hillary Clinton said Wednesday "there are no negotiations taking place" between Washington and Iran on the idea of exchanging three U.S. hikers held in Iran for Iranians being held in the U.S.
BBC News: West 'pushing for new UN sanctions against Iran'
The US is circulating a discussion paper on possible further UN sanctions on Iran over its nuclear programme, says a Western diplomat at the UN. The measures include expanding travel bans and asset freezes on people connected with the nuclear industry.
Washington Post: Intelligence chief acknowledges U.S. may target Americans involved in terrorism
Director of National Intelligence Dennis C. Blair acknowledged Wednesday that government agencies may kill U.S. citizens abroad who are involved in terrorist activities if they are "taking action that threatens Americans."
New York Times: Currency Dispute Likely to Further Fray U.S.-China Ties
To the growing list of grievances between the United States and China, add one more: the Obama administration is reviving American pressure on China to stop artificially depressing its currency, a policy that fuels its persistent trade gap with the United States.
Wall Street Journal: Public Share of Health Tab to Top 50%
For the first time, government programs next year will account for more than half of all U.S. health-care spending, federal actuaries predict, as the weak economy sends more people into Medicaid and slows growth of private insurance. The figures show how federal and state spending is taking a bigger role while Congress hesitates over a health-care overhaul.
CNN: Vulnerable Dems take advantage of session with Obama
It was no accident that six out of the eight Democrats who Senate Majority Leader Harry Reid called on to ask the president a question are in a tough re-election battle this year. It was even less of an accident that those Democratic Senators used their time live on CNN to show frustrated voters that they're not afraid to stand up to the president.
New York Times: G.O.P. Group to Promote Conservative Ideas
A group of prominent Republicans is forming an organization to develop and market conservative ideas, copying a successful Democratic model and hoping to capitalize on the fund-raising and electioneering possibilities opened up by a recent Supreme Court ruling.
Wall Street Journal: GOP Chases Wall Street Donors
Republicans are stepping up their campaign to win donations from Wall Street, trying to capitalize on an increasing sense of regret among executives at big financial institutions for backing Democrats in 2008.
CNN: Scott Brown could be sworn in Thursday
The election victory of Massachusetts Sen.-elect Scott Brown is expected to be certified Thursday, which could allow him to be sworn in as early as Thursday afternoon to replace the late Sen. Ted Kennedy.
NY Post: Chuck's $$ wagon rolls in Senate
Sens. Chuck Schumer and rival Dick Durbin (D-Ill.) each doled out huge amounts of campaign cash to buy goodwill with their colleagues, as the pair ramped up their battle to succeed Democratic leader Harry Reid should he fall.
Chicago Tribune: Kirk, Giannoulias begin to battle on national stage
From the arrival in Chicago of a prominent Republican leader to a phone call from President Barack Obama, national interest in Illinois' U.S. Senate race began to take shape Wednesday as GOP nominee Mark Kirk and Democrat Alexi Giannoulias launched full force into their general election campaigns.
Houston Chronicle: Hutchison's record is two-edged sword
Rarely do Texas senators try to trade in their Capitol Hill clout to become governor of the Lone Star State. Sam Houston made the switch in 1859. Sen. Price Daniel did it in 1957. That's the entire list. Half a century later, Sen. Kay Bailey Hutchison is hoping to follow in the footsteps of those two Texas legends. But she is learning that her skills in the capital's corridors of power have been a mixed blessing in the current Republican gubernatorial primary race against incumbent Rick Perry and conservative insurgent Debra Medina.
Sarasota Herald-Tribune: Crist, Rubio spar on census
Republican U.S. Senate candidate Marco Rubio has come out against including illegal immigrants in the national census - even though doing so could significantly reduce Florida's political power and share of federal funding.Rubio's stance sets him at odds not only with Gov. Charlie Crist, but also with Republicans in the Florida Legislature who are cranking up efforts to track down and find every resident who lives in the state.
Los Angeles Times: State redistricting effort is out of the backroom but not free of politics
For the first time, voting districts for California's Legislature will not be drawn behind closed doors in the backrooms of the state Capitol. Instead, a first-in-the-nation citizen commission will do the job, and thousands of everyday Californians are jostling to serve on the panel. But hopes of taking politics out of the process are fading.
NATIONAL
For the latest national news: www.CNN.com
USA Today: Tight times put gravel on the road
Gravel roads, once a symbol of quaint times, are emerging as a sign of financial struggle in a growing number of rural towns. High costs and tight budgets have prompted communities in Maine, Michigan, Indiana, Pennsylvania and Vermont to convert or consider converting their cracked asphalt roads back to gravel to cut maintenance costs, officials in those states say.
Washington Post: Google to enlist NSA to help it ward off cyberattacks
The world's largest Internet search company and the world's most powerful electronic surveillance organization are teaming up in the name of cybersecurity.
INTERNATIONAL
For the latest international news: http://edition.cnn.com
CNN: Iran's nuclear agency chief: No uranium export plan finalized
Iran's atomic energy chief said Wednesday that no deal has been struck to export uranium for enrichment abroad, a demand of Western nations worried that Tehran plans to use its program to build nuclear weapons.
CNN: President Clinton to oversee Haiti relief, rebuilding efforts
United Nations Secretary-General Ban Ki-moon handed President Clinton additional responsibility Wednesday for earthquake-ravaged Haiti, charging him with overseeing aid efforts as well as reconstruction.
Der Speigel: Phishing Scam Cripples European Emissions Trading
Sneaky cyber-thieves have made millions by fraudulently obtaining European greenhouse gas emissions allowances and reselling them. The scam has hampered trading of the credits, which are seen as an important tool in curbing climate change, in several European countries.
Washington Post: With fewer allies this time, Iraq's Maliki faces tough reelection campaign
Almost four years after his accidental rise to power, Prime Minister Nouri al-Maliki is trying to retain his job without the allies who made him Iraq's ruler the first time around. With parliamentary elections scheduled for March 7, the question of whether Maliki can hold on as prime minister will determine what kind of country the U.S. military leaves behind as it significantly reduces its presence this spring.
Times of London: US picks veteran envoy in push for Middle East peace
In a new effort to loosen the gridlock that is blocking progress towards peace in the Middle East, the US State Department has appointed one of its foremost Arabists as its new Ambassador to Syria.
CNN: Switzerland to take Uyghur pair from Gitmo
Two ethnic Uyghur brothers from China will be released from Guantanamo prison and transferred to Switzerland to live, according to the Uyghur American Association. The organization, which has pressed for the freedom of Bahtiyar Mahmud and Arkin Mahmud, say the Chinese Muslims will "live free and productive lives" under an agreement announced Wednesday by the Swiss government.
CNN: Pakistan blast kills 3 in U.S. Special Ops
A "vicious" roadside bomb blast struck a convoy in northwestern Pakistan, killing at least seven people Wednesday, including three American troops training the country's security forces.
Christian Science Monitor: UK equality bill: unease over legislating equal treatment for all
Britain's parliamentarians are mulling a radical equality law that its sponsors claim has the power to reshape the country into a fairer, less class-riven and discriminatory society.But in some circles in England the bill is stirring unease because, in its quest for equal treatment for all, it appears to require private organizations to make hiring decisions that conflict with their deeply held beliefs. In particular, the Roman Catholic church has complained that such a law would compel it to hire openly gay employees, something against its own doctrine.
BUSINESS
For the latest business news: www.CNNMoney.com
Bloomberg: Toyota Forecasts Profit in Face of Recall Crisis
Toyota Motor Corp., the world's largest carmaker, forecast a return to profit this fiscal year as it predicts a 51 percent surge in North American sales this quarter even as the company faces its worst-ever recall crisis.
New York Times: Prius Adds to Toyota's Woes as Stock Drops in Tokyo
The hybrid-electric Prius has long been Toyota's "green car," the symbol of the automaker's engineering prowess and its big bet on the kind of car consumers will want to buy for decades to come. But on Wednesday, the Prius was drawn into the mounting crisis for Toyota, as Japanese officials ordered the company to investigate problems with the brakes on the 2010 model. American safety officials also said they had received dozens of similar complaints.
CNNMoney: Consumers paying credit card over mortgage
When faced with a financial crisis, consumers more often are opting to pay their credit-card bills first before turning to their mortgage payments, according to a report released by Trans Union Wednesday.
In Case You Missed It
Is trouble brewing in the tea party movement? CNN's Jim Acosta reports.
Blunt talk from service members and those who won't compromise in order to join military. CNN's Chris Lawrence reports.
Subscribe to the CNN=Politics DAILY podcast at http://www.cnn.com/politicalpodcast
And now stay posted on the latest from the campaign trail by downloading the CNN=Politics SCREENSAVER at http://www.CNN.com/situationroom