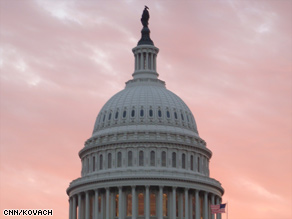 The CNN Washington Bureau's morning speed read of the top stories making news from around the country and the world.
WASHINGTON/POLITICAL
For the latest political news: www.CNNPolitics.com
CNNMoney: Congress OKs $1.9 trillion boost in debt limit
The House on Thursday approved a record $1.9 trillion increase in the cap on how much the government can borrow. The House also approved a measure that imposes tougher budget rules on lawmakers.
CNN: Obama calls for talks with GOP on health care, then vote by Congress
President Obama called Thursday for high-level talks with Republicans to work out a compromise on health care legislation, then putting the resulting bill to a vote in Congress….House Speaker Nancy Pelosi said this week that the chamber would vote next week on one provision of its health care bill, which would drop the current anti-trust exemption for the insurance industry that allows practices such as market allocation.
Wall Street Journal: Keeping Faith, Courting Conservatives
President Barack Obama's willingness to keep Bush-era policies on government-backed religious charities opposed by many liberals is helping to woo traditionally Republican evangelical leaders who can influence key blocs of voters.
CNN: Republican Brown sworn in as new U.S. senator from Massachusetts
Republican Scott Brown was sworn in Thursday as the new U.S. senator from Massachusetts to fill the seat formerly held by the late Sen. Ted Kennedy, and immediately signaled opposition to President Obama's spending plans.
Boston Globe: In Kirk's farewell, a call for return to unity of Kennedy era
Paul Kirk said a poignant goodbye yesterday to the Senate, invoking the memory of the man he briefly replaced, Edward M. Kennedy, as he implored his colleagues to adopt Kennedy's bipartisan spirit and get to work on fixing the nation's problems.But the Senate Kirk holds dearly in his memories no longer exists, the Massachusetts Democrat lamented as he completed his last day in office. And the audience for his farewell Senate address provided a brutal punctuation for his remarks: not a single Republican, senator nor staff worker, showed up.
Washington Post: U.S. commanders in Afghanistan face tougher discipline for battlefield failures
The U.S. military has reprimanded an unusually large number of commanders for battlefield failures in Afghanistan in recent weeks, reflecting a new push by the top brass to hold commanders responsible for major incidents in which troops are killed or wounded, said senior military officials.
CNN: Air marshals say service roiled with cronyism, chaos
Despite calls from President Obama to beef up the program designed to provide security aboard U.S. flights, the Federal Air Marshal Service is in disarray, a CNN investigation has found.
Washington Post: Pentagon to stock health facilities with morning-after pill
The Department of Defense will begin making the morning-after pill Plan B available at all of its hospitals and health clinics around the world, officials announced Thursday.
CNN: Controversial Tea Party convention aims to boost the movement
What's being billed as the first national Tea Party convention opens its doors Thursday night amid widespread interest and some controversy. Organizers hope the three-day event will help strengthen the year-old anti-big-government movement.
Salt Lake Tribune: Lawmaker: Climate change just ruse to control population
Rep. Mike Noel, the Legislature's chief climate-change skeptic, declared Thursday that global warming is a conspiracy to control world population. The House Natural Resources Committee then approved a resolution that expresses the Utah Legislature's belief that "climate alarmists' carbon dioxide-related global warming hypothesis is unable to account for the current downturn in global temperatures."
CNN: Hynes concedes in Illinois gubernatorial primary
Illinois Comptroller Dan Hynes endorsed Gov. Pat Quinn Thursday for his own four-year term, following a bruising primary battle for the Democratic gubernatorial nomination.
Houston Chronicle: Hutchison's ties to lobbyists could compromise her attack strategy
Sen. Kay Bailey Hutchison has blasted Gov. Rick Perry in recent debates and television ads as driven by the desires of lobbyists, but at least 23 former Hutchison aides have gone onto lucrative lobbying careers in Washington, according to Senate records.
The Providence Journal: R.I. Rep. Loughlin makes Kennedy challenge official
John J. Loughlin II, a Republican three-term state representative from Tiverton, has formally launched his bid to unseat the only remaining member of the storied Kennedy clan in national elective office.
New York Times: Facing Re-election, Schumer Draws Breath
The usually unavoidable-for-comment, if-it's-Sunday-here-is-my-press-release senior senator from New York is being a little tetchy about going on the record.Senator Charles E. Schumer has had a not-so-hot run recently. Mayor Michael R. Bloomberg accused him of failing to deliver enough federal health care dollars for New York, and the city's titans of finance at a recent closed-door meeting accused him of being insufficiently pro-Wall Street; one indignant fellow stood up and demanded his donation back.
The Arizona Republic: McCain war chest: $5 million and growing
Bracing for what could be his toughest re-election challenge in nearly 20 years, Sen. John McCain entered 2010 with more than $5 million in his campaign war chest…the 2008 GOP presidential nominee faces the prospect of a rowdy fight against former Rep. J.D. Hayworth, Chris Simcox and Jim Deakin in the Aug. 24 Republican primary election.
NATIONAL
For the latest national news: www.CNN.com
The Detroit News: FAA official says Flight 253 pilots were left in dark
The Federal Aviation Administration's top official said Thursday a communication gap kept the pilots of Flight 253 from realizing the seriousness of what was happening aboard the plane as it descended over Detroit on Christmas Day.
Los Angeles Times: U.S. funding for jailing illegal immigrants falls far short of costs
The $90 million California is expected to receive from the federal government this year for jailing illegal immigrants convicted of crimes is far short of the state's roughly $1 billion annual cost, officials said.
USA Today: USDA tightens requirements to assure school lunch safety
The U.S. Department of Agriculture announced sweeping steps Thursday to "assure the safety and quality of food" purchased for the National School Lunch Program. The measures include tightening requirements on companies that supply ground beef to schools, testing the beef more often and more thoroughly, and improving communications within the USDA to "identify potential food safety issues" before children get sick.
Christian Science Monitor: Homegrown terrorism a growing concern for US intelligence
Homegrown terrorism is a growing threat, US intelligence chief Dennis Blair said this week. But the number of American Muslims engaged in extremist activity remain small and still largely focused overseas.
USA Today: Glitches still remain in Census count
Despite an unprecedented $340 million promotion that includes $130 million for ads in 28 languages (including Tagalog, Yiddish, Khmer, and Urdu), user guides in 59 languages and the Census questionnaire itself in six — English, Spanish, Russian, Chinese, Korean and Vietnamese — glitches and gripes surround the Census effort.
INTERNATIONAL
For the latest international news: http://edition.cnn.com
CNN: Former Chinese official sees 'dark clouds'
Declaring "I see a lot of dark clouds on the horizon," a former top official in the Chinese Foreign Ministry said the U.S.-China relationship is at a critical moment and any further deterioration will not be good for world peace.
Washington Post: China could block sanctions against Iran
China on Thursday threw a roadblock in the path of a U.S.-led push for sanctions against Iran, saying that it is important to continue negotiations as long as Iran appears willing to consider a deal to give up some of its enriched uranium.
CNN: U.S. missionaries charged with kidnapping in Haiti
Ten Americans detained last week while trying to take 33 Haitian children out of the country were charged Thursday with kidnapping children and criminal association, a government official said.
BBC News: Gaza: UN chief Ban Ki-Moon rules evidence 'incomplete'
There is not yet enough evidence to say whether Israel and the Palestinians are complying with UN demands to probe the Gaza conflict, the head of the UN says. In a report, Secretary General Ban Ki-moon said submissions by both parties remained incomplete.
CNN: N. Korea says it is releasing U.S. citizen
North Korea said Friday it was releasing an American detained in North Korea after reportedly illegally entering the country in December, state-run media reported.
Washington Post: India offers official talks with Pakistan
India has offered to hold official-level talks with Pakistan, a top Indian government official said on Thursday, signaling a return to bilateral dialogue suspended after the 2008 Mumbai attacks.
CNN: Sinn Fein: N. Ireland deal hammered out
A bitter political standoff between the two largest political parties in Northern Ireland has been resolved, one of the parties, Sinn Fein, said.
New York Times: Rebuffing Scholars, Germany Vows to Keep Hitler Out of Print
In Germany, an author is granted an ironclad copyright for 70 years after his death, apparently even if he is subsequently regarded as one of the greatest mass murderers in history and a dark stain on the national character. Hitler's copyright on "Mein Kampf," in the hands of the Bavarian government since the end of the Nazi regime, has long been used to keep his inflammatory manifesto off the shelves in Germany. But with the expiration date looming in 2015, there is a developing showdown here over the first German publication of the book since the end of World War II.
Chicago Tribune: Gov. Rod Blagojevich's indictment revised
With a U.S. Supreme Court decision looming on the disputed "honest services" fraud law, federal prosecutors Thursday revised their indictment against former Gov. Rod Blagojevich, restructuring the charges without altering the specific allegations against him.
Financial Times: Portugal near political crisis over debt
Portugal moved towards a political crisis on Thursday night as its finance minister appealed to opposition parties not to defeat the minority Socialist government over a regional finance bill that he said would undermine the country's international credibility.
BUSINESS
For the latest business news: www.CNNMoney.com
CNNMoney: Debt fears rattle mark
Fears about the fallout from a growing debt crisis in Europe dragged on Wall Street Thursday, sending the market to its lowest close in three months, with stocks hit across the board.
Wall Street Journal: Gold Tumbles $49 in a Commodities Retreat
Commodity prices, already hit hard this year by concerns over demand from emerging markets in Asia, now also face renewed worries about economic recovery in the West. In futures trading in New York, crude oil dropped 5% and copper fell 3.1% Thursday amid rising fears about debt woes in Europe and jobless claims in the United States, extending their losing streaks since China moved last month to temper growth.
Investors Business Daily: Small Firms' Doubts About Outlook Raise Red Flag For Jobs
Marlin Steel Wire is adding staff on expectations of growing sales at home and abroad. But other small businesses aren't as confident, raising concerns that the unemployment rate will remain high for months if not years.
CNNMoney: Ex-BofA chief Lewis charged with fraud
New York Attorney General Andrew Cuomo said Thursday it was bringing civil charges against senior Bank of America executives, including former company CEO Ken Lewis, for their role in the company's controversial purchase of Merrill Lynch.
CNNMoney: Prius brakes: Toyota knew, didn't tell you
Toyota has known about brake problems in its popular Prius cars for some time, going so far as to fix it in new production vehicles, but has kept Prius drivers in the dark about the problem until the Japanese government called for an investigation. In the U.S., the National Highway Traffic Safety Administration announced Thursday that it is launching a formal investigation into the Prius brake problems, the first step on the road to a possible recall.
Bloomberg: Toyota Pedal Recall May Spur U.S. to Require New Brake Systems
Toyota Motor Corp.'s U.S. recall of 5.6 million vehicles for possible unintended acceleration may spur regulators to require braking technology that prevents such sudden bursts of speed in all future vehicles.
Silicon Valley Mercury News: Justice Department tells Google to try again
The U.S. Department of Justice said Thursday that Google's latest proposal to create a digital database of millions of out-of-print books still risks giving the company a monopoly in the digital books market and threatens to undermine federal copyright law.
In Case You Missed It
CNN's Dana Bash explains where Senator-elect Scott Brown stands on several key issues.
Florida Governor Charlie Crist faces a tough opponent from within the GOP for mid-term elections. CNN's Jim Acosta reports.
The furry side of U.S.-Chinese diplomacy.
Subscribe to the CNN=Politics DAILY podcast at http://www.cnn.com/politicalpodcast
And now stay posted on the latest from the campaign trail by downloading the CNN=Politics SCREENSAVER at http://www.CNN.com/situationroom