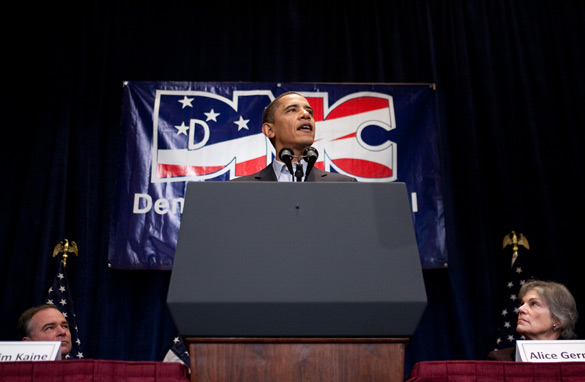 President Obama addressed the DNC Winter meeting Saturday. (Getty Images)
Washington (CNN) - President Obama on Saturday defended his party's efforts to shore up America's battered economy and exhorted his fellow Democrats to stay steady and focused in the face of grassroots restlessness.
"Everything we've done over the past year has been not only to right our economy, to break the back of this recession, but also to restore some of the security of middle-class families had felt slipping away for over a decade now," Obama said, speaking at the Democratic National Committee winter meeting.
"Some of the steps we took were done without the help of the other party, which made a political decision all too often to jump in the back seat, let us do the driving, and then critique whether we were taking the right turns," he said.
Obama worked to buck up his party members, urging them to get behind his agenda and continue efforts to develop societal remedies. The president listed accomplishments during his first year, citing almost $300 billion in tax relief, tax cuts for small businesses and people, a credit card bill of rights, and foreign policy strides. He also said health care reform is still on the table.
"Just in case there's any confusion out there, let me be clear," Obama said. "I am not going to walk away from health insurance reform."
High unemployment, widespread mortgage foreclosures, a diminishing tax base in cities and states have frustrated Americans, and the president said citizens have been "outraged" that the administration has been focusing on bank bailouts. However, he added that the resentment is misplaced because his bailout efforts prevented more job losses and foreclosures.
"The real outrage is that we had to do it in the first place in order to fend off the collapse of the financial system. That's the outrage," he said, saying that the country can't return to the "dereliction of duty that helped deliver this recession."
Obama mentioned last week's meeting with the House Republicans, a nationally televised give-and-take that the president called "a robust debate."
He said it's important to find agreement whenever possible.
"Some issues Democrats and Republicans just don't see eye to eye on. That's how democracy works. But there have to be some issues on which we can find common ground. it's one thing to disagree on principle.
Obama's remarks come on the heels of a new Labor Department report indicating that the national unemployment rate dropped from 10 percent to 9.7 percent in January.
He proposed a series of steps to support small business, such as taking $30 billion in Troubled Asset Relief Program, or TARP money to create a lending fund for small businesses.
Programs like that would help spark job creation, he said Saturday during his weekly address.
"To give these companies greater incentives to grow and create jobs, I've proposed a new tax credit for more than one million small businesses that hire new workers or raise wages, as well as the elimination of all capital gains taxes on small business investment," Obama said, urging both Democrats and Republicans to put their heads together on legislation addressing the issue.
In the Republican Saturday address, U.S. Rep. Jeb Hensarling, R-Texas, said Democrats last year promised more jobs and said unemployment would remain below 8 percent with their stimulus legislation.
"Americans are still asking, 'where are the jobs? Where are the jobs?' But all they are getting from Washington is more spending, more taxes, more debt and more bailouts."