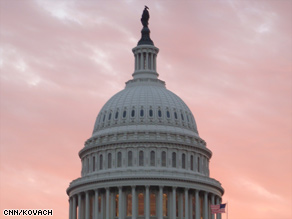 The CNN Washington Bureau's morning speed read of the top stories making news from around the country and the world.
WASHINGTON/POLITICAL
For the latest political news: www.CNNPolitics.com
CNN: Source: Obama, congressional leaders to talk health care Feb. 25
President Obama and a bipartisan group of leaders from the Senate and the House will meet February 25 for specific talks aimed at a compromise on health care legislation, a White House official told CNN on Sunday.
Wall Street Journal: Fed to Bare Tightening Plan
Federal Reserve Chairman Ben Bernanke will begin this week to lay out a blueprint for a credit tightening, to be followed once the Fed decides the economy has recovered sufficiently.
Washington Post: Some Democrats seek change in filibuster rules, but others are wary
A growing number of Democrats, from senatorial veterans such as Vice President Biden to freshman Sen. Tom Udall (N.M.), are calling for a rules change that would transform the culture of long and sometimes tedious debate in the world's greatest deliberative body. But these nascent efforts to curb the use of filibuster face resistance from Senate elders with long memories, who know that political winds can take today's large majority and create tomorrow's minority.
New York Times: Irked, Wall St. Hedges Its Bet on Democrats
Just two years after Mr. Obama helped his party pull in record Wall Street contributions — $89 million from the securities and investment business, according to the nonpartisan Center for Responsive Politics — some of his biggest supporters…have become the industry's chief lobbyists against his regulatory agenda.
CNN: Clinton defends Obama's engagement strategy on Iran, N. Korea
President Barack Obama's strategy of engaging both Iran and North Korea has shown positive results by starting to bring together the rest of the world to act jointly against their nuclear ambitions, Secretary of State Hillary Clinton said.
Washington Post: Mass. wind farm that Obama administration might support meets strong resistance
Interior Secretary Ken Salazar journeyed out into Nantucket Sound on a Coast Guard vessel last week to signal the Obama administration's readiness to put some muscle behind wind energy. To do that, Salazar has to resolve a battle over building a wind farm on 25 square miles of open water that has driven a rift between environmentalists, infuriated local Native Americans and threatened one of the administration's cherished priorities.
Politico: Harry Reid ready to reset the hold button
Senate Majority Leader Harry Reid used to consider recess appointments "an end run around the Senate and the Constitution" — so much so that he kept the chamber open during breaks to prevent President George W. Bush from making any more of them. But with a Democrat in the White House, and Republicans blocking executive branch nominees, Reid and his allies are starting to sing a different tune.