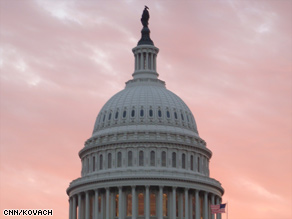 The CNN Washington Bureau's morning speed read of the top stories making news from around the country and the world.
WASHINGTON/POLITICAL
For the latest political news: www.CNNPolitics.com
CNN: Source: Obama, congressional leaders to talk health care Feb. 25
President Obama and a bipartisan group of leaders from the Senate and the House will meet February 25 for specific talks aimed at a compromise on health care legislation, a White House official told CNN on Sunday.
Wall Street Journal: Fed to Bare Tightening Plan
Federal Reserve Chairman Ben Bernanke will begin this week to lay out a blueprint for a credit tightening, to be followed once the Fed decides the economy has recovered sufficiently.
Washington Post: Some Democrats seek change in filibuster rules, but others are wary
A growing number of Democrats, from senatorial veterans such as Vice President Biden to freshman Sen. Tom Udall (N.M.), are calling for a rules change that would transform the culture of long and sometimes tedious debate in the world's greatest deliberative body. But these nascent efforts to curb the use of filibuster face resistance from Senate elders with long memories, who know that political winds can take today's large majority and create tomorrow's minority.
New York Times: Irked, Wall St. Hedges Its Bet on Democrats
Just two years after Mr. Obama helped his party pull in record Wall Street contributions — $89 million from the securities and investment business, according to the nonpartisan Center for Responsive Politics — some of his biggest supporters…have become the industry's chief lobbyists against his regulatory agenda.
CNN: Clinton defends Obama's engagement strategy on Iran, N. Korea
President Barack Obama's strategy of engaging both Iran and North Korea has shown positive results by starting to bring together the rest of the world to act jointly against their nuclear ambitions, Secretary of State Hillary Clinton said.
Washington Post: Mass. wind farm that Obama administration might support meets strong resistance
Interior Secretary Ken Salazar journeyed out into Nantucket Sound on a Coast Guard vessel last week to signal the Obama administration's readiness to put some muscle behind wind energy. To do that, Salazar has to resolve a battle over building a wind farm on 25 square miles of open water that has driven a rift between environmentalists, infuriated local Native Americans and threatened one of the administration's cherished priorities.
Politico: Harry Reid ready to reset the hold button
Senate Majority Leader Harry Reid used to consider recess appointments "an end run around the Senate and the Constitution" — so much so that he kept the chamber open during breaks to prevent President George W. Bush from making any more of them. But with a Democrat in the White House, and Republicans blocking executive branch nominees, Reid and his allies are starting to sing a different tune.
CNN: Palin says 2012 presidential bid a possibility
Former Alaska Gov. Sarah Palin says she would consider a run for president in 2012 if the situation was right for her family and the nation.
Philadelphia Inquirer: Specter wins Pa. party backing
Yesterday, amid the deep freeze and howling winds of the worst winter storm in years, the Democratic State Committee met in a snowbound hotel in Amish country to consider endorsements in this year's races for the U.S. Senate, governor, and lieutenant governor. …Despite the reservations of some party members, who challenged him for what they considered pro-Republican sins of the past, Specter, of Philadelphia, beat U.S. Rep. Joe Sestak, of Delaware County, gaining the two-thirds majority required for endorsement by the party rules.
The Detroit News: Granholm years loom large in race for governor
It was the final State of the State speech Gov. Jennifer Granholm had to make: extolling her positives, defending her record and securing her legacy that many say is a tattered eight years overseeing an economically deflated Michigan. But as both political parties seek to position a solid contender in the gubernatorial race to succeed Granholm, the term-limited, unpopular governor will likely loom large.
Dallas Morning News: Even GOP conservative Ron Paul draws Tea Party opposition
Paul, the Gulf Coast congressman whose 2008 presidential run excited libertarians nationwide, even though he didn't get much traction overall, is considered by many to be the "father of the Tea Parties." But he has three opponents in the March Republican primary – more than he has faced in his past six primary campaigns combined. All three have ties to the anti-tax Tea Party movement. And while Paul remains the odds-on favorite to win re-election in his district, the crowded primary highlights the potential conflict between Tea Party activists and a GOP hoping to ride their wave to electoral success this fall.
Chicago Tribune: Cohen quits race for lieutenant governor
Democratic lieutenant governor candidate Scott Lee Cohen, a Chicago pawnbroker whose surprise primary win last week was followed by scandalous revelations about his troubled past with a prostitute ex-girlfriend, said Sunday night he would quit as nominee.
CNN: New Orleans elects first white mayor in more than 30 years
Democrat Mitch Landrieu was elected mayor of New Orleans on Saturday night, becoming the first white mayor of this majority-black city in more than 30 years. Landrieu, the state's lieutenant governor, captured 66 percent of the nearly 89,000 votes cast.
NATIONAL
For the latest national news: www.CNN.com
CNN: New Orleans the 'happiest place on earth'
With chants of "Who Dat!" and champagne kept since the team's trip to the playoffs in 1987, faithful fans of the New Orleans Saints celebrate their 31-17 win over the Indianapolis Colts in Super Bowl XLIV.
CNN: Five killed in Connecticut power plant blast
Five people were killed and at least 12 were injured in a gas explosion Sunday at an under-construction power plant in central Connecticut, local officials said.
CNN: Hundreds of thousands without power after Eastern snowstorm
More than 300,000 people from Pennsylvania to Virginia were without electricity Sunday, utility companies said. In many cases, heavy snow brought down power lines.
New York Times: Retired Officers Raise Questions on Crime Data
More than a hundred retired New York Police Department captains and higher-ranking officers said in a survey that the intense pressure to produce annual crime reductions led some supervisors and precinct commanders to manipulate crime statistics, according to two criminologists studying the department.
Los Angeles Times: Industrial solvent linked to increased risk of Parkinson's disease
Exposure to the industrial solvent trichloroethylene increases a person's risk of developing Parkinson's disease nearly sixfold, California researchers said Sunday. Animal studies had suggested a potential problem with the solvent, but the new study by Dr. Samuel Goldman of the Parkinson's Institute in Sunnyvale is the first to quantify the risk.
INTERNATIONAL
For the latest international news: http://edition.cnn.com
CNN: Iran's president orders higher enrichment of uranium
President Mahmoud Ahmadinejad ordered Iran's atomic chief on Sunday to enrich the country's uranium to 20 percent. The move is seen as a fresh challenge to Western powers trying to rein in Tehran's galloping nuclear drive.
Los Angeles Times: In Virginia, offshore drilling a bipartisan goal
Virginia could become the first state on the Eastern Seaboard to open its coast to energy exploration since a decades-old federal drilling ban expired more than a year ago.
Christian Science Monitor: Will Yemen rebels accept a fresh cease-fire plan?
The Yemeni government has presented a cease-fire plan to Houthi rebels in a bid to end five years of fighting with the fiercely anti-Western Shiite group. An end to that conflict, which has also drawn in the Saudi Arabian military, would allow Yemen to turn its focus toward the Al Qaeda affiliates operating within its borders.
New York Times: E.U. Debt Crises Highlight Bloc's Structural Weakness
On paper, the European Union has just established a new president in Brussels and the E.C.B.'s sole responsibility is to keep inflation in check. Moreover, the central bank, based here in Frankfurt, has almost no formal policy tools to help an ailing member country like Greece. But as investor alarm about Greek, Spanish and Portuguese indebtedness increases, the crisis has highlighted the fundamental weakness of the European monetary union.
BBC News: Blix: Straw 'gave incorrect answers' to Iraq inquiry
Former British Foreign Secretary Jack Straw gave some incorrect answers to the UK's Iraq war inquiry, former UN weapons inspector Hans Blix has said.
CNN: Exit polls show Yanukovich leads Ukraine presidential election
Exit polls show Yanukovich leads Ukraine presidential election
Exit polls showed former Ukraine Prime Minister Viktor Yanukovich as the victor over current populist Prime Minister Yulia Tymoshenko in the runoff of the nation's presidential elections.
CNN: Costa Rica elects first woman president
Costa Rica elected its first female president, as the ruling National Liberation Party claimed a historic victory.
BUSINESS
For the latest business news: www.CNNMoney.com
Bloomberg: Weak Dollar Illusory as Correlated Trade Shows Gains
For all the concern over the $1.6 trillion U.S. budget deficit and record debt load, the dollar is as valuable now as 35 years ago. Measured against a basket of currencies from the Group of 10 nations proportioned by how they trade against each other, the greenback is up about 3 percent since 1975, according to Bloomberg Correlation-Weighted Currency Indexes.
CNNMoney: Prius brake fix near, Toyota tells dealers
Toyota Motor notified dealers it is prepared to unveil a solution to problems with the brake system of the popular Prius hybrid sedan, as well as a public relations campaign to try to repair its battered image.
New York Times: Testy Conflict With Goldman Helped Push A.I.G. to Edge
Behind-the-scenes disputes over huge sums are common in banking, but the standoff between A.I.G. and Goldman would become one of the most momentous in Wall Street history. Well before the federal government bailed out A.I.G. in September 2008, Goldman's demands for billions of dollars from the insurer helped put it in a precarious financial position by bleeding much-needed cash. That ultimately provoked the government to step in.
Wall Street Journal: Merrill's Ex-Chief Is Back, Atop CIT
Former Merrill Lynch & Co. chief John Thain is joining embattled lender CIT Group Inc., bringing together two prominent casualties of the credit crisis. Mr. Thain, who left Bank of America Corp. 13 months ago amid controversy over its takeover of Merrill, will be CIT's chairman and chief executive. CIT, a major lender to small businesses, nearly collapsed in 2009, several years after it expanded into subprime mortgages and student lending.
In Case You Missed It
Secy. of State Hillary Clinton talks about the complexity of health care reform and reflects on her past attempts.
http://www.cnn.com/video/?/video/politics/2010/02/07/sotu.hillary.health.care.cnn
CNN's Candy Crowley talks with roundtable guests about the return of terrorism to the national dialogue of politics.
http://www.cnn.com/video/#/video/politics/2010/02/07/sotu.issue.terror.returns.cnn
Subscribe to the CNN=Politics DAILY podcast at http://www.cnn.com/politicalpodcast
And now stay posted on the latest from the campaign trail by downloading the CNN=Politics SCREENSAVER at http://www.CNN.com/situationroom